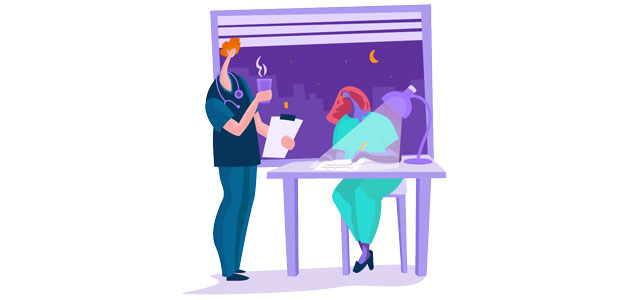 Florence: The lady with the lamp
It seemed only fitting that three year old startup, Florence, an online platform and app that connects care homes directly to nurses looking for extra shifts, be named after the founder of modern nursing, Florence Nightingale, otherwise known as the 'Lady with the Lamp'.
I went to Florence's headquarters located just a stone's throw from London Liverpool Street and south of Spitalfields Market (back in March, pre-COVID), to meet with former surgeon and now CEO and Co-founder of Florence, Charles Armitage (and yes, as the biggest Grey's Anatomy fan, I felt like I was meeting the British version of Dr Owen Hunt).*
*For those of you that have no idea what I'm fan girling about, Grey's Anatomy is an American medical drama TV series and Dr Owen Hunt is a fictional character in Grey's Anatomy.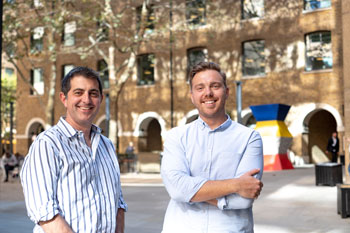 It was inspiring to see what such a young startup has achieved in such a short space of time, occupying a whole co-working space floor with over 60 employees, a designated tech area that teaches their employees how to code and of course, the best bit of all… Florence has FOUR office furry friends!
In 2016, Armitage partnered with former army officer and financial services professional, Dan Blake, and together they gathered a team of dedicated individuals to help bring their vision to life - the aim was to provide everyone with the care and dignity that they deserve.
After working in the heart of the NHS as a locum, Armitage had no control over his shifts and he saw that patients were missing vital continuity of care as he moved to a different place each day - he knew that something had to change. Armitage explained: "I saw that traditional temporary staffing wasn't flexible for workers and was a drain on care providers' budgets. Resources that should be used for care were instead going on agency fees."
It's common knowledge that although the NHS do an amazing job, they are underfunded and understaffed, but I wasn't aware, that there is also a major nationwide crisis in the recruitment of nursing staff within the care sector. Recent research conducted by the National Audit Office showed a 16% reduction in the number of nurses working in the adult social care sector in the last four years. Currently 1 in 11 nursing jobs in the care sector remain vacant long term.
One of the key drivers behind this shortage is the exodus of European nurses from the UK.  Data from the Nursing and Midwifery Council (NMC) show that between April 2017 and March 2018, only 805 nurses from the EU joined the professional register compared with the 6,382 nurses who joined in the same period the year before - a decrease of 87%.
Armitage explained: "Plugging this gap in supply is very difficult for care home providers. In order to comply with staffing requirements from the Care Quality Commission (CQC), they must often resort to the use of agency nurses - ad hoc workers supplied by temporary recruitment agencies. Whilst the hourly wage of an employed nurse in a care home hovers around £15, the average cost of a nurse sourced through an agency is £35. Up to 50% of that hourly rate is paid in agency commission."
Over the last four years, the spend on agency staff in the care sector has grown by 30% annually. According to Knight Frank, 226 care homes closed across the UK last year, many citing a lack of nurses and increasing agency spend as one of the root causes. These system failures impact most significantly on care home residents, understaffing, and poor staff continuity leads to lower standards of care.
"Everyone talks about the NHS as the pinnacle of healthcare services in the UK, but nobody really talks about social care, which actually employs more people and cares for more people, but isn't as big and sexy so it often gets left behind." explained Armitage.
But fear not because Florence is working hard to solve this problem with its online marketplace that connects care providers directly to nurses without having to turn to recruitment agencies. Armitage said: "The team at Florence are building a nationwide ecosystem that is based on the core tenants of transparency, quality and accountability."
He went on to explain: "Let's say I'm a care home manager and one of my staff members quits or calls in sick, rather than going to a recruitment agency, (which is not only expensive, but they also don't really care for nurses' needs and will take an unfair cut of their pay) I post a shift within Florence and can set things like the rate I want to pay, the skills that I need from that nurse, and how many shifts I need. Recruitment agencies in the social care sector are expensive and fragmented because it can be difficult to find the right person for the job at the right time, with the right skills at the right place. But we've found that you can solve that problem a lot more efficiently through automation, machine learning and correct use of data."
The Florence app is free to use for nurses and carers and accessible from any device. Shifts are posted daily from homes and all shifts include a full description, skill requirements, location and pay information. Florence will send nurses and carers' timesheets straight to care homes to get them approved online, ensuring there is no hassle with paper or signatures (and it's better for the environment too!). Nurses can easily manage their work schedule, view their upcoming shifts and submit timesheets from anywhere. A key advantage for nurses using Florence is that they earn more, as 100% of the rate shown when they apply for a shift on Florence goes to them. Agencies work differently, they agree a rate with the care home, then give a percentage to the nurses as pay. But Florence never takes a cut of the nurses pay.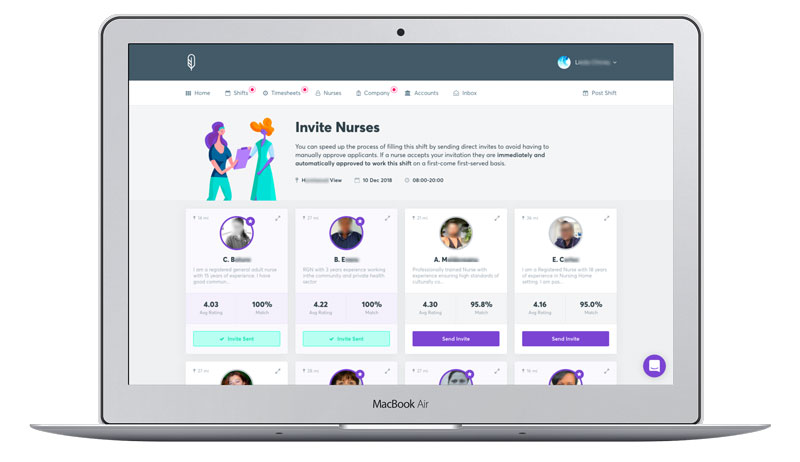 Not only does the Florence app focus on nurses, but it is also dedicated to helping care homes. It is free for care homes to have an account, but there is a small fee if you hire a nurse/carer via Florence, however, this is only a fraction of what a recruitment agency would charge.
Florence allows care homes to choose the best nurse or carer for the job, either by inviting them directly or letting them apply. Care homes can manage everything from posting shifts, to approving timesheets, keeping track of temporary staff, and generating reports from their account history through Florence's user-friendly app and website. Florence is assisting care homes to establish lasting relationships with local nurses and carers, meaning they can save their favourites and build a reliable group of staff members they trust.
Florence runs vigorous background checks on everyone who signs up, covering relevant training and qualifications, right-to-work and criminal history. They work closely with certified partners like Onfido, a software company that helps businesses verify people's identities using a photo-based identity document, a selfie and artificial intelligence algorithms. As well as the NMC Register and the Disclosure and Barring Service (DBS), to ensure care home residents are in safe hands. With Florence, both nurses and care homes give formative feedback within the app after every shift increasing accountability in every engagement. Algorithms within the app also ensure that the same staff members are encouraged to come back multiple times ensuring a familiar face for care home residents.
To date, Florence's care partners have saved over £3,250,000 by posting 42,500 shifts directly to nurses and carers. So, if you're a care home manager currently spending £35 per hour (the industry average) for an agency nurse, you can expect to save £100 on every single shift you book.
For the March/April issue (back when this interview was conducted), we had a particular focus on discussing company culture with our startups, Armitage shared his thoughts: "Finding the right co-working space for you definitely depends on the stage of your business. The first office we ever worked in wasn't the most aesthetically pleasing, however, it was one of the best offices we've ever used because we were surrounded by lots of early stage startups who would collaborate and work together, providing a great community. I would say a co-working space with a good community is essential for early stage startups, we met so many great people this way who had so much to share. Another thing to look for when trying to find the perfect co-working space is obviously making sure they have fast internet speed, open weekends and long hours – this was vital for us!"
Armitage also spoke about finding the perfect co-founder and what made him go into business with Blake, he said: "Dan and I come from two completely different backgrounds that work very well together, but we are also relatively similar which I guess is quite rare in the startup world because you often hear about co-founders having complimentary skill sets and being polar opposites, but it has worked for us so far!"
And just when you thought this three-year-old startup couldn't achieve anymore at their young age, they also have another side to the business. Armitage told me: "We are really big on professional development and learning for the organisation and the nurses and carers using the platform. So, we've built an academy that is a free open source healthcare education platform where people can develop professionally."
Every business, no matter what industry or how well known they are, will have to compete with other companies. Florence's day-to-day competitors are the traditional recruitment agencies which have relied on their personal relationship with the care home managers for quite a long time, which is difficult for Florence to break. "In terms of digital competition, it's massively behind the times. Healthcare is bad but it's even worse in social care, it is so un-tech enabled, everything is done on paper, rotas are done on the wall or paper, people still even send letters or faxes! This is because staff are trained to follow protocols and not diverge from them. It's hard to test new innovations because the safety of patients come first and the risk of something 'new' isn't worth it."
It's clear to see that current healthcare systems haven't moved with the times and embraced digitalisation as willingly as other industries, as most are either operating with age old technology or still working on paper-based systems. Florence are shifting the focus within the industry, which has the potential to massively benefit the nurses of tomorrow, their wellbeing and the residents and patients that they care for.