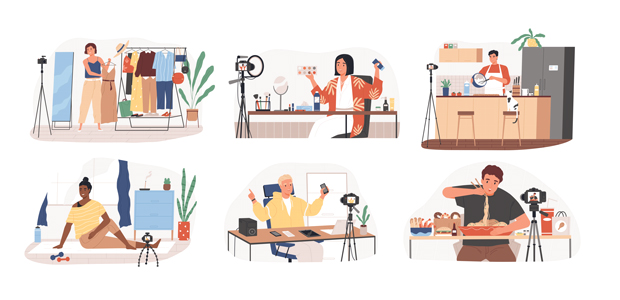 Five top tips for using equipment correctly
Over the last few years, I've been teaching business owners and their staff to set up a few simple pieces of equipment to film their own smartphone videos and get comfortable in front of the camera.
The most recent smartphone video cameras are so impressive you can do a lot without spending a penny on anything else. But if you want to be top of the class, there are a few simple pieces of equipment and tricks to look more professional, still without having to spend a fortune.
If you're keen to start creating simple online videos from home, to share updates or expertise, or if you just want to enhance the look and audio of your Zoom calls to make a smashing virtual impression on your boss or clients, then these top five tips below on how to raise the quality of your video recordings to the next level are for you.
Your camera
So, I've already mentioned that modern smartphones are such good quality you can start filming and trying things out on your phone before you invest further in a larger camera. If you do want to spend some money on a video camera, make sure it has a flip screen so you can see yourself when you're filming, and that it has a microphone socket.
Always make sure you or the person you're filming look into the lens– the lens on a mobile phone is the little black hole at the top of the phone, where you hold your ear. If you look at yourself on the screen, it won't feel like you're looking into the camera.
A camera stand
To ensure your camera is stable and to liberate your hands, try and get hold of a camera stand. These are called smartphone stands online, and you can get a variety of these, some come as a selfie stick with a stand, some are normal video tripods for smartphones.
Make sure the stand is the right height for you, they are often quite low. The price level will tell you how flimsy it is, if you're getting serious about things, it's worth spending some more money to get a more stable video tripod.
If you're using your mobile phone, you can buy a smartphone holder online and fit it on to a traditional photography tripod, it's the same screw-fitting.
Make sure your phone is straight on the tripod and the camera lens at eye level.
Microphone
All digital video cameras, whatever price level, come with a built-in microphone, but I'd still recommend you get an external microphone. It's not that the volume will be too low, most of the time it's the opposite – there's too much noise going in! So, you want to filter out a bit of surround noise and concentrate on your voice. This is why a lapel microphone is great if you're doing selfie filming - speaking to the camera - as it will focus on your voice and dampen a lot of the surround noise. Make sure you get the correct fitting for your type of phone, you might need an adapter if you're using an iPhone.
Fit the microphone facing your mouth on your shirt and make sure nothing is touching it when you speak.
Bluetooth remote
Being able to start and stop your camera remotely is very helpful, especially if you're sitting behind a table, so you don't have to go up and around and then back again, and then have to edit out that part when you start and stop the camera. A tiny little Bluetooth remote is cheap and you can order it online. Many smartwatches also come with a remote, so check your watch before you order!
Video light
Last but not least, you need a video light if you're in a dark environment. Smartphones are very light sensitive, but the more light you have, the better the image is going to look and the more the colours will pop.
There are many different types of video lights. The LED light panels are lightweight, strong and don't get too warm. There are also cheap video lights with a softbox, which come in a pack with the stand, lightbulb, cable and a case. These give a very nice and soft look to the skin. Ring-lights – or Diva Lights – are great for makeup professionals but create a bit of a weird vampire reflection in the eyes.
The most important thing I recommend, is to not overcomplicate things. It's just not worth going into panic mode every time you're trying to set up to film something. After all, it's your message that matters, so make sure you tailor your delivery before you start the camera, don't over script it, a more personable tone creates a better connection.
Good luck with setting up your own little home studio – and if you need further tips and help with filming, have a look at my online courses or get in touch and I'm very happy to book in a chat!