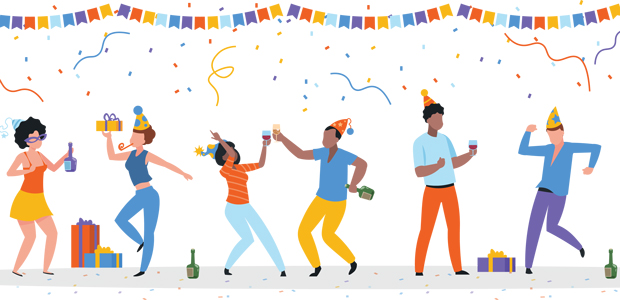 Five tips on how to organise a cancel-proof flexible Christmas party
After a long-winded eighteen months of distancing and lockdowns, Britain rejoiced as restrictions were lifted. Many of us were hoping to throw the ultimate festive bash to mark the end of another difficult year, especially as last year's office celebrations were entirely online.
Rising infection rates, however, have forced many companies to change their plans - with some cancelling altogether. Indeed, corporate giants Google, Facebook and Accenture have all decided to halt celebrations.

For others, the office Christmas party is still going ahead, however some staff would rather enjoy the celebrations from home if they are not yet comfortable mingling in a big group. Organisations should be sensitive to this, and arrange a party that is accommodating to everyone's personal needs.

Here are some tips on how to create a cancel-proof Christmas party that can be enjoyed by all, no matter where they're based.
1. Plan activities that work in a hybrid setting
Whilst this may seem complicated to achieve, it need not be anything fancy. Your event should simply incorporate live, in-person elements with virtual ones. A few examples of  this would be DIY baking, live music, quizzes or cocktail making kits - keeping the team connected virtually whilst enjoying a shared experience helps the event really come to life. 
2. Pre-empt technology failures to keep the event running seamlessly 
Perhaps this is something we should all be used to after working online for nearly two years, nonetheless technology always seems to falter in the worst possible moments. To avoid catastrophic mistakes during your Christmas party, make sure you are connected to a strong internet connection and using top-rated video platform services such as Zoom or Google Meets.
Let's be honest, a Christmas party wouldn't be the same without Michael Bublé and Mariah Carey blaring in the background - you should ensure everyone has access to the same playlist on a streaming service for the night, so whether staff are at home or partying away in person, everyone can blast their favourite Christmas tunes on full volume.
3. Office and WFH staff should benefit from equal party perks
The hybrid party should be as close to an in-person experience as possible - and that includes all the party perks. Where possible, goodie bags with identical contents should be supplied at the venue and sent to home addresses. Likewise, food menus should also be replicated - if the office is being treated to the local Lebanese, WFH staff could be sent an allowance to simultaneously order food from their favourite local joint.
4. Think about creating a separate agenda for in-person and at-home party goers
Chances are, those in the office will want some down time with their colleagues to catch up over a glass of fizz. Allocating some time for in-person guests to simply enjoy each other's company will help keep attendees engaged, but make sure those at home aren't left to their own devices. WFH guests could benefit from a Zoom pub quiz or breaks to order their food of choice. 
5. Ask office attendees to conform to some form of Covid safety rules
Implementing safety guidelines around the event, such as encouraging attendees to show proof of a negative test result beforehand, may encourage feelings of ease at the event. It is important to let your staff know that the party is being organised with their health and safety in mind - a simple reassurance could be the make or break for people choosing to opt out of the party.

The Christmas party provides the perfect opportunity for companies to celebrate their staff for all their hard work and achievements throughout the year - perhaps this is needed more than ever this coming Christmas. If the pandemic taught us anything, it's the importance of forming connections with one another and so this Christmas will be celebrated with that philosophy kept in mind. Whether staff be at home or the office, let everyone feel a sense of togetherness to celebrate the most wonderful time of the year!