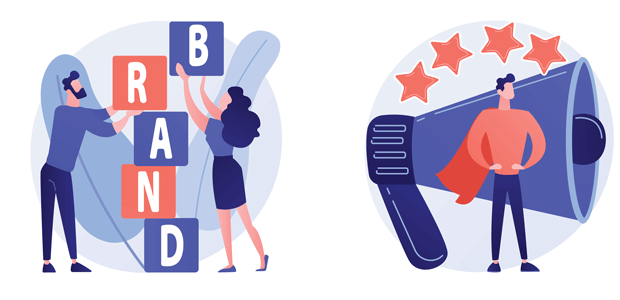 Five incredible ideas for creating a strong employer brand
Businesses look to constantly tweak their hiring strategies and recruitment processes to have prolific talents on board. Needless to say, an organisation is as good as the overall competence of its employees. Hence, businesses also go about spending exorbitant amounts of money to market their job vacancies among a larger talent pool. However, be it job seekers or potential customers, they always view businesses in terms of brand value.
If you are a popular brand among job seekers and employees of other companies looking to switch, you would not have to do much to find the right candidates. They would rather come running to you. Going further, let us further elucidate on the hiring challenges in contemporary times and how a strong employer brand tag can help.
The need for building an enchanting employer brand
To understand the need for enhancing your brand value as an employer, we first need to highlight the demographics of the global workforce. Deloitte explains that millennials will comprise three-fourths of the global workforce by the end of 2025. Furthermore, as per Forbes, Gen Z employees will account for more than 20% of the global workers. Hence, we are looking at a scenario wherein millennials and Gen Z workers will together comprise more than 90% of the global workforce. 
Speaking of the UK in particular, as per KPMG, millennials represent more than 35% of the workforce in the UK. Having said that, startups will need to focus on extensive and qualitative millennial hiring to grow big in the future. In fact, both millennials and Gen Z employees will be at the helm of innovation and brilliance that businesses need to flourish. Do you think you can ignore the need for getting the skillful and able youngsters on board?
Here, it is vital to pay attention to the fact that millennials and Gen Z people do not like compromises when it comes to choosing an employer. They are rigid and specific about their expectations from an organisation and what it offers to its employees. This is where the need to promote a positive and lucrative employer brand arises. Rather than you running after candidates, they should come running to you looking for an opportunity in your organisation.
Do you think that the likes of Unilever, AstraZeneca, or British Airways will ever go around chasing candidates to hire them? For sure, it would be the other way around given the employer brand value these companies boast of. That is what the prowess and charm of a strong employer brand can do. Do you now realise how important it is to grow as an employer brand?
Worthwhile ideas for enhancing your employer brand
Invest in candidate experience
Candidate experience is a key metric of how job seekers perceive your organisation. The experience candidates derive from applying to your organisation has a direct impact on your organisation's employer brand. To explain, this experience will influence candidates' decision to apply to your organisation again in the future. Moreover, their recommendation of your organisation to others will also be subject to their personal experiences.
Would someone recommend an organisation to their friends after their own ordeal with the same organisation? Of course not, in fact, Career Builder concludes, 78% of job seekers are of the view that candidate experiences describe how organisations treat their staff. Besides, as per Lever, 80% of candidates are not willing to reapply to companies that did not share the status of their applications.
Hence, unpleasant candidate experiences in terms of complicated application processes or inconsistent communication dent employer reputation. For creating a competent workforce equipped with exclusive talents, you need to invest in candidate experiences. This is where the integration of AI in recruiting can be a breakthrough innovation in driving delightful candidate experiences.
From candidate response time to guiding candidates through the application process, AI can optimise all dimensions of candidate experience. Besides, it would make screening of abundant applications a lesser hassle for recruiters hence boosting recruiting efficiency.
As you can see, AI in recruitment will have multifaceted benefits for your business inclusive of building a more sought-after employer brand. Deliver excellent candidate experiences and see how the new-age job seekers gravitate towards your organisation! In fact, candidate experience is one of the key dimensions where startups can gain big advantages over multinational companies.
Share a purpose beyond business
It is an undeniable fact that the core purposes and ambitions of any business revolve around revenue and profitability. However, millennials and succeeding generations want businesses to look beyond their commercial benefits. The general perception is changing and youngsters now want to see businesses working for collective welfare too besides profits.
This explains why millennials and Gen Z job seekers are more interested in applying to organisations that share collective purposes. For instance, a recent survey by IBM inferred that in the post-pandemic era, more than 70% of job candidates are willing to work for sustainable companies. This key insight validates the argument of the changing perception of the corporate world.
In fact, companies driven by a larger purpose beyond revenue have 40% higher rates of employee retention as per Deloitte Insights. Moreover, companies with broader purposes exhibit growth rates thrice as much as others and greater market penetration. Did you know having collective purposes for your business can have such incredible merits?
The bottom line is that you need to endorse your core values and the purpose of your business. That will lead to the creation of a more popular brand both for consumers as well as job seekers. Values like sustainability and corporate social responsibility should be at the epicenter of your branding campaigns. Tell the world how your business is working towards driving positive changes beyond its personal interests.
Would you not be fascinated to learn about a business contributing beyond profits, revenues, or sales targets? Of course, you would at least want to know about such a business for once. Similarly, when you work for collective welfare, your organisation will attract a lot of attention. A large number of top-notch young talents would then have the urge to apply to your organisation. Sounds great, isn't it?
Empower your employees wholeheartedly
There is hardly anyone who would not love working for an organisation that empowers its people. In fact, that is what millennials and Gen Z employees seek the most in their workplaces. Employee empowerment in terms of workplace flexibility and autonomy is a massive consideration for modern job seekers. The following trends on the rising preference for flexibility among employees will further elucidate things.
As per Flexjobs, 76% of people seeking jobs want to work in flexible work arrangements. They prefer a job with great flexibility as they believe that flexibility offers a better work-life balance.


 

Built In cites that around 40% of workers take quitting their current jobs into consideration to work for an employer that offers greater flexibility or remote working arrangements.


 
Research published by Microsoft claims that 71% of corporate workers in the UK want remote working options to continue even after the pandemic. This also explains that a large number of job seekers in the UK gravitate to companies offering flexibility.
 

Flexjobs also concludes that around 30% of workers would even take a pay cut for being in flexible work arrangements.
The above trends highlight how much people are prioritising workplace flexibility in contemporary times. Having said that, for your organisation to attract brilliant young talents, traditional work cultures will have to make way for remote and hybrid cultures. When flexibility makes its way to workplace policies, ample people would be interested to join your organisation.
Otherwise, if you are not willing to reframe your policies on the lines of flexibility, even your current employees may want to switch to other organisations soon. Are you willing to take that risk and invite massive trouble in terms of high turnover rates inflicting heavy losses?
Besides, the idea of employee empowerment is not limited to flexible work arrangements. It also spans the virtues of entrusting employees, building leadership capabilities in them, and giving them their fair share of creative liberty. In alignment with what millennials want from their employers, they would be excited to apply to organisations that empower their people. Millennials and Gen Z people love the idea of empowerment quite amply.
Introduce worthwhile wellness programmes
The advent of the COVID-19 pandemic brought with it quite a few life-transforming realisations. Close to 0.146 million people have died in the United Kingdom and the horrific scenes in the face of the pandemic have changed scenarios forever. Job seekers and employees are now more considerate about their well-being than ever before.
Besides, overwhelming levels of employee stress paint a dismal picture of the contemporary business world. As per Gallup, 52% of employees globally have experienced burnout situations in 2021. Speaking of the UK alone, in accordance with CIPHR, almost 50% of adults in the UK are battling high levels of stress. To add, 23% of UK adults cite work as a major source of constant stress.
Therefore, be it physical health or mental well-being, the working class is laying great emphasis on both. Job seekers are now more selective while applying to job applications as they want to work for companies that have thoughtful employee wellness programs. Moreover, your current employees are far more likely to recommend the organisation to others when you have wellness programs in place.
With exclusive employee wellness benefits like health insurance, mental health support, fitness activities, healthy meals, and so on, you can attract the best talents in a more effective way. Remember, hiring in itself is a battleground where you are competing with other organisations to get the most promising talents in your team. Having said that, health benefits can play a crucial role in making top talents interested in your organisation.
In fact, do you know that employee wellness programs create a win-win situation for everyone? As per Rand Corporation, the ROI on employee health programmes is $1.5 which is quite promising. It implies that every dollar spent on employee wellness programmes returns $1.5 and that explains how employers too can benefit from wellness programmes. When employee wellness programmes are in place, the overall health costs and losses due to high absenteeism remain under check.
Revamp your company culture 
It is a very well-known fact that different organisations thrive on different cultural setups. These cultures are subject to the leadership styles that the top management of an organisation manifest. The key point here is that your company culture is one of the first impressions that candidates walking into your organisation will notice. They will pay great heed to the cultural environment within the organisation and will base their decisions on it.
To substantiate, as cited by Built In, 46% of candidates opine that a company's culture is a vital determinant of their decision to apply to it. Furthermore, it also cites that 15% of candidates turn down job offers on the basis of company culture. They show great disinterest in working for companies that are known for their toxic or negative cultures. Do you now see the significance of investing in your company's culture for growing your employer brand?
It makes complete sense that the culture of your company evolves with the latest trends and developments in the corporate world. You should always be committed to creating a workplace culture that has more than enough to attract young and fresh talents. You need to view it in terms of what millennials and Gen Z candidates seek from a workplace culture. For instance, employee of the month programs and so on to improve competition among them.
Listed below are some of the most critical dimensions that your company culture should incorporate to build a strong and appealing employer brand.
Learning and development opportunities for employees: As per Lorman, 87% of millennials are of the view that workplace learning opportunities are paramount. You can leverage Learning Management Systems (LMS) and innovative mentorship programs to create a culture that promotes employee development. Companies that are known for investing in the careers of their employees have the best chance of taking top talents. Startups should promote a culture of collective growth, learning, and development. They should endorse the idea that their employees will get enough learning opportunities and the chance to grow parallel to the organisation.

Appreciation: Appreciation is a pivotal prerequisite for most employees when it comes to company culture and support from the top management. HubSpot infers that 69% of employees will work with greater diligence when they receive appreciation. Similarly, quality candidates will be keen to apply to your organisation when your practices related to employee recognition and appreciation are seen in a positive light.

Empathy: The

State of Workplace Empathy Report

underlines the crucial fact that more than 90% of corporate workers rate workplace empathy as significant. They want their organisations to have a natural culture of empathy. In fact, 84% of Chief Executive Officers believe that empathy drives greater business success.   

Gender Neutrality: The younger generations are quite uncompromising about the kind of work environment they want to be a part of. Millennials and Gen Z people are quite liberal in their life principles and support gender neutrality in all forms. Hence, it is important that your organisation earns enough popularity on the lines of gender neutrality. Your organisation by default becomes far more attractive to young candidates when it challenges gender stereotypes. Are you ready for the revamp?
Also, you would be amazed to know that strong company cultures can lead to a fourfold increase in revenue generation! This vital insight from Forbes explains why companies, in general, lay great emphasis on evolving their cultures. Besides, your company's culture is also the cornerstone of your efforts to attain the levels of employee engagement and retention that you anticipate. All great things begin with great cultures!
To encapsulate, every organisation aspires to hire outstanding talents who can add immense value to their growth and advancement. However, companies need to compete with each other to acquire the best people who can be game-changers in the long run. The key is to build enchanting and exciting employer brands to have the maximum appeal. In doing so, the above strategies and ideas would have a huge role to play. With these tactics, your business can attain a competitive edge over others in the domain of hiring. Also, your branding campaigns need to focus on creating an impressive employer brand as well in addition to brand awareness among consumers.