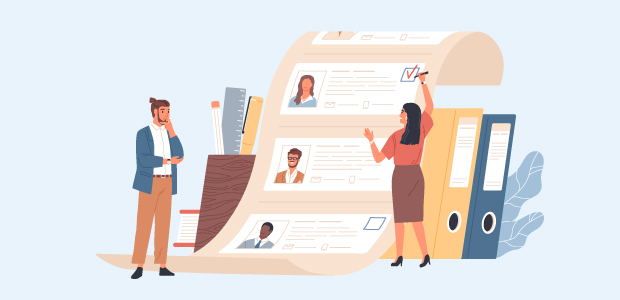 The first steps: A guide to the basics
Before you can begin to hire a team, it's vital to have an understanding of the laws and principles around employment as a whole, and to have checked your business is ready to take on employees.
Terms and conditions: employment law contracts
Employment law contracts are not only necessary to bring on team members and enforce the practical details, but also to establish boundaries and guidelines for behaviour. Just like other contracts, the more ground you can cover regarding possible future scenarios and your expectations on how to handle them, the better.
Written statement of employment particulars
If an employee works for you, you must provide them with information known as a 'written statement of particulars' within two months of their start date. In fact, from 6 April 2020 the government has announced changes which include having to provide the majority of these written particulars on or before the date employment starts. These written particulars can be part of an employment contract and must include:
The names of each party: employee and employer

A job title or description of work

Dates of when employment began and details of any previous jobs that count towards a period of continuous employment

Details of the amount and frequency the employee will be paid

Hours and days of work

Details of holiday entitlement (and how this interacts with public holidays)

Location of the work and any relocation issues

Details of any other locations where the employee will work
Other elements to an employee contract
In addition to the above, the written statement of particulars should feature explanation and guidelines on other processes and procedures within the business (these can also be included in an employment contract):
Sickness and absence

Discipline and dismissal

Employee grievances

Notice periods

Pensions

Working outside of the UK for more than a month at a time

The length of temporary or fixed term work

Details of any collective agreements
Anyone you hire will be subject to the contracts they sign and the policies and procedures of your business, but these documents will need to have been carefully and thoroughly drafted to cover every relevant aspect, in order to avoid issues further down the line.
If you are keen to cover additional potential issues such as:
Employee motivation and morale

Breaches of confidentiality

Issues around absence, sickness and leave allowance

Flexibility on days, hours or place of work

Intellectual property and post-termination restrictions
You may want to seek legal advice from a solicitor specialising in employment law, as the more thorough and specific you can be on these topics, the better equipped your business will be.
Drafting policies and procedures
As well as contracts, many employers provide their staff with employee handbooks which include information about the policies and procedures which will guide staff through their day-to-day working life in your business.
This is often one of the key pieces of work carried out when hiring, and where necessary and when concerns arise, policies can be drafted by solicitors to ensure they are both within the law and ensure flexibility for you to be able to amend them without breaching employment rights.
Common types of policies which can be drafted in addition to basic employee contracts include those on:
Disciplinary and grievance

Anti-bribery and corruption

Whistleblowing

Flexible working and annual leave

Equal opportunities

Data protection

Maternity, paternity and adoption leave

Alcohol, drugs and smoking

IT and social media use
Policies and procedures help to keep your workplace ethos consistent, and the number of policies you choose to include in a handbook may change as your business upscales.
Such policies are 'non-contractual', which means that employers can update the policies at will, without breaching employee contracts. Also, the policies themselves, whilst enforceable, act as guidance and therefore there is often no grounds for a breach of contract claim if the employer does not follow any particular policy to the letter.
If you would like your policies and procedures to cover off niche, specific behaviours and processes for your organisation, a solicitor is highly recommended. Well-drafted policies and procedures can ensure smooth introductions for new staff and a cohesive atmosphere for all employees.
Data protection and the GDPR
During the recruitment, hiring and onboarding process (as well as when storing personal data in general) you must comply with data protection laws, some of which come under the recently updated General Data Protection Regulation.
Employers must properly protect their employees' personal data, as well as the personal data of people who apply as part of the hiring process. Data should be secure from damage, theft or loss, and consent must have been freely and explicitly given for you to hold or process certain data in certain circumstances.
Types of personal data employers must protect
Data protection applies to a huge range of types of personal data for both employees and potential job candidates:
The names, addresses and contact details

Sensitive or 'special category' data such as health information

Equal opportunities data such as sexual orientation and ethnic origin

Data relating to criminal convictions and offences
In fact, the Information Commissioner's Office (ICO) classes 'any information relating to an identified or identifiable natural person' as personal data, so in certain circumstances even information about the way a person looks, their job title and their political opinions could be classed as personal data.
How to comply with the GDPR when hiring
With all this in mind, and when considering the increased likelihood of major fines from the ICO for breaching data protection laws, it is important to have thoroughly processed and securely stored all personal data and have confirmation that your business and employment procedures correctly comply with GDPR rules.
You will need to provide clear privacy policies to all candidates, which make them aware of how and where their personal data will be stored, for which purposes it will be used and for how long you will retain their data.
Taking these first steps in your business's employment process will help to set you up for a secure but adaptable future, meaning you won't fall foul of legal obligations under the current law. Next time, we'll be taking you through the actions of getting started – hiring, workers rights and immigration laws.