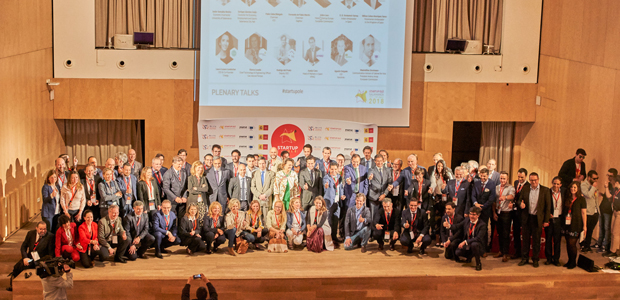 First official visit ahead of Startup OLÉ
The European Commissioner for Innovation, Research, Culture, Education and Youth will make her first official visit to Spain on 9th and 10th September 2021, inaugurating the Startup OLÉ technology event in Salamanca on the 9th. 
Ms. Mariya Gabriel will also meet with key actors of the European Rural Innovation Platform (REInA) to boost innovation and development in rural areas, as well as the concepts of Startup Villages, and the European initiative 'A Long Term Vision for Europe's Rural Areas'. Given the Commissioner's keen interest in the rural and regional environment, her visit will cover aspects related to the new European Programme and the opportunities it offers to build more sustainable, greener and more competitive societies.
She is, therefore, a passionate and strong supporter of the European entrepreneurial ecosystem and the work of startups, as she showed in her speech at the Opening of Startup OLÉ'20 in digital format: "I am passionate about startups, their energy, their passion, their ability to change things for the better. Europe needs them today more than ever... That is why initiatives like Startup Olé are very important in creating a platform for entrepreneurs to connect with each other and with investors and industry players".
Startup OLÉ will be the first major face-to-face event for the entrepreneurial ecosystem after the summer. This year's edition of the fair will feature digital activities on 6th and 7th September, while from 8th to 10th September they will be face-to-face. The digital edition will feature the Ibero-American Forum with a round table with the participation of the seven main venture capital associations, and another dedicated to national startup associations. For the on-site edition, there will be a round table of CEOs and Presidents of corporations and investment funds, a round table of success cases from Startup OLÉ, the investor forum, the matchmaking activity and the pitch competition. In terms of verticals and sectors, Startup OLÉ continues to support deep tech startups, with, for example, a building dedicated to space technology, as well as a large number of startups related to biotechnology, artificial intelligence, robotics and drones. Altogether, more than 60 round tables, more than 300 relevant actors and more than 250 startups are expected.
At Startup OLÉ, apart from Ms. Mariya Gabriel, national and international key actors like Ms. Dubravka Šuica, Vice-President of Democracy and Demography at the European Commission, Mr. Victor Negrescu, Vice-Chair of Culture and Education Committee at the European Parliament, Mr. José Carlos García de Quevedo, Chairman at Instituto de Crédito Oficial (ICO), Mr. José Bayón, CEO at ENISA, Mr. Marcelino Oreja, CEO at Enagás, Mr. Carlos Manuel García Carbayo, Mayor of Salamanca, Mr. Javier Iglesias, President of Salamanca Provincial Council, Mr. Simon Schaefer, President at Startup Portugal, Mr. Felipe Matos, President at ABSTARTUPS, Mr. Rubén Delgado, President at Softex, Ms. Liliana Reyes, CEO at AMEXCAP, Mr. Pedro Cerdeira, Member of the Board at InvestorsPortugal, Mr. Bill Reichert, Partner at Pegasus Tech Ventures, Mr. Brian Marrinan, General Partner at Team ABC, Mr. Christian Lopez-Baillo, EIF Representative Spain and Portugal - Mandate Management and Ms. Viktorija Vanage, Founder of Profitus, will participate.
The new edition has also the backing of major corporate and institutional partners, including private and public corporations such as ENAGÁS Emprende, Iberdrola, Acciona, Red Eléctrica (Elewit and Hispasat), BFA (Business Factory Auto), Accenture, RTVE - Impulsa Visión, Caixa Capital Risc, Capital Energy, Oracle for Startups, MONDRAGON, Renfe, Iberia, Guardia Civil, Spanish Red Cross, ONCE Foundation, Bolsas y Mercados Españoles (BME), ICO-AXIS, ENISA, CDTI (Centre for the Development of Industrial Technology), INECO, EUSPA (European Union Agency for the Space Programme), EOI, etc. Funds and investment groups such as Pegasus Tech Ventures, Axon Partners Group, Encomenda Smart Capital, Nexxus Iberia Private Equity, Swanlaab, René de Jong Inversiones SL, InnMind, Blackshiip, Polígono Capital, Redwood Ventures, Cometa, Dux Capital, Ricari, Keiretsu Forum, Kamay Ventures will also participate, and venture capital associations like ASCRI, AMEXCAP, ARCAP, ACVC, ColCapital and ABVCAP. The main Latin American startup associations will also be present, such as ASEA, ASEM, Start-up Chile, ABSTARTUPS and the Spanish AES. In addition, the Argentine, Colombian, Chilean, Portuguese, Brazilian and Mexican governments, among others, will be taking part. Institutions and entities like the RTVE-USAL Chair, the National Institute of Intrapreneurship, ELCAMPUS360, the Entrepreneur's MBA: 360MBA, the Spanish Association of Business Schools, AgroTech Spain, Huelva Provincial Council, the Carlos III University of Madrid (UC3M), the University of Jaén and the University of Cádiz, or business schools such as SMAT Business School and MSMK University will also participate.
From a local, regional and institutional point of view, Startup OLÉ has the broad support of the City Council, the Provincial Council and the University of Salamanca.