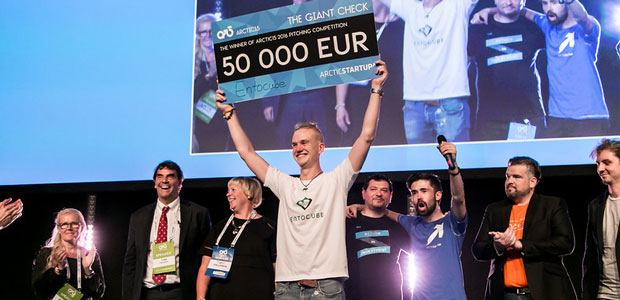 Finalists of the Arctic15 Pitching Competition announced
The finalists of one of Europe's most renowned startup pitch competitions have been announced ahead of Arctic 15 taking place from 19th-21st October. With more than 150 entrants competing for a chance to pitch to an audience of VC's and angel investors, only 15 startups have made the final cut.
The pitch competition is aimed at pre-seed and seed stage startups. The startups will be judged by a panel of international investors and experts including Tuomas Pahlman, Board Member at FiBAN, Henry Nilert, Co-founder and CFO of MCB Finance and other professional business leaders. 
This is the final stage of the competition following a public vote of more than 5,000 votes cast whittling the top 30 entrants down to the final 15 with 9 out of the 15 finalists chosen represented by a female founder.
This year's Top15 companies fighting for glory, and of course for an investment, at the finals of Arctic15 Pitching Competition by NewCo Helsinki, are (in alphabetical order):
This year's Arctic15 Pitching Competition is sponsored by NewCo Accelerator in Finland. Entrants were asked to submit their pitch deck and answer multiple choice questions to be in with a chance of making the public vote of 30 selected startups.
With Finland considered to have one of the most advanced angel business networks across the globe, the event aims to help startups embrace the challenges faced in 2020, through introducing startups directly to some of the most established venture capital investors. One of the highlights of this year's event is the new 'Syndicates' feature, an angel investor focused network which organisers believe will result in the creation of multiple investor syndicates that will directly invest in winning startups at the competition.
Speaking ahead of the Pitch final competition, Timo Helenius, Head of Growth Services at NewCo Helsinki said: "NewCo Accelerator services are designed for high potential startup companies looking for external financing, but which have struggled to find a suitable service provider due to the global pandemic.
"Arctic15 provides a great platform to identify and connect with such growth-hungry companies, and we are very excited to be hosting the Pitching Competition and facilitate startups getting very much needed exposure and investment opportunities on the way to recovery from the financial crisis."
The Arctic15 event itself, which evolved originally from a Pitch competition showcasing the best startups from across the Nordic and Baltic regions, has grown significantly in recent years becoming renowned for connecting leading European investors and startups. The Pitch competition finalists will also be considered and screened by all attending angel investors with a view of finding a match so they can lead in building a syndicate to invest through Arctic15 immediately.