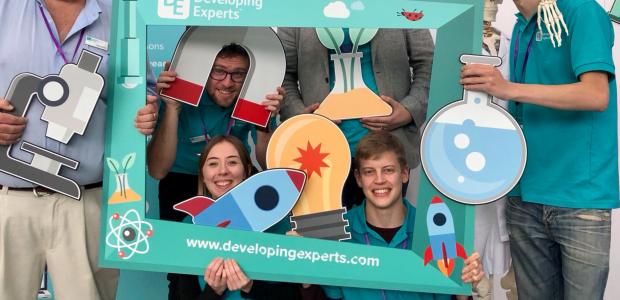 Expertise at the fingertips of the next generation
Like so many startup companies, the origin of Developing Experts was in the recognition of a problem, and an individual with the foresight to come up with a solution. The individual in question is Co-founder, Sarah Mintey, and her company was one of Tech Nation's 2019 Rising Star Winners, and are one of ten UK companies on Google's Immersion Growth Program for 2020. For our women in tech issue, Startups Magazine caught up with her to find out more.
With over 20 years' experience in teaching, some of which spent as a head, Mintey has seen first had some of the major issues that surround the current education curriculum, when it comes to teaching maths and science (STEM). A Confederation of British Industry (CBI) report published in 2016 identified that 89% of primary school teachers don't feel confident about teaching those subjects.
"Having been a teacher for years, I was regularly put in the position where I had to teach a subject that wasn't my discipline," said Mintey. "If you look at the stats for how children decide their GCSEs, their decision is often based on the teachers. So you've got to have teachers that know their subject well, that teach it with passion and insight, and do it in a way that engages young people - you can't do that as a non-specialist."
Exacerbating the problem is the fact that due to the change of framework within Ofsted inspection from last September, teachers, as part of their Keystage 3 Plus curriculum, now have to embed careers advice within lessons, a daunting task for many teachers as Mintey explained: "Take an industry like rail, for example. There are 15,000 different disciplines within that one sector – how on earth is a non-specialist meant to have any idea about all of those?"
Therefore, after several years of research and visiting countries such as China and the US, Mintey launched Developing Experts in 2015 – a platform that provides a comprehensive library of online science lessons complete with presentations, interviews with experts, lesson plans, handouts, and science experiments (at home or in class), songs and quizzes.
The company is working with leading scientists from the Norwich Research Park, the University of Maine's Darling Center and Nottingham Trent University. Its library also gives access to leading educationalists such as Dr. E. D. Hirsch, Doug Lemov and Mary Myatt who provide stimulus films that are designed to engage teachers in professional debate by exploring a range of subjects.
"I wanted to be able to set, track and monitor the performance of each child, class, year group, school, or group of schools, in real-time against a standardised set of content - achieving total equity in the classroom," Mintey added. "So the curriculum isn't dependent on the quality of teacher and their educational experience, it was down to the quality of learning resource they have access to. And the whole platform was built on that premise.
"We're being quite disruptive because we think we've got the best science curriculum resource on the market, based on the reactions that we're getting from the 2,150 schools currently using it. We get about dozen schools a day signing up at the moment. And basically teachers are saying to us that for the first time, they now feel confident about teaching science."
A link to industry
What came as a surprise to Mintey was that the Developing Experts' platform, and the tracking and implementation processes it was using, had just as much relevance within UK industry as it does in the classroom, by product placing career opportunities in each lesson.
Mintey continued: "If you're doing a lesson on rocks, you might hear from a geologist from Shell, if you're doing a lesson on light, you might hear from a lighting engineer from Network Rail. So we're sharing the applications of concepts learned in the world of work in a way that connects the dots for teachers, parents and children - but doing it in a way where industry can actually track, build and engage with their future talent pipelines."
As an example, Mintey highlighted that the lifecycle of a nuclear power station is 100 years. Based on the average profile, the next power plant manager for Hinkley Plant C is currently aged seven. Therefore, the solution from Developing Experts offers that particular industry the ability to know where it needs to start placing the messaging for the sector within the curriculum in order to attract the necessary talent in 12 years' time.
"For the very first time we are enabling industry to track their return on investment for their work in schools, which can run into the millions," she added. "Most companies want access to curriculum time, but the only access given previously has been in the form of career talks, evening events and one day competitions - with none of them able to track any factor within that investment. There is no coordinated approach. We can bring transparency and a coordinated approach in a way that enables industry to measure, tweak, refine, adjust and optimise their educational campaigns."
Developing Experts will be working across ten industries as identified by the Government (plus horticulture). One of which is the energy sector, and to highlight the issue still further, Mintey added that there are 30 different wind farms currently going through planning in the UK. In order to meet the service demands and grow the engineering base that is needed to service these farms as they come on board over the next ten years, the industry needs another 276,000 engineers. The government has also set targets that by 2030, 40% of the workforce are BAME and female.
Timing is everything
To underline the importance of capturing children's imagination at an early age, Mintey cited recent research published by the Department for Education (DFE), which revealed that children tend to rule out careers between the ages of nine and 13, and make stereotypical judgments about careers between the ages of six and eight.
Therefore, it's vital that careers information is placed within the curriculum before the age of six, otherwise the talent pipeline will already be significantly diluted. "What we can do is help teachers teach the subject with confidence, provide them with the BAME diversity type role models that are needed to attract the breadth and depth of talent that the various sectors are looking for, and do it in a way where teachers, parents and children are united," said Mintey.
So far Developing Experts has had 20 angel investors, one which being New Anglia Capital, and have raised nearly £1.8m to date through six rounds of funding.
A huge part of the growth of the company has been its outreach into China, where it has partnered with the Institute of Education Sciences and China's 38 research centres across each province of the country, who have each agreed to stock Developing Experts' offering in each of its centres across China. "That means that we're likely to have in the region of 20,000 licence orders from that network alone," added Mintey. "So we've got a very real prospect of becoming a unicorn company over the next 12 months."
Challenges
Mintey added that it has been a long, hard road, since the company's beginnings in Mintey's lounge, to the point where Developing Experts now has over 300 different industry partners on the platform, including Oxford and Cambridge universities, the James Hatton Institute, and Airbus.
"When we started in 2017 we had 11 schools using a poorer version of the product," she added. "And we've had to go through multiple rewrites to get to the point where it is now. It's beautiful now – in terms of the product, user experience and quality.
"It's been hard work - 100 hour weeks for the last six years, on little to no pay. Not only do we have the platform in English it's now available in Mandarin and over the next year that will grow, and we'll expand the offering."