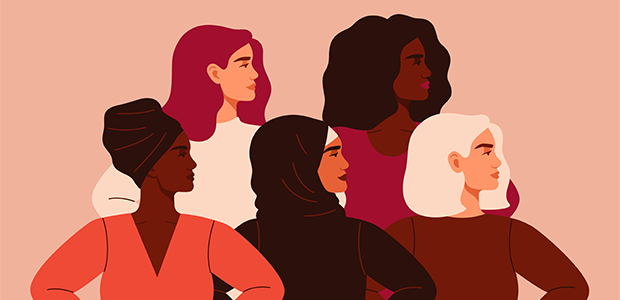 Everywoman Entrepreneur Awards 2023 finalists announced
Extraordinary women from across the country have been unveiled as the 2023 finalists in the UK's longest-running recognition programme for female entrepreneurs.
Now in their 21st year, the everywoman Entrepreneur Awards, in association with BGF and NatWest, continues its mission to share the ever-evolving story of Britain's most inspirational female entrepreneurs. From all walks of life, these stories include their success in the face of adversity, innovative ways to solve business challenges and their ambition to scale and grow their businesses.
Selected from nearly a thousand entries, the 2023 finalists are at different stages on their entrepreneurial journey, from multi-million-pound empires to those spearheading social enterprise for the greater good, or solopreneurs starting out. They also span diverse industries – from veterinarians to female financial wellbeing, carbon neutral postage to hair and beauty products, artificial intelligence to catering services, through to global production houses and a children's day-care, to name a few.
The 2023 finalists were chosen by a judging panel comprising some of the UK's most successful women in business as well as VCS and investors who are at the forefront of closing the funding gap with their diverse portfolios. Judges include Chrissie Rucker (Founder of The White Company), Mandy Nyarko MBE (Angel Investor at Ada Ventures), Connie Nam (Founder of Astrid and Miyu), Yvonne Nagawa (Chief of Staff at Black Seed Ventures) and Libby Gibson (Partner at Piper PE LLP), amongst others.
Speaking about the awards, Maxine Benson MBE, Co-Founder of everywoman said: "When we launched the everywoman Entrepreneur Awards, we wanted to recognise the economic contribution of female entrepreneurs as job and wealth creators, as innovators, and as influential role models for future generations. And since then, everywoman has been at the forefront of the drive to increase the number of female entrepreneurs, working with government, industry bodies and the corporate sector to accelerate the rate of progress and dismantle barriers that remain for women, particularly when it comes to accessing funding, growing, and scaling their businesses.
The everywoman Entrepreneur Awards have a central role to play in highlighting the disconnect between the growth ambitions of female founded businesses and their access to funding. Of the larger fast growth scale up businesses that entered this year 76% stated they were definitely, or very likely, going to be seeking additional funding in the next 12 months, over 80% were planning to deploy more technology and 95% said they would be recruiting more employees. These women are wealth and job creators and the businesses we must be investing in for the growth of UK Plc.
This programme has created an incredibly unique group of like-minded women who not only advocate and champion each other, but also provide a business referral and a support network. These annual Awards will see these unstoppable female founders gather in London again to celebrate this year's finalists and winners and to recognise their role to the UK economy."
The award winners will be announced at a live ceremony on 6th December 2023 in London, when the greatest female talent will once again unite to celebrate the achievements of these extraordinary women and their businesses.
The 2023 finalists are:
Solopreneur Award - sponsored by Nutriment:
Emily Pomroy-Smith, Founder of BamBonn, from Trowbridge

Emilie Bellet, Founder & CEO at Vestpod, from London

Lisa Sinnott, Founder of St Paws Training Academy, from St Albans
Mumpreneur Award:
Cait Salanson, Founder & Managing Director at The Little Kitchen Company, from Winchester

Caroline Bevan, Founder & Director of Rug Rats and Half Pints Ltd, from West Buckinghamshire

Helen Cannon, Founder & CEO of ISON Management Ltd, from Surrey

Jennifer Brown, Founder of Pampeano, from Kidlington
Small Enterprise Award - sponsored by NatWest:
Catherine Mandungu, Founder & CEO at Think RevOps, from London

Lizzie Carroll, Founder & CEO at Haus Distribution, from Newcastle

Ibi Eso, Founder & CEO of Bridgehouse, from London
Scale Up Award - sponsored by BGF:
Aimee Connolly, Founder & CEO of Sculpted by Aimee, from Ireland

Marie Owen, Founder & CEO of LS Productions Global Ltd, from Edinburgh

Victoria Prew, Founder & CEO of HURR, from London
International Expansion Award:
Alex Brownsell, Co-Founder & Creative Director at Bleach London, from London

Emily Bendell, Founder & CEO at Bluebella, from London

Hannah Ruth Coffin, Founder & CEO at Needle & Thread, from London

Victoria Johnson, Founder & CEO of VetCT, from Cambridge
The Next Level Award - sponsored by SG Kleinwort Hambros:
Krisi Smith, Co-Founder & Owner of Bird & Blend Tea Co, from West Sussex

Sally Alington, Founder & CEO of Ethos Farm Limited, from East Mosely

Samantha Rutter-Bryant, Co-Founder & CEO at Open Study College, from Manchester
Entrepreneur for Good Award:
Dipalee Jukes, Co-Founder and Co-CEO of Ground & Water Ltd, from London

Emma Tapper, Co-Founder & Director of Miniml, from West Yorkshire

Jenny Garrett OBE, Founder & Managing Director of Reflexion Associates Ltd, from Hemel Hempstead
Tech Innovator Award - sponsored by AddIn365:
Deirdre McGettrick, Founder & CEO of ufurnish.com, from London

Emma Kay, Founder & CMO of WalkSafe, from Cheshire

Marvee-Lisa Booker, Co-Founder & Chief Growth Office at Postworks Ltd, from Northampton

Simi Lindgren, Founder & CEO of Yuty, from London
Social Star Award:
Ramona Gohil, Founder of Rani & Co, from London

Sally Barker, Founder & Director of The Canine Dietician Ltd, from Huddersfield

Yanika Cordina, Founder & Director of Cordina Hair, from Poole
Daina Spedding, Investor at BGF, commented: "It's been a privilege to judge this year's event. The standard of entries highlights the strength and ambition of female founders across all sectors, regions and growth stages. I hope this year's nominees will inspire entrepreneurs of the future and showcase to the wider investment industry the huge potential for growth that exists in women-led businesses across the country."
Yvonne Greeves, Director of Women in Business at NatWest, added: "The everywoman Entrepreneur Awards continue to celebrate and showcase the wealth of female talent from across the UK. Shining a light on the phenomenal female entrepreneurial talent and those inspirational role models has never been more important. I want to congratulate all the finalists and look forward to celebrating with you at the Awards on the 6th December."
To find out more about the finalists and book your place at the awards ceremony, please visit https://www.everywoman.com/entrepreneur-awards/.