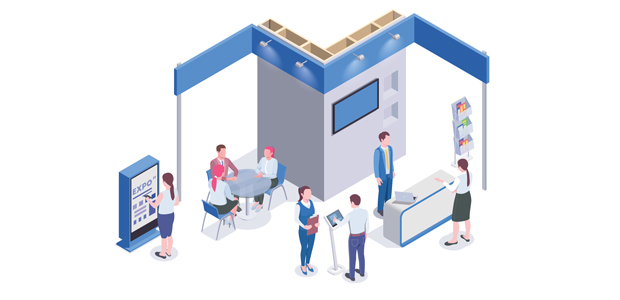 Everything you need to know about…. trade shows
Trade shows, trade fairs or exhibitions – whatever your preferred term – the format is not to every business owners' taste and in many cases get a bad rap. However, some of the biggest entrepreneurs including Phil 'Shoe Dog' Knight, founder of Nike, and Patagonia's owner Yvon Chouinard, relate pivotal points in their businesses having taken place at B2B trade shows.  
Attending trade shows can be daunting for any business. The process of exhibiting can be expensive and with some of the largest exhibitions having upwards of 1,000+ exhibiting companies, standing out as a small enterprise, and generating enough return on the investment can be hard.
According to research undertaken by global event measurement experts Explori, the absence of live events in 2020 has negatively impacted exhibiting companies with 66% losing their ability to network, 59% indicated less brand exposure and 48% generated fewer leads for their business.
So how can startups leverage trade show attendance and capitalise on those couple of event days to level up their business rather than walking away with an empty bank account and a pile of out-of-date merchandise?
Firstly, know exactly who you are looking to meet and what your business needs from this event experience. If you have a team, share this information with the person who is going to be part of your exhibiting campaign. You need to be 100% clear on the kinds of job titles and ideal companies you'd like to meet face-to-face. It's these details that will not only help you select the right trade show, but also to manage and measure your success.
Secondly, shop around.
Don't jump at the first trade show because it is a 'must-attend' or the 'industry leading' event. Instead, look to understand whether the event truly attracts YOUR target customers and if you can, walk the event floor as a visitor before making the investment yourself. Take the time to speak to the companies taking part and let them know of your intentions to exhibit. From my experience as an event secret shopper, most companies are happy to share their experience and insight.
If you are a member of an association or have an PR company who know your industry well, ask them for their advice. Many attend a huge range of industry events and will have an overview of the events that can help you achieve your goals.
Once you have got your ideal event in mind, look to book your stand EARLY. Waiting for a 'last minute' deal is a complete misnomer because the potential saving you will have from the event organiser will be swallowed up by late booking chargers with your suppliers. You will also miss out on most of the pre-event marketing opportunities and the chance to build an effective campaign around your presence at the show.
If you are looking to save on your stand booking, ask the event organisers if they run a startup pavilion with an entry level pavilion or look to collaborate with partners to host a joint pavilion. If you have several partners who are in a similar position to you, think about sharing a stand and dividing the costs. Not only will this save budget and resource, it will also help you have a bigger presence and potentially attract more visitors to your shared stand.
Associations may have access to membership discounts or be able to negotiate on your behalf and if you are looking to exhibit at an international trade show, there are a number of grants and financial support packages available through Visit Britain.

Many exhibitions now run startup competitions – look to enter where you can. Being on a shortlist or winning a prize can be PR gold and help boost your brand awareness.
Think about who you are taking with you. A very close friend of mine who is a solopreneur was exhibiting her lifestyle brand at Top Drawer and was managing the stand for four days by herself. When I heard this I jumped on a train to give her a hand. Do not underestimate how tiring it can be so consider creating a rota for your staff or bringing additional reinforcements along. Your perfect customer may stop by your stand at 4pm on the final day and you will want to be able to engage with them with as much enthusiasm as you did on the first day.
Speaker slots are the perfect opportunity to demonstrate your thought-leadership around a particular topic and give your company name more mentions on the pre-event promotion.  Be wary of creating a sales pitch though, and if you are not confident hosting your own session, offer yourself to the content manager as a panel member.
Finally, know your measurement of success. Trade shows are a huge amount of effort and resource and you will want to know it has been worthwhile!
Smart actions to save you time and maximise your investment when exhibiting:
The official show photographer will usually have some great special packages for exhibiting companies. Look to capture team photos, photos of you interacting with your clients and of your products looking their best.

Employ a PR or marketing service to help you maximise your investment. Yes it is more investment but they can make your presence at the event 10 times more than simply a stand.

Keep your stand design simple. If you are looking to make an impact, the simplest of designs are often the most effective. I've curated a Pinterest board of some of my favourite stand designs from around the web.

Ditch any single-use merchandise. It's a tired cliché that's causing havoc on our planet.

Use the event to launch a new product or service and sent out a press release, news article around the feature. Share this not just with the media but also with the event organisers marketing & PR teams. The marketing teams managing events are always looking for news stories from exhibitors and will be happy to share through their email and social networks.