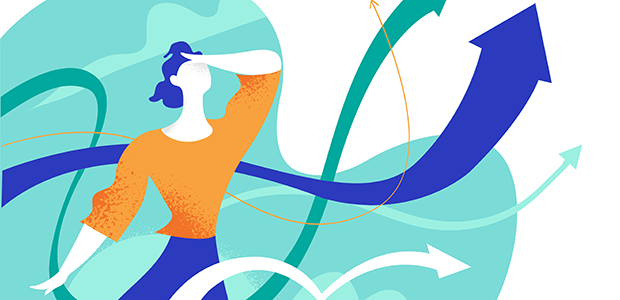 Every challenge is an opportunity
Many companies find themselves in the midst of change now. The post-Covid economy and other megatrends are creating new business models and transforming industries and offerings at a rapid pace. When faced with change, some companies stubbornly maintain their paths, while others embrace it and seek to evolve.
Evolving can look like many things. It could be closing the door on outmoded processes that can't keep up with the pace of modernisation. It could also be building a diverse team of talented individuals, each bringing something new. But, from my perspective, one of the keys to thriving in changing conditions is being extremely cognisant, in every decision, of the role that a female-led team can play.
I recently read a Financial Times Stock Exchange (FTSE) report on Women in Leadership emphasising the importance of women in efforts to rebuild the post-Covid economy. Whilst it underscored the pertinence of 'right now', most importantly – it equated change with opportunity.  
Starting my career in finance and equity trading, I entered a workplace which mirrors the real estate industry – both predominantly male, and largely conservative in attitudes towards change. As with most roles in their infancy, mine involved taking meeting notes, managing data, and completing paperwork. These tasks were often tedious, but they allowed me to observe. I saw quickly that many of the tasks I completed should and could have easier and more efficient processes.
When I'd taken time out of my career to have my children, I was reminded of the importance of the future, and of questioning tradition. With a newfound desire to move away from equity trading and carve out a better work-life balance, I decided to not only pursue the questions I have had for so long, but to answer them.
I was driven by the belief that if change is more efficient, more productive, and more adaptive than tradition, by means of evolution, change would be chosen. The solution that myself and my team created championed this. Raccord is an amalgamation of the problems I faced at the start of my career; filtering through confusing data and trying to make sense of assets and investment opportunities.
Data should tell stories. By distilling complex, disparate data into clear, powerful, and essential metrics, Raccord allows these stories to be told. Raccord equips decision-makers with the intelligence needed to analyse assets and investment opportunities the smart way. This all lends a hand to more accurate decision-making that takes less time.
I wanted Raccord to not only cater to the problems I had faced, but to push the boundaries of what real estate data management is currently capable of. Using a mobile-first approach, Raccord takes a unique market position and truly champions change.
As the FTSE Women in Leadership Report suggests, movement and change offer opportunity. Placing more women in leadership roles, at least from my experience, will not only make workplaces more diverse, but promises to expose industries to fresh eyes. In turn, this offers new and indispensable innovation that those established in an industry already may have missed.
This is one of the (out of the many) reasons that I am so proud of the culture and team that we are building at Raccord. Despite being the Founder and CEO, I really don't see myself as a CEO in a traditional sense at all. Instead, I see myself as a leader of a diverse, female-led team of incredible individuals, operating in an industry that is still overwhelmingly male.
As the adage goes, 'the only thing that is constant is change', so ladies – you may as well seize it, run with it and make it happen.