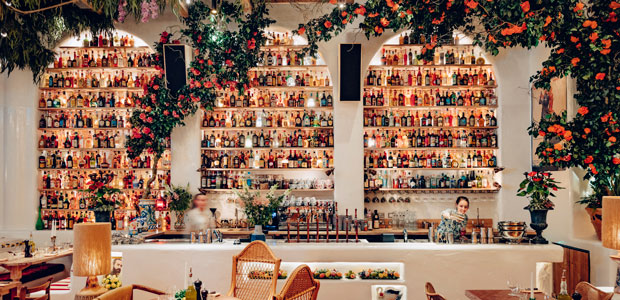 €20m seed round to launch new fintech proposition startup
BIG MAMMA founders, Tigrane Seydoux and Victor Lugger have joined forces with Christine de Wendel to announce a €20m seed round to support the launch of a new, innovative payment method - Sunday, created by restaurateurs for restaurants.
Designed to enable customers to pay in under ten seconds, this new technology will benefit both customers and restaurants, by creating a smoother process for modern restaurant owners, members staff and customers. The solution will be deployed simultaneously on both sides of the Atlantic (France, Spain, United Kingdom and the United States). The ultimate goal is to make the bricks and mortar restaurant experience as simple and fast as online.
Combatting the millions of hours that are wasted daily, waiting for the bill to be paid, the three founders and a team of more than thirty restaurant and tech enthusiasts have created a new tool - Sunday - that allows customers to pay the bill in ten seconds, by using a QR code. 
Successfully giving restaurant owners and their staff time back, which can be used to focus on their core mission of creating an amazing experience, through their cooking and high-level service.
Big Mamma, launched a similar solution into 14 of their global restaurants last year as the COVID-19 pandemic took a hold of the hospitality industry. This introduction of new technology was met with much success and customer approval, with data revealing that:  
80% of Big Mamma customers choosing to pay via QR code 

On average each table saved 15 minutes in wait time 

40% more tips for waiters 

50% of all bills were immediately shared among guests 

12% increase in table turn

10% increase of average basket 
With this proven success, the two entrepreneurs decided to partner with US-based Christine de Wendel, former COO of Mano Mano, to make this solution available to the hospitality industry, offering restaurant owners a new payment service that is simpler and more cost-effective than their current solutions. 
"It's simple: we do better for cheaper. For the customer it's great and for the restaurant owner and his staff it's great and profitable." said Christine de Wendel, Co-founder and CEO of SUNDAY in the US
Sunday will be available in the Big Mamma groups restaurant's globally, with Circolo Popolare and Gloria launching here in the UK. In addition to this, the payment solution will be implemented into thousands of restaurants including the Hoxton, the JKS Groups, Hoppers, Brigadiers, Gymkhana, Flors and Corbyn & King locations, The Wolseley, Bellanger, Colbert, Zedel and many more. A rapid deployment made possible by the connection with the main American and European payment systems such as Oracle Micros, Brinks, Tiller, Zelty, Revo, CashPad and dozens of others.
"The end of a meal can so often be 'make or break' in the experience of a restaurant-goer. It doesn't matter how good your welcome is, the quality of your food or friendly and efficient your service, if the payment becomes protracted or uncomfortable then that's the lingering memory. Your staff will have more time to serve and your customers can more easily show their appreciation - Sunday is a Win-Win." said Jeremy King, CEO of Corbin & King.
Sunday is looking to grow fast and conquer the hospitality industry globally with rapid expansions throughout the UK, Europe (Spain and France) and the US. The brand has successfully raised €20m in seed capital from Coatue and New Wave, with further support from numerous established hospitality investors who have participated in the financing of Big Mamma and other hotels and restaurants globally. 
"We are very pleased to have restaurant and hotel owners and funds on board who share our ambition to make it simpler and cheaper to pay around the world," said Victor Lugger, Co-founder and CEO of SUNDAY.