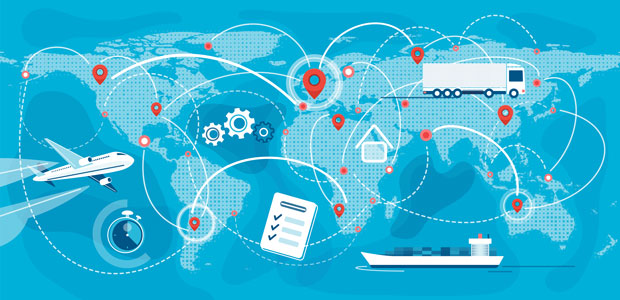 Ethical Dangers of a Global Supply Chain
Regardless of how much we, as a society, are able to utilise and implement technologies into business, global supply chains will always be dependent on the ways in which people interact with one another.
Supply chains on a local but more predominantly on a global scale, can be problematic and pose challenges for buyers and suppliers looking to do business ethically and to work with companies with a strong code of ethics. Some of the problems that can arise include poor working conditions; poor wages; forced labour and other forms of modern slavery; gender discrimination; and failure to mitigate against climate change.
Why are ethical supply chains important?
Did you know that 83% of supply (cite) chain professionals say that ethics are extremely or very important to their organisations?
Ethical supply chain management is being fuelled by consumer demand, profitability, and visibility. The concept of ethical sourcing boomed in popularity over the past four years, with terms relating to the topic generating an average of 6,530 average monthly searches in January 2022 compared with just 2,640 monthly searches worldwide back in February 2018. (Google Search)
Ethical supply chain management tools carry particular importance for organisations looking to improve their social standing.
When the global supply chain presents ethical risks
During the pandemic, two particularly high-profile cases come to light in regard to global supply chains and forced labour. Firstly, a Malaysian palm oil producer which was set to supply Nestle, Loreal, and Unilever was reported to be exploiting staff(cite)  – this was followed by the Supermax Scandal. Supermax is a Malaysian business which had won an NHS contract for the supply of 88.5 million rubber gloves worth £316 million. After the manufacturer had won the contract, the US banned them from selling their products after it became apparent through an inquiry that they had used forced labour in the manufacture of the rubber gloves.
The American ban, alongside pressure from Lib Dem peer, Jeremy Purvis, prompted the UK government to launch its own investigation into Supermax in a bid to ensure that products created by victims of modern slavery would not be used in Britain. The US enquiry followed earlier accusations that employees of Malaysian rubber glove manufacturers were being forced to work long hours, had their passports confiscated, were being paying incredibly low wages, and were working in conditions in which COVID-19 protocol was being completely disregarded.  In January 2022 the Guardian announced that the UK Government is set to face legal action after approving the Supermax firm as a PPE supplier and failing to cut government contracts with them despite the fact the US and Canada did.
Four in five consumers claim the ethical standards of a business matter to them. Businesses and organisations which can prove that they're committing to an ethical future will undoubtedly outperform their competitors in years to come – Patagonia, a California-based clothing brand, actually publishes the list of farms, factories, and mills they work with, highlighting their commitment to full visibility and transparency.
Delta eSourcing advises that getting to know your suppliers should be your first port of call when you're thinking about supply chain ethics. By knowing that your suppliers are verified, you can successfully manage any associated risk and successfully make informed decisions.
Perhaps one of the biggest complexities in regard to the issues that exist with modern day supply chains is that of knowing what to look for. While businesses might be able to say they're actively working to eradicate unethical behaviour from the supply chain, if they don't know what the problems are, then how are they meant to stop them? And how can a UK company keep on top of what happens in another country?
CIPS (Chartered Institute of Procurement and Supply) notes how technology can help reduce the risks associated with global sourcing and, ultimately, enable buyers or those further up the supply chain to get a better grasp of how ethical your suppliers are despite the fact you're not geographically near them.
Firstly, you can manage ethical risk by introducing structured, well laid out contracts that detail what standards are expected from all parties and detail what will lead to the termination of a contract. Technology can be utilised to house these contracts, making agreements easily accessible and referenced when necessary.
Secondly, "advanced analytics can also identify deviations from negotiated terms and conditions, allowing legal and procurement teams to take preventative action to ensure that minor issues do not become major problems."
Finally, blockchain is being used a way of storing unchangeable records of contractual agreements which improves visibility and transparency. According to CIPS: "each new and existing supplier would guarantee compliance by submitting key documentation through the blockchain."
Environmental damage
Consultancy firm McKinsey reported that 90% of companies' impact on the environment comes from supply chains.
Issues relating to the environment include deforestation, excessive energy usage, hazardous emissions, and water pollution.
The impacts of global supply inefficiencies are stark – according to a report by the World Economic Forum, "eight global supply-chain inefficiencies account for more than 50 per cent of all carbon emissions."
Wired journalist, Alex Rinke, detailed how: "global supply chains must get smart – and sustainable, in 2022."
Ethically, business should act to support the protection of the environment, making the planet a greener place, rather than allowing their actions to have detrimental impacts.
Above, we've detailed just a few of the issues that buyers can encounter when sourcing globally. While ensuring that you don't fall foul of any ethical dangers is certainly complex, communication with and understanding of suppliers must sit at the forefront of any decision making.