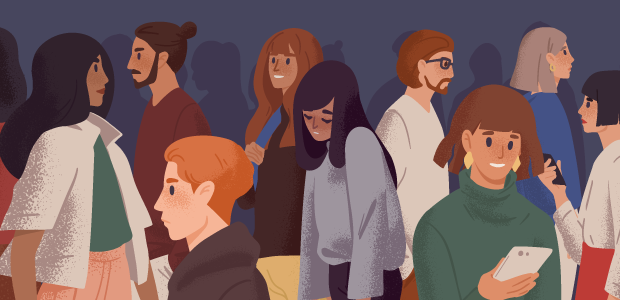 Entrepreneurs suffer the most from mental health
Mental health treatment specialists, Smart TMS, share their research into the effects of workplace stress, and explore the idea that the success and increased affluence that many entrepreneurs experience can actually be detrimental to their mental health and happiness.
There are a variety of benefits and perks that come with running a startup, building your own business, and watching as your "baby" develop as a result of your hard work and determination. The satisfaction of making your ideas a reality and achieving your goals cannot be understated, and the experiences gained from the process can be invaluable, not to mention the improved economic stature enjoyed by many successful entrepreneurs.
Many assume that, because of these personal and professional perks, that successful entrepreneurs and high-powered professionals have little to worry about, and as a result they are not brought into the conversation with regards to mental health treatment and advocacy campaigns.
However, new nationally representative research by depression treatment experts SmartTMS, now provides eye-opening insight into just how severely the nation's mental health profile is affected by our professional lives and our socio-economic status. The results unveil a fascinating relationship between perceived success, money and mental health, indicating that the issue does not subside based on increased professional or financial success, and may in fact be exacerbated. Given the added pressure and stress endured by entrepreneurs with the highest levels of responsibility in a business, this pressure can often be too much to handle. 
Key statistics
Over 1 in 3 (34%) professionals admit to experiencing severe anxiety through comparing their success to others around them
Over 1 in 5 (21%) feel like they don't have a right to be depressed because they are relatively successful and affluent
Over 1 in 5 (22%) professionals feel that, as an entrepreneur or director, they feel that they cannot take time away from work to address mental health issues as it would be a detriment to the business
15% of professionals feel that, the higher their earning capacity, the more unmanageable their mental health issues become
29% stated that their job gives them a lot of stress and anxiety that they do not know how to manage
29% stated that they cannot open up about their mental health to family, friends or colleagues, due to fear of judgement or a loss of professional reputation
Smart TMS' body of independent evidence shows that the common misconception "money buys happiness" is most definitely not true. Over ONE in THREE respondents have admitted to experiencing severe anxiety through comparing their success to others around them, whilst 29% worry about what friends and colleagues would say if they were aware of their mental health struggles.
This reveals not only the psychological price we pay for affluence and professional success, but also that our social circles, which are typically seen as our own personal support networks, are beginning to have the opposite impact and often cause more anxiety than relief.  
Gerard Barnes, CEO of Smart TMS, offers the following commentary on the mental health struggles faced by many entrepreneurs and professionals as a result of their work, and shares his thoughts on what must be done and how to tackle the problem:
Smart TMS' research shows that a truly startling number of professionals are suffering severe mental health issues from the expectations and pressures at work. The stresses of today's work-first, rat-race lifestyle can induce severe anxiety, and the obligation to support this imbalanced work and leisure is extremely detrimental.
There is no doubt that a significant number of entrepreneurs and those who are leading startups are found amongst the millions of Brits whose professional pressures and obligations are having a negative impact on their psychological state; as the CEO of a company myself, I know first-hand that building a company from the ground-up requires a huge amount of determination, persistence, trust, and in many cases, risk-taking.
As a company grows, so too does the number of tasks to be juggled, responsibilities to be handled, and potential points for added stress. More needs to be done to help people recognise symptoms of mental health conditions within their own behaviours and respond accordingly. It is also vital for everybody, especially those such as startup entrepreneurs who endure huge amounts of stress and who carry a great deal of responsibility on their shoulders, to understand that they are likely prone to depression, and should ensure that they are in a position to seek help and treatment if needed."