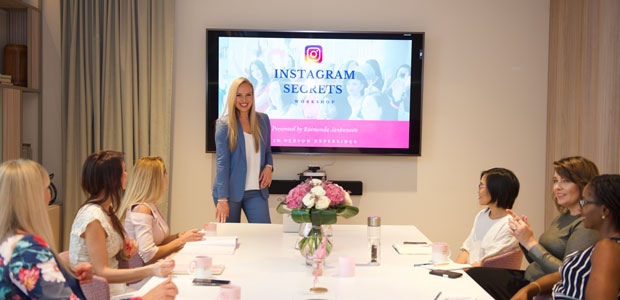 The entrepreneur who is helping women across the world in the pandemic
Over the space of just two years, 33-year-old Raimonda Jankunaite from Kent has established a thriving community of 150,000 women in business from across the world. As the Founder of The Women in Business Club, her ambition is to share the secret sauce to succeeding in business. This has led her to educate, inspire, and support thousands of female entrepreneurs from the UK to Australia and the US. But it wasn't something she originally set out to do...
Raimonda, who has been building businesses since the age of 21 and has two degrees - in law and business - said that her lightbulb moment came at a time in her life when she least expected it. She was feeling depressed and deflated after her refillable water cooler business and a crowdfunding business hadn't worked out as she'd hoped. She was certainly not looking to start another business.
"The turning point came for me in 2017 when commuting across London for networking events, I spotted a gap in the market for a support and learning network to help female entrepreneurs thrive in business. A few months later, I hosted my very first all-female event. It was a huge success and the women wanted more. We now have a growing international following of 150,000 women across the world, have created opportunities for international collaboration, and are helping women become leaders of tomorrow.
"When I founded Women in Business, everything changed. It ignited a passion in me to help other women succeed in business, breakdown the barriers they faced, and become the leaders the world needs right now. We've recently seen a huge step in the US with the appointment of Kamala Harris as vice-president-elect, but there's still a long way to go in terms of gender equality in business and leadership. In 2021, I want women with a dream to feel empowered to build their empire - believing that it is all possible. I want to stand up and say: there are no more women leaders, there are just leaders."
From startup business owners to those who are already on the road to success and are looking to scale and grow, Women in Business Club is a global membership club and support network for female entrepreneurs from all sectors in business.
From hosting virtual workshops to in-person experiences on topics like personal branding and confidence building to money and sales, Women In Business Club has many options for personal and business growth.
Top tips for business success in 2021
After the unpreceded year of 2020, the new year symbolises a year of hope and beginnings. Here Raimonda Jankunaite shares her top tips for setting up your own business in 2021 and achieving your dreams:
1. Identify your potential customers
Knowing who you want to help and how you can help them is the first crucial part of figuring out your business plan. What are their pain points and worries? Focusing on this is the key to your business goals and marketing.
2. Is your idea a swimmer?
Once you have your idea, you need to see if it passes the sink or swim test. So many entrepreneurs build and launch a business online before testing if there is any market interest. The best solution is to use a simple landing page that will tell them very briefly about your idea and the core benefit you are offering them. Stick with one simple problem and solution that you are going to be offering.
3. Start before you're ready
Once you have established a need for your potential business, use your existing network and social media channels to build awareness with your audience. You want to start attracting some interest before you launch your business online and then use different types of content that show off your credentials and the expert, and authority in your field.
4. Turning cold leads to raving fans
As you begin to generate interest in your product or service launch, you need to have a plan of how you are going to nurture your cold leads into warm prospects. Are you going to be using email automation when you launch a business online? Or perhaps a Facebook Group? Or other means of consistent communication, where your prospect can build trust.
5. Collaborate
Being an entrepreneur can be lonely at times. It's nice to have someone there to bounce ideas off and have someone who has your back. But more than that, collaborations are a huge deal when it comes to creating a successful launch online. Receiving an endorsement from already established and respected figures in business is a sure-fire way to establish your credibility and tap into new audiences.