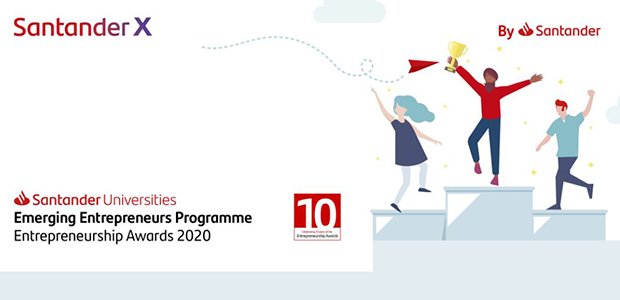 Entrepreneur Awards winners announced following national final
This week saw the national final of Santander's Emerging Entrepreneurs Entrepreneurship Awards 2020. Since May, 81 businesses from Santander's network of 85 partner universities have been put through their paces during a series of expert-led online workshops and webinars, covering a range of topics under four key themes – money, management, marketing and motivation.  
Research conducted by Santander Universities to support the new Santander Universities Emerging Entrepreneurs 2020 programme revealed that over 480,000 (27%) students currently run or plan to run a business whilst they are at university. The study – which polled 1,000 undergraduates from across the UK – found that almost one in ten (nine percent) entrepreneurs are already running a business alongside their studies, an increase from just six percent recorded in 2018, with an additional 18% of students saying they have plans to start their own business venture in the near future.
As part of the programme businesses were put through a gruelling semi-final round last week, where the they went head-to-head, pitching in eight groups across three days for their chance to be selected to progress through to the National Finals. Eight businesses emerged from the semi-finals who each pitched to two panels for their chance to be one of two winning businesses to each receive a prize of £30,000 seed funding. Also announced was the winner of the Emerging Entrepreneurs Crowdfunding Challenge, who received £6,000 from Santander.
During the semi-finals there were also eight businesses who were selected as the judges choice winners. These businesses were put forward as the judges favourite and although they didn't have the opportunity to pitch in the final, they each received £1,000 pounds from Santander.
The judging panels were led by Nathan Bostock, Chief Executive, Santander UK, and Susan Allen, CEO, Retail and Business Banking, Santander UK. They were joined on the panels by Theo Paphitis (TV Dragon), Prue Leith (Chancellor, Queen Margaret University), Warwick Hill (Business executive and Entrepreneur) and Julie Devonshire OBE (Director of the Entrepreneurship Institute at King's College London). In addition, the event was hosted by Seema Jaswal, professional sports host and journalist. 
Speaking at the finals event, Bostock commented: "We're committed to supporting higher education and nurturing entrepreneurship among students particularly given the current challenging environment for graduate career prospects. Now more than ever, it is important we support those who are laying the foundations for a business while studying and may be on their way to making it a full-time career. Congratulations to the winners and all those who presented their pioneering ideas this year – they were truly inspirational."
Paphitis added: "The quality of idea, development and execution of these businesses is excellent and shows how entrepreneurial students can be. That these ideas have been nurtured alongside their studies is inspirational and shows me that UK startups are in great shape. That so many students are now starting businesses as they study shows the value of earning whilst learning."
The eight finalists and judges were split into two groups, where a winner emerged from each. The finalists were:
First session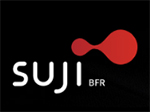 Suji BFR, Heriot-Watt University: Suji BFR will globalise the use of Blood Flow Restriction (BFR) Training, an accepted method of improving athletic performance amongst researchers and professionals in sport. BFR training creates high stimulus training without the impact of intense exercise. The Suji-System streamlines the process of BFR training and has been developed by collaborating with professionals in sport. It is designed to be usable by any athlete of any capability and is already being used by the Scottish Rugby Team, Lawn Tennis Association, and the English Ballet.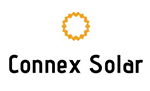 Connex Solar, University of Strathclyde: Connex Solar are developing plug-and-play microgrid technology to transform off-grid electrification in the developing world. Millions of people in developing countries currently rely on solar home systems (SHSs) for electricity, although these typically waste up to 60% of the energy they generate. To resolve this Connex have designed the Energy Box, a smart controller that connects households to form community microgrids. Connex are currently conducting field trials in Rwanda.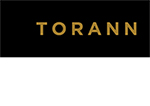 Torann, Queen's University Belfast: Signal Optimiser, developed by TORANN (the Irish word for 'noise') is the award-winning solution to the historic problem of loss of sound quality encountered by millions of musicians playing amplified instruments across the globe. Current equipment's performance results in up to 50% loss of sound quality when playing amplified instruments. Signal Optimiser is a fully compatible plug-and-play device, positioned between the instrument and amplifier which continuously provides 100% sound quality. TORANN also plan to produce audio effects devices such as distortion pedals, reverb and delay pedals.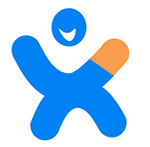 ExpHand Prosthetics, Loughborough University: ExpHand Prosthetics make life changing 3D printed prosthetics for children that grow with them. The prosthetics are designed with children in mind as they are affordable, lightweight, modular and can be customised in different colours to suit a child's personality. ExpHand Prosthetics' mission is to give every child access to the prosthetics they need, regardless of wealth or location. A patent application for ExpHand has been submitted. The product is currently going through testing and user trials, with UK sales scheduled to start later this year. Longer term plans include the development of the ExpHand product range to accommodate other types of limb loss.
Second session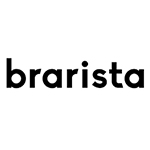 Brarista, University College London: 80% of women in the EU are wearing ill-fitting, uncomfortable bras. Brarista uses AI technology to help women find bras that fit and simplifies bra-fitting and bra-shopping in three simple steps resulting in highly accurate and personalised sizing and style recommendations. The company are currently finishing their prototype and conducting proof-of-concept testing with potential users.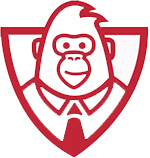 Konglomerate Games, Abertay University Website: Konglomerate Games is a Dundee-based video games company which specialises in developing healthcare games to improve lives. Their game, Archipelayo, is designed to be used as physiotherapy for children with cystic fibrosis. The game also measures patients' adherence to treatment through analytics and has been designed to encourage the correct techniques to combat the disease's progression. They aim to gamify physiotherapy routines to increase adherence for children aged 6-16. The game is currently being used in a clinical trial throughout the UK, primarily at Great Ormond Street Hospital.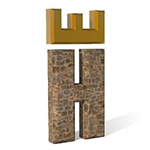 Experience Heritage, University of York Website: Experience Heritage is bringing history to life through immersive technology, working with museums, heritage charities and historic sites who are seeking to educate, inspire and engage their audiences. Experience Heritage provides creative digital solutions for visualising and communicating heritage, helping organisations achieve more accessibility for their historic collections and sites through 3D modelling, augmented reality, and mobile apps. Specialising not only in the creation of digital visualisations but also archaeology and research, Experience Heritage provide a unique and comprehensive service. Current clients include the National Trust, and the University of York.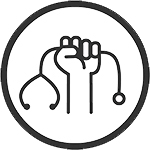 Smash Medicine, University of Oxford Website: Smash Medicine improves people's lives by making education seriously fun. Through years of research, they have developed an evidence-based edtech platform where students, faculties and professionals collaborate to produce high-quality content in the form of multiple-choice questions. They also combine both gamification and artificial intelligence to enhance engagement, making the learning experience more efficient. Smash Medicine's platform is currently being used in some of Europe's biggest academic institutions including the University of Oxford, Barcelona and Grenoble as well as the Spanish Council for Medical students.
And the winners were:
Torann and Konglomerate Games
Louis Loane, Founder of Torann commented: "Thank you so much to everyone involved, the judges, of course, and everyone at Queen's who have really been behind me during this whole journey. The support from the Santander Universities Emerging Entrepreneurs Programme has allowed us to sharpen our business model and strengthen our commercialisation plan. Winning the Santander Universities Entrepreneurship Awards is absolutely incredible and will provide us with the critical resources to accelerate our business and capture the global opportunity."
When asked what he thought stood out from Torann's pitch he added: "We've managed to squeeze quite a lot of information into our short pitch and I think that really helped us to get across what we're trying to do - we simplified the message that we're trying to get to the judges I think that's what helped us in the pitching."
Jamie Bankhead from Konglomerate Games commented: "The other finalists were all so amazing, so this is very unexpected. I was nervous prior to the pitch; I did a lot of research into the judges and they are all pretty formidable.
"We are so pleased to have won the Santander Universities Entrepreneurship Awards. It was such a fantastic competition and the prize will enable us to focus on developing our game designed for children with cystic fibrosis. The Emerging Entrepreneurs programme has enabled us to build our network with such fantastic people which will really help us in the long run."