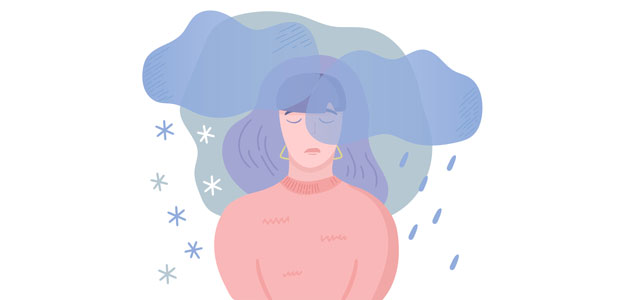 Ensure dark nights don't lead to longer days: tackling winter blues
Winter alone can have a negative impact on anyone's mental health. Couple this with spending the best part of the year dealing with a pandemic and the subsequent lockdowns and it's no surprise that according to ONS statistics, the weeks after the clocks went back saw record levels of loneliness in the UK.
For Britain's workers, without the urge to get away from our desks to enjoy balmy, summer evenings,  we will probably spend longer hours working at our desks. While some might enjoy the cosy winter nights in anticipation of Christmas, for others, the arrival of winter marks the start of a season of depression known as seasonal affective disorder. 
With this in mind, it's vital that companies check in on employees regularly to ensure they're putting their wellbeing first during this challenging time. Sodexo Engage, the employee benefits specialist, has pulled together their top five practical tips for managers to ensure their people are looking after their mental wellbeing as the dark winter days draw in.
1) Vitamin D is key
The first lockdown was certainly a challenge, but it also coincided with the beginning of spring. Many took advantage of their one exercise slot a day to go for long walks and enjoy the sunshine. Lockdown 2.0 was very different. Any novelty has truly worn off now and people are grappling with isolation as well as seasonal changes affecting their moods. Seasonal Affective Disorder is always worth looking out for come winter, 50% of people state that winter affects their state of mind, but lockdowns will have exacerbated this and could easily affect staff motivation and productivity.
Help your people get outdoors when it's light by encouraging them to take walks and even eat lunch outside on bright winter days. Advising team members working from home to position workstations near windows can help too. Employers might even consider being flexible about lunch breaks - slightly longer lunch breaks will mean staff have more time to get outside and exercise rather than doing so in the dark evening.
2) Keep an eye out for burnout
The run up to Christmas is a particularly busy time for many businesses and with the pandemic adversely impacting many sectors, staff may feel pressure this year to exceed targets. More than ever, it's important that the team are able to relax over the holidays. We may not be having big get togethers, but it's even more important to help staff switch off and take some much needed time out where possible.  Keeping staff productive means making sure they're not overworking and faced with unreasonable and unattainable pressures.
Managers need to help staff manage their to-do lists so they're not overwhelmed and should be actively encouraging their team to clock off on time.
3) Destigmatise sick days
Winter is often when people take the most sick days, but this year is different. We're not just dealing with typical seasonal bugs, but a pandemic, and employers will need to be ready to support staff too ill to work. Increased sickness leave will also be coupled with the fact staff might need to take time off to home-school children as accelerating COVID-19 cases spell inevitable school closures. It's vital to be prepared for this spike in absence.
Stigma around sick days and a culture of presenteeism have always been harmful, but the pandemic could be the catalyst for change. Sick days shouldn't be taboo, and staff shouldn't be scared to take time out to recover from illness when needed.
4) 'Thank you'
For so many, the pandemic has taken away the office banter and social element of work, leaving them feeling isolated and potentially unhappy. Fostering a supportive and rewarding working environment is more important than ever, even if it only exists virtually right now. There are many ways to do this, but it starts with a simple 'thank you'. Staff need to be recognised for hard work and thanked for their efforts.
There are also a number of treats and reward options that will help incentivise the team and convey gratitude. One example of a nice pick me up is digital vouchers, which can have many uses from contributing to the weekly shop to treats like wine, chocolate or books and films.
5) Keep team spirit alive
Team building is made infinitely harder when remote working and everyone is in different locations. There are ways managers can continue to team build, it's just a case of being creative. With the Christmas season usually dotted with parties, including the notorious office Christmas party, this year may feel a lot less fun for most.
Take the festivities virtual. Consider an office quiz over Zoom, sending champers in the post so everyone can enjoy it whilst you play games or even a virtual advent calendar in people's email inboxes with daily surprises and treats. Most importantly, we must all pull together, and have each other's backs by continuing to communicate with each other and keep the festive cheer going, even when isolation and remote working drags on.
Jamie Mackenzie, Director at Sodexo Engage, commented:  "Winter can be a challenging time for many employers, but this year has been particularly long and trying in so many ways. The shorter days can leave teams feeling less motivated, not to mention the increased likelihood of employee burnout and absenteeism.
"Employers need to keep an eye out for these all-important signs of winter blues, paying attention to their physical and mental wellbeing. The pandemic continues to be challenging - this winter without all the frivolity of the festive season will be difficult, but together we can still create joy and merriment by taking care of our people through rewards and recognition of a job well-done."