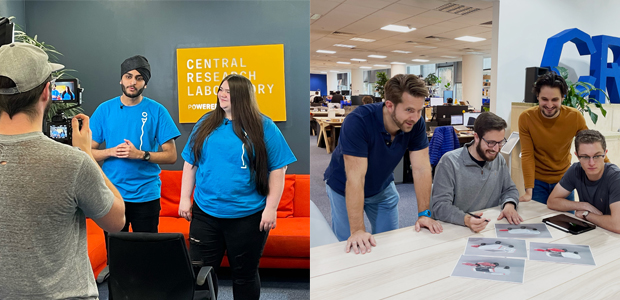 The end is in sight (part two)
As we approach Demo Day tomorrow (which you can still sign up for virtually here), we wanted to bring you a recap of the remaining of the six startups who made up the CRL and Mouser 2021 cohort. 
Lylo
For Lylo, and Founders Joanna Power and Paramveer Bhachu who joined straight out of university, the whole experience has been a learning curve, as the pair didn't have any business experience at all but have learnt so much and been able to build and grow their idea from the ground up. Jo said in particular with product development and the team at CRL have been amazing.
Lessons learnt
The duo has loved being around the other businesses on the cohort, and this is where they have been able to learn even more, from their peers. Pav expressed the experience has been imperative for them and for Lylo.
The fact that it costs a lot to build a product based business is another key lesson the pair have learnt over the past six months. As Pav and Jo's background were in design manufacturing there was a lot to take from the programme, especially elements such as safety standards, compliance and documentation. Jo added: "We learnt that accountants and lawyers cost a lot too."
Changes and developments
One of the biggest changes for the duo was the business rebrand. The business went from Lava to Lylo as this name was far more in keeping with the pair's values and what they want to stand for. Pav said: "It is more connected and in keeping with our product going forward."
Jo added: "We started Lava as a brand without fully knowing what it would involve with trademarking etc. But now we are more included and aware and are happy with our brand."
The product has developed a fair bit too, as they now have a working prototype, the key difference from the original ide and design is that the machine doesn't have the removable mat to soak up the water, but instead you pour the shower water in and it works and washes clothes. Jo explained: "We have been through a lot of research and water testing, and we might need to be mix some of the recycled shower water with fresh water, so the pouring in works well for now."
Lylo's primary USP is the removable mat so this is still something that they are planning to work on and include in the product eventually. The next step for Lylo may be looking to join another accelerator programme, The Green House programme in conjunction with Imperial College and the Royal Institute is one on Pav and Jo's radar. Pav explained: "It is going to be hard to continue without funding, and you need to be at a certain point to go out and raise funds, we are not there just yet."
Market validation Lylo has gained over the process of the programme has also led to changes in the product, as Jo said they want to take on views and comments of their audience, but it is about working through this a bit at a time. "As product developers we are always thinking of our users, but we may be looking to shift more b2b, as saving water can make a big impact for businesses such as student accommodation."
B2C is still important for Lylo as this was their initial idea for the business, Pav said they just need initial sales to start them off, and this is easier in bulk with b2b.
The internals of the product have changed, as the duo had a vision of how a washing machine looked, but when it came to building it the electronics have changed a lot. The aesthetics are still very much the same but inside a lot has developed.
Challenges
Filtering has been the biggest challenge by far, as currently this technology for the product they are trying to create doesn't exist. Jo said as they are filtering the used shower water to be suitable to wash clothes in and therefore then being close to skin, it is a challenge to try and find professionals that can give them advice and help here. "It's about looking at how the sulphates effect the skin, as most filtration is for drinking. We are doing something that has never been done before."
Taking water samples and sending them off for testing really made it the whole business feel real for them, as Pav said until then everything felt theoretical. Another big moment was when they created the first working prototype, and it the device washed as well as a washing machine.
Overall
There has clearly been a lot of learning and changes for Lylo and the co-founders, such as a business re-brand, but they both expressed how much they enjoyed the programme, especially the business-based workshops and learning about the documentation needed when starting a business. Jo said the workshops and facilities have been so beneficial as this is something you would never be able to afford or get access to on your own.
Pav added: "As a group it was great to also socially get together and spend time together, where you could share advice and bounce ideas off eachother."
Muddy Machines
For Muddy Machines joining the cohort was slightly different. They joined the programme, but were a lot more advanced than some of the other businesses, so CRL were very understanding to what stage the business was currently at and made a tailor made package to help and utilise on what the startup needed. Florian Richter Co-Founder said: "The connections and support have been amazing for us."
Chris Chavasse Co-Founder said in terms of the engineering and design it has been incredible for the capabilities the programme has offered, as externally they could not have afforded these. "It has been so beneficial and puts you on a level you wouldn't have been otherwise."
Lessons learnt
One lesson Chris said they have learnt is that everything takes longer than you expect it to. Agreeing with this, Florian said they have learnt what they will do and can do with external resources, and when they will need to use them. It has also been an eye-opener for the pair with the amount of help they have been offered. Florian added: "Never say no to help when it is offered."
Product development
At the start of the year Muddy Machines had a rough-ready prototype, which they were able to take on to the fields for testing and validation in March/April time, and this was all thanks to the help of the product development team at CRL. Chris said: "The PD team helped us so much, we are not quite there yet with the product, but getting there are CRL had a massive part in that."
As they learnt that things take longer than initially expected it for the Muddy Machines product it has become a bit of a race between summers when the product is needed to work. Florian added: "The team around us have been amazing, with the structuring and helping us develop the product ready to show the farmers."
Contrastingly, some developments within the business actually moved faster than the duo first thought, for example the software development. However, with the current climate things also slowed them down, for example, longer lead-times on some components. However, the co-founders were still able to impress the farmer they have been working with on asparagus farming, Chris said: "We impressed the farmer, as he didn't think something could be built that actually works."
When the season was over, the farmer they have been working with organised a demo day on his field, to which the co-founders felt the pressure on for their machine to work. But fortunately Florian said it was one of the best runs the machine had had: "From this he really got it, and has offered us to come back next year for paid work."
For Muddy Machines it is now all about development again after the summer spell is over, and the pair are working on redeveloping the machine to last longer. Florian added: "The shift in the robot and the components are slower than we thought, so in the long-term this may delay us getting back into the field."
The latest developments however, mean the robot can now work in worse weather conditions, which is a big milestone for the team. The machine will now be:
Dust proof

Water (splash) proof

Weather proof
It will not need covering when it rains, which means it can be out in the fields all day, even in the darkness too. Chris added: "The point is to prove the farmer is happy to pay for this."
Challenges
This has proved to be a re-occurring challenge for the team, is that everything is dependent on the seasons and the weather. There is only a short window to test and then to get the robot to actually work in, which will then be followed by a theoretical downtime – but there will always be that pressure.
Chris and Florian have been working with at CRL on the technical challenges that arise on the mechanical and software side of things, to which they never seemed phased. Chris said it is a challenge for them but they get on with it and always deliver. "Everyday something has not always gone to plan, but we always get there in the end." It is about having all these technical elements and then getting them right all at the same time.
Another big challenge was the weight of the machine, as it is battery powered this means it is heavy as the batteries needed to be a certain size to last the duration, which slows the machine down. The team worked with CRL on this optimisation problem and have reduced the machine weight from 350kg (which included a 5kg battery that lasted an hour), to 250kg (with a 120kg battery which has a run time of 12-16 hours).
Chris said: "The key learning we had was that the machine was fine operating up and down in the rows of the field, but getting in and out was difficult, and the latest version and redevelopments means this manoeuvring is now a lot easier."  These changes were not to be expected, the fundamentals have stayed there, just slight adjustments to help the robot into production.
Beneficial aspects
Although the programme is not over yet as the pair are still very excited for demo day, reflecting on the experience they said the investor day was very beneficial and worthwhile with all the people that were there being relevant to them.
Another element they co-founders are pleased to take-away is the video they have created for demo day. Florian commented: "It is something you wouldn't have necessarily invested in, but it looks so good and will be so valuable to our business for a long period of time."
One of the real draws of the programme has to be the product development support, but the other parts have also been fanatic value. The programme allows you to attract not only investors, but employees and other talent to, it really just opens your business up to opportunity. Florian added: "The people you hire are so important, it makes such a difference to your business but getting the right ones can sometimes be as difficult as funding."
The pair will take a lot away from the programme, but one thing certainly has been going into the field and proving they can do a meaningful amount of labour, which will hopefully lead on to testing the machine with other products.
Armaros
Being a hardware accelerator programme has been one of the key draws for many of the business, but certainly for Esmeralda Tuomi Founder of Armaros. Talking about the programme Esmeralda said she loved the product focus as the product development has been essential for her, and it's not always that common in accelerator programmes. CRL really push products and design forward and that is exactly what they have done with the Guardian Angel.
When first joining Esmeralda had a proof-of-concept, but not something that could be mass manufactured, as assembly would have been too time consuming, but she has been able to develop the material to mass manufacturing capabilities, whilst marinating its purpose. She told me: "I have started to approach industry partners to move forward."
Lessons and leanings
A learning curve for the business has been the breadth of different materials, which Esmerelda said she was shocked at. "I have learnt all about the different manufacturing processes, and the strengths and weakness to them all."
It has been great for Esmerelda to work in a team, not just her and an engineer, as CRL provided the support she needed and really thrived off. "To have open-conversations and brainstorm together has been really beneficial for me. We had a lot of peer support at the beginning too, but then everyone has busy schedules and businesses as well as other lives, so has been nice to see the cohort where we can."
Changes and development
Now having a material that Esmeralda can go to a SLS printer and just click a button to produce has been a massive development for the business. "I have now prototypes to show off, and we can actually use models to get the product out there. In fact, we were modelling it on a girl recently and she forgot she had it on – I guess that shows how comfortable and well-designed it is."
The whole brand, design and look has changed. When Esmerelda started she said she didn't have a proper brand in place, it wasn't a priority for her, but now after working with CRL she has a solid brand, colours and identity to work with. Armaros didn't start off as Armaros, there was a name change throughout development, as it became more of a business Esmeralda said it needed a brand of its on, and so she created Armaros for that reason.
This is a product the industry really needs, and is crying out for. It is also something really close to Esmerelda's heart and so she has spent a lot of time and effort really understanding what she needs to protect on the body. She said: "It is very important to me, and we have started developing unique testing rigs. I am passionate in measuring how the body will react to different positions and bending and how the guardian angel will protect it."
The Guardian Angel has been through a few different versions, but within the next few months the business will have its MVP.
Milestones and achievements 
Having raised a successful seed round of £100,000, Esmeralda plans to hire a few more people for her business, in particular a lead engineer and business manager. Some of this money will also go into prototyping, and testing with the test rigs she has designed herself.
Another huge moment for the startup was being recognised by the industry certifying body, who sent Esmerelda a formal letter, which stated their full support to her and the product, and expressing they want to help in bringing the Guardian Angel to market.
Talking about the programme and what is has done for the product, but also for Esmerelda she said the one-to-one brand coaching and product development team have been the most beneficial aspects and have really pushed Armaros into the next stages. She said: "It is massive luxury having a product designer working with you two days a week. A lot of my time goes into building the brand and the business strategy so having someone to execute the ideas has been second to none."
CRL have provided so much, but also been there to soundboard for ideas and inspiration as well. She concluded: "The expertise they provided was indispensable – somethings money just cannot buy for you. Jim has so many ideas for so many things and really guides you through the process well."