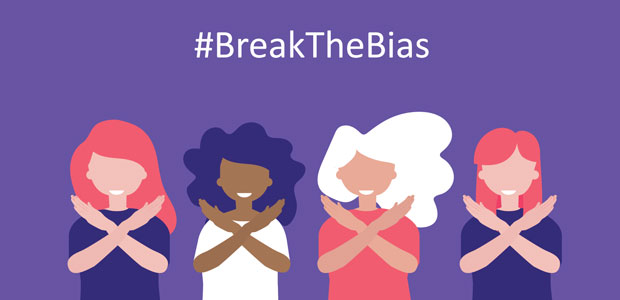 Empowering Women to #BreakTheBias
The theme for this year's International Women's Day is #BreakTheBias, and whether deliberate or unconscious, bias against women has long been an issue faced by many in the workplace.
It's widely acknowledged that gender bias exists – from the gender pay gap to maternity discrimination. However, acknowledging it simply isn't enough anymore. Greater action is needed to level the playing field, and I firmly believe that there exists today a key moment of opportunity to do just that.
The last two years have arguably seen some of the greatest changes to ways of working in living memory. For many, the pandemic necessitated a far more flexible and malleable way of working: From stay at home orders to school closures, workplaces had to be flexible to accommodate the many changes to everyday life, and many families had to come to arrangements to enable both parents to balance their work commitments alongside looking after children / other family members.
Across many businesses, it clearly showed that – even under the most trying of circumstances – their workforces could work remotely and flexibly, and still deliver results.
Now that many workplaces are returning to some semblance of normality, it is interesting to observe the different approaches being adopted to ways of working – 'new normal' or 'previously normal'.
There is no doubt that the ongoing tussle regarding flexible working needed to be taken more seriously as opposed to businesses simply paying lip service, as the experience of so many people requesting flexibly working would suggest has happened in the past.
But boardrooms are listening now; they know they can't afford not to.
Progressive businesses recognise that they risk losing good people if they fail to understand the current demand for more flexible working post-pandemic.
It was a different story for me five years ago when I left a secure, six-figure board-level job where I had worked for 18 years.
As well as looking for a new challenge and the opportunity to drive forward a business idea I'd quietly harboured, I also wanted to achieve a way of working that offered me greater flexibility. I did not feel as if that could be achieved in the blue-chip company in which I was working at the time; it just wasn't something that happened in that type of (fairly male-dominated) business back in the 2000s.
At the time, my outlook was full of unknowns and felt extremely daunting – there were not many women in my circle doing anything similar.
But I knew I wanted a different way of working (and living). I had two young children, but I was very clear that I was very much not 'done' with my career. In fact, if anything, my girls gave me more drive and more determination to succeed in business than I had ever had.
30 years – plus a lot of hard work, numerous setbacks and a lot of forks in the road – I can confidently say that I've achieved my version of success: a good work-life balance, and a fulfilling and satisfying career.
Today I divide my time between Portugal and the UK, and I have a portfolio career. As well as being actively involved in two businesses that I founded, I'm also the Director General of retail body the Direct Selling Association (DSA), the UK trade body for direct-to-consumer retail, which includes brands such as Avon, The Body Shop at Home, Neal's Yard Remedies and MONAT.
In many ways my life exemplifies what hundreds of thousands of women in the UK are doing in their own way: they are taking control and making an income in a way that works for them and their lives.
Direct selling was enabling women to earn independently before they had the right to vote in countries such as the United States. And whilst a lot has changed since then (nowadays the vast majority of direct selling takes place online and through social media), direct selling is seeing a resurgence in popularity.
It's estimated that over half a million people (mainly women) earn this way in the UK.
Not everyone doing so does it as a full-time career, in fact the vast majority don't, instead fitting their work into pockets of time to suit their lives, families and other interests. The average amount earned in the UK is £481 a month.
I am passionate about encouraging women and young people into business, and this type of low-risk approach to doing something entrepreneurial (direct selling is effectively akin to a micro-franchise) is ideal for so many people for whom the traditional jobs market simply does not work.
Independent earning can be a key step towards female empowerment, and at a time when so many women have worked so hard to prove that they can juggle work and life, it's high time that the ability to do so is taken more seriously.
So, as we celebrate this year's IWD, at a time when flexible working has never been so high profile, I urge women to take action and seize the moment to carve out a career that works for you – whatever that might be