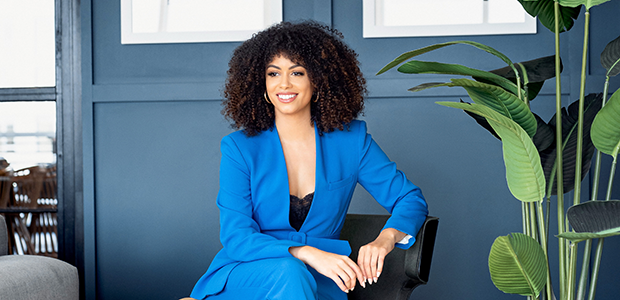 Empowering minds and breaking barriers
In 2019, Fionnghuala 'Fig' O'Reilly became the first woman of colour to win Miss Universe Ireland. She's worked as a NASA datanaut, is a systems engineer, a specialist in data science, and you can often find her every weekend on CBS's STEM TV show Mission Unstoppable. On top of all that, Fig is on a mission to close the opportunity gap for black and brown women in STEM through her company – Space to Reach.
Fig had always known she wanted to start her own company. "It just so happened that I went on this really amazing journey with the Miss Universe Ireland organisation, and I started giving lots of talks about the advocacy work I had been doing for women and diversity in STEM."
It was through this experience that Fig started working on a television show called Mission Unstoppable. Airing in the States on CBS, the show highlights female innovators who are on the cutting edge of science. "I began meeting so many women in STEM, whether they were students, entry level positions, or senior executives, and I started noticing that most of these women are one of few, if not the only, women in the space," said Fig. "And what's disappointing is that most of these women leave the STEM pipeline at some point in their career. Whether that's leaving school or wanting to start a family, many felt they couldn't come back to the industry as it had moved on without them."
"I'd hear these stories over and over and that's how I knew I wanted to focus my startup on helping to plug the holes in the leaky pipeline, making sure that women of all sorts of backgrounds can have a network and a resource where they feel like they can stay in their careers," said Fig.
Role models
As a woman of colour in the STEM field, Fig has come across her own set of challenges. "I was the only black woman that graduated in my year [at George Washington University]. It didn't start out that way, but a lot transferred or dropped out of the programme. I felt the difficulties of trying to get through a programme where you're one of very few who look like you. Even just going to classes and speaking up for the first couple of years was really hard for me … I don't think I would have made it through without my professional advisor," notes Fig.
Fig has had some fantastic mentors and advisors in her life, which she states was important. "There were days where I'd be in his [my professional advisor] office in tears not knowing how I was going to manage and he helped me figure things out," said Fig.
When Fig was 14 and living in San Francisco, she had a math's teacher who noticed her affinity for the subject and took a particular interest in trying to challenge her. One day, he approached Fig with a summer programme that was for underrepresented students of various demographics – the programme involved spending summers at UC Berkley taking nothing but STEM classes. "Now, to 14-year-old me that did not sound like fun," said Fig. "You don't want to go to school [in the summer], you want to be with your friends. But [my teacher] gave me a little nudge and I wound up applying and I was accepted."
For the next three summers, Fig attended the programme. "That programme really opened my eyes to think of the possibility of working in STEM … it was the first time I'd ever met scientists and engineers … they had people of colour and all ages, and it was nice to be able to be around other students that had the same or very similar backgrounds as me," Fig explained.
Fig didn't have any family members that were engineers, but she notes that her parents were really great cheerleaders. "They didn't know how any of this worked, and neither did I, but they were very supportive," said Fig. "You don't need someone directly in your household to be an engineer … but it's important to go out and search for role models or mentors that you can interact with."
To infinity and beyond
Fig obtained her Bachelor of Science in systems engineering from the George Washington University. After graduating, she became a NASA Datanaut, working within the agency's open innovation programme comprised of engineers and scientists who engage with NASA's open data to create new thinking, processes, and products.
"I remember my first rocket launch like it was yesterday," said Fig. "It was so incredible to be part of something that amazing. It was never something I considered for myself, so it took me about a year to apply because imposter syndrome is real, and I didn't think I'd be chosen for the programme. It was this experience that really gave me a lot of confidence."
Fig is also an ambassador for Engineers Ireland and in 2021 was the youngest person in the organisation's 186-year history to be voted an Honorary Fellow. This is the highest honour, other than the Presidency, that can be bestowed. It is conferred on those distinguished by the importance of their work in engineering and science.
Walking her own path
Fig's biggest challenge so far has been walking in so many different lanes. "It often feels like I'm creating a career or a path that hasn't really been walked before. Every other day someone will comment 'So, you're an engineer and you're in a beauty pageant?'. I feel like sometimes people on either side won't take me seriously. It's a hard line to walk because I want to do well at the things that I love to do but I also want to be taken seriously and sometimes, it's tough.
"I think being able to share my story as Miss Universe Ireland did certainly change things because I was able to share my message on a larger scale."
At the moment, Fig is excited to grow Space to Reach. Each month, the company sources, and curates its own jobs board which is now live with hundreds of positions in the US and Ireland.
"I'm excited to tweak things and make them better and, in general, just growing our network and our impact," said Fig. "This year, I turned 30 and I'm excited about how I feel – it feels like I'm stepping into a new chapter."
This article originally appeared in the July/August issue of Startups Magazine. Click here to subscribe