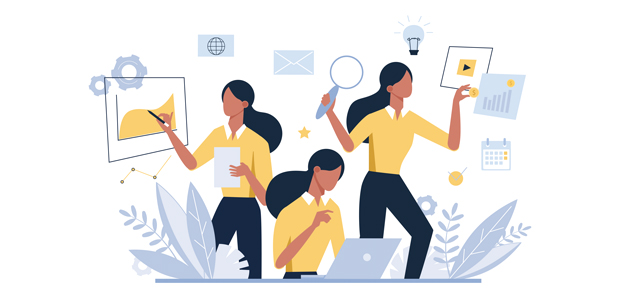 Empowering female tech talent as the UK grapples with 'hybrid working'
It's decision time for UK employers. As life has started to return to normal, organisations are recognising that the interim flexible working measures they put in place during the pandemic now need consolidating into permanent policies. 
Teams want to know if they'll have to return to the office, and if so, for how long. Leaders are grappling with how to turn 'hybrid working' from concept into operational reality. Organisations that have shown willingness to recruit for remote-only roles during the pandemic now face difficult decisions over whether to continue this approach into the post-pandemic world.
What happens next is going to be pivotal to determining the prospects for thousands of highly sought-after female tech workers across the UK.
A more diverse talent pool
From our work with some of the UK's biggest tech employers, we've consistently found that casting the net wider – recruiting nationally for roles that are fully remote or that require minimal office time – massively increases the likelihood of attracting female tech talent.
Women are more likely to be carers. They spend more hours on active parenting duty. They're less willing or able to commute into city centre offices frequently, and they're less attracted by the perks and ambience of conventional (and generally male-dominated) tech offices.
Hence, remote-only roles are perfect for female engineers and developers who, frankly, see little value in being in the office, and crave the flexibility to shape their working days around their myriad other responsibilites.
The problem is that while tech companies are generally quite comfortable with permanent remote working, the nation's biggest tech employers are not, in fact, tech companies. Increasingly, they are banks, insurers, law firms or retailers trying to design flexible working policies to suit many different job roles and employee personas.
Put simply, these employers have to find a way to balance two conflicting strategic imperatives – the need to get back to the office, and the need to hire a more diverse workforce.
Encouraging signs
Our research shows that around three quarters of tech employers are now willing to look beyond their local area to find the right recruits, even if that means hiring for remote-only positions. Similarly, 83% of female tech candidates are thinking along similar lines, actively seeking out relevant roles irrespective of where the employer's HQ is based.
Still more encouraging, two in five employers accept that their tech recruits can be fully remote, with no time required in the office, and the vast majority (98%) do not differentiate salary-wise between in-office and remote roles.
Indeed, the only major recruitment barrier we identified amongst these forward-thinking tech employers is that 22% still have regional variances in salary levels, which could cause problems when recruiting remote-only talent based in different parts of the country.
What about hybrid working?
As for the organisations that want all employees to be physically present in the office at least some of the time, their ability to attract female tech talent could depend on how hybrid working is implemented. Will they offer flexibility over the specific hours required in the office – e.g. avoiding rush hour, or allowing for the school run? Will they mandate certain days each week, or will they let employees pick and choose?
Ultimately, these organisations would be wise to ask themselves whether a one-size-fits-all approach to hybrid working is really a smart move. For example, the typical tech sprint cycle lasts a fortnight – there's a reasonable rationale for bringing tech teams into the office at the start of each new cycle, but beyond this, the value is questionable at best. Tellingly, our research showed that just 21% of tech employees believe remote working impacts office culture negatively.
A competitive edge
The UK has a huge job on its hand to encourage more women into technology roles and help employers reap the undeniable rewards of greater workforce diversity. In the near-term, organisations face a continued struggle trying to find the female tech talent they desire.
Offering remote-only, location-neutral roles not only provides a competitive advantage in the battle for diverse talent; it's the best way to empower women in technology to do their best work.