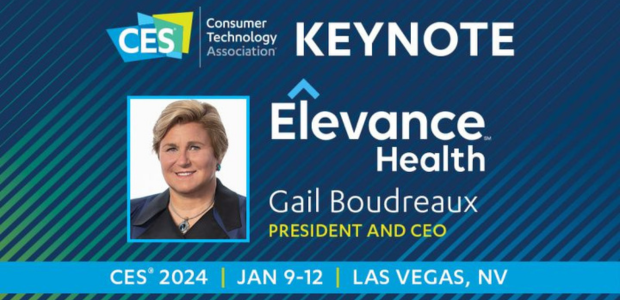 Elevance Health's Gail Boudreaux to Keynote CES 2024
The Consumer Technology Association (CTA) announced Gail K. Boudreaux, president and CEO of Elevance Health, will headline a keynote session to discuss how the company is implementing an innovative whole-health approach to care. It complements the Digital Health Summit, which returns to CES 2024, and will focus on the outlook for health care in the U.S. and beyond.
One of Fortune's 100 Most Powerful Women in Business, Boudreaux's work at Elevance Health focuses on transforming the organization from a traditional health benefits company into a lifetime trusted health partner committed to improving lives and communities, simplifying health care, and building trust with consumers. Regarded for her ability to scale multi-billion-dollar businesses, Boudreaux leverages more than three decades of healthcare industry experience to helm Elevance Health (including the Anthem, Wellpoint, and Carelon brands), one of America's largest healthcare companies.

"Innovation is at the heart of progress, especially in health care, and Elevance Health's journey in leveraging digital technologies to make health care more proactive, predictive and personalised has been transformational," said Gary Shapiro, president and CEO, CTA. "CES 2024 will be a catalyst for groundbreaking ideas and technologies that will shape the future of this vital industry."

"Our whole-health approach is about simplifying health care and building trust with customers," said Boudreaux. "Digitally enabled health care means building digital technologies into the fabric of our ecosystem to improve outcomes and enhance efficiency in day-to-day health and wellness."

Digital Health Summit. The highly anticipated Digital Health Summit returns as part of an ALL ON CES 2024. The Summit includes more than a dozen sessions where industry gamechangers, investors, and policymakers from the digital health sector and complementary industries like AI, gaming, and smart home will converge.

Digital Health on the Show Floor. CES 2024 is quickly filling with a diverse array of health technology companies from across the industry. This year, CES brings together a dynamic ecosystem of payers, providers, manufacturers, and health systems, creating a unique platform for the exchange of ideas and innovations that will shape the future of health care.

Intelligent Health Pavilion. CES will host the Intelligent Health Pavilion (IHP) at CES, providing demonstrations of the latest transformative technologies and integrated health and wellness use cases in a simulated clinical/medical setting.

Digital Health Lounge. A networking hub for health professionals to connect with health companies from biotech to device manufacturers.

Digital Health Mixer. CTA will host a social mixer with the digital health community and industry leaders from across CES, as well as health-focused media attending the show. Last year's event drew more than 300 attendees from across the global digital health ecosystem.

At CES 2023, more than 14,000 industry attendees from 57 countries listed Digital Health as one of their business interests. CES 2024, the world's most powerful technology show, will continue this convergence and foster meaningful discussions and collaborations that can bring about transformative change in the healthcare industry.