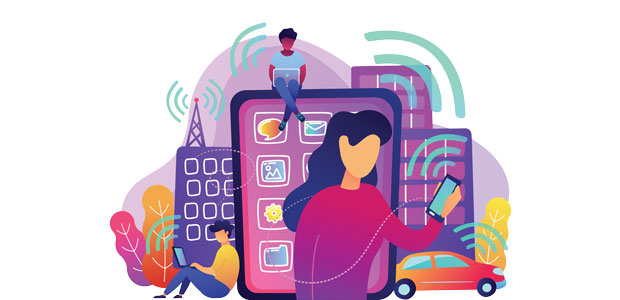 Electrosmart
French startup Electrosmart sets out to increase people's awareness of electromagnetic radiation.
As you read this article, take a look around you, what can you see? Is your smartphone next to you? Or your laptop? What about a TV screen? How many electronic devices are surrounding you? For me, as I write this article, I counted seven different electronic devices within a few metres of my desk.
Over the past few years, there has been a constant argument as to whether electronic devices cause radiation. And while most articles on the internet say that electromagnetic radiation cannot cause immediate damage, it does still interact with our bodies, which can lead to indirect damage, especially following long term exposure.
MAKING WAVES
Understanding the impact of electromagnetic waves on human health can seem a little daunting, especially when they are invisible to the naked eye. As there has been no official statement yet, it can't be said whether or not the link between the exposure and the appearance of a disease exists.
WHY AN APP?
So while researchers and scientists continue to look into the effects of electromagnetic waves, in the meantime, what can we do about our exposure? A French startup has created an app for Android users that measures, collects and displays real time exposition. ElectroSmart aims to advance understanding of electromagnetic waves by offering a tool that reveals your electromagnetic environment and provides useful tips to reduce your exposure. The app helps users to discover the sources, and suggests shutting off some sources that the user is in control of (such as WiFi router or Bluetooth devices) when they aren't in use. Users can also try to move away from the source as a few metres distance can be enough to significantly reduce your exposure.
The app comes with three different colour themes: progressive blue, dark blue and red orange green. Except for the dark blue theme, (where the app appears in a single dark blue colour), the colours of the app represent your exposition levels. The ElectroSmart team have classified the exposition into three different levels: high – the signal power is higher than -40dBm (e-score: 33), medium – the signal power is between -40dBm (e-score: 33) and -75 dBm (e-score: 21) and low - the signal power is lower than -75 dBm (e-score: 21).
In simpler terms, the significance of the colours is: in progressive blue theme – the darker the blue, the higher your exposition. In red orange green theme, the green represents low, orange is medium and red means high levels of exposition.
The levels ElectroSmart defined in its app don't necessarily mean there are any harmful levels of electromagnetic waves, because such levels are still unknown. The levels correspond to common sense and are designed to help users make wise decisions. David Migliacci, Co-Founder of ElectroSmart explained: "Your exposure is high if you are very close to a source, medium is you are at a reasonable distance, and low when you are far away. Of course, inside buildings, your level of exposure can decrease very fast with the distance to the source. As we measure the power of the signal where you are, you only have the values that matter to adapt your environment."
Unfortunately, the app isn't available on IOS for Apple users at the moment. Migliacci said: "It is something we want to get sorted as soon as possible as we view it as a weakness of ours not to have the app on IOS. However, Apple have made it very difficult as they block certain measurements."
IS IT COMMERCIALLY VIABLE?
ElectroSmart doesn't currently have any direct competitors, however, there are companies that provide a service to measure exposure in your house and various different apps on IOS available to download, however all of them use a sensor through the smartphone to measure the exposure. Whereas ElectroSmart aims to give users the most accurate view over their electromagnetic environment by activating all existing antennas in the smartphone.
At the beginning of the ElectroSmart journey, soon after Migliacci graduated from SKEMA Business School, the app received a range of different reviews. The team at ElectroSmart used some of the critical feedback to improve the app through simplification as it was very technical when the app was first launched.
In the latest version of the app, it has added several new features requested by users such as a brand new alert system that informs you in case of exposure, minor bug fixes and customises your profile. ElectroSmart aims to advance science by improving the understanding of the impact of waves. As everyone perceives exposure differently, by creating your own profile, you participate in this advancement. You can also edit and delete your information at any time.
When I asked if Migliacci would have done anything differently he said: "The app started completely from scratch without really researching what a potential user would want the app to include. I think this would have been really helpful for us and we might have been able to avoid certain mistakes we've made."
According to research from French food, environmental and occupational health and safety agency, anses, more than 350 million people worldwide are suffering from wireless radiation. Some symptoms of radiation include back pain, stress, anxiety, headaches, insomnia and hypersensitivity. With the help of ElectroSmart, users can cope with their stress levels by reducing the electrosmog pollution in their environment.