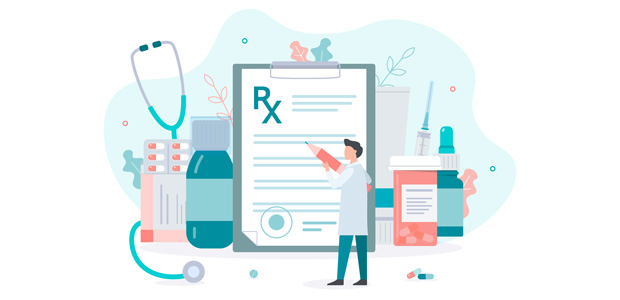 electronRx – a new therapeutic paradigm
electronRx is a deep tech startup, based in Cambridge, UK. The company's story began in 2017 when Founder, Dr Bipin Patel set out to transform how we deliver healthcare and treat disease. The company is built from a team of interdisciplinary scientists and engineers who have all been brought together to develop novel technologies to sense the physiological environment and inform personalised therapeutic interventions.
electronRx's mission statement is ushering in a new therapeutic paradigm that treats each patient as an individual. The startup aims to empower patients with their very own personalised treatment plan which senses changes in their physiology and informs therapeutic interventions in real time, intelligently tailored to the patient with every use.
The deep tech startup has chosen to focus on projects that empower both patients and physicians with improved experiences, outcomes, and increased access to receiving and providing high quality care. Both pillars of work are powered by the startup's custom-built eRx Cloud infrastructure and machine learning algorithms.
Products in the pipeline
In contrast to the vast majority of startups, electronRx doesn't focus on just one product. It has a split between products that are designed to sense the physiological environment and its novel therapeutic interventions.
FoneDx API
FoneDx is an easy-to-integrate API software which allows patients to monitor their cardiovascular and respiratory health using just their smartphone.
Using the smartphone camera, the patient takes a 30 second recording, from which electronRx then extracts the hemodynamic signals and applies machine learning algorithms to provide insight into their cardiovascular and pulmonary function.
The company can currently extract heart rate, heart rate variability and respiration rate and are continuing to conduct research into extracting hypertension risk scores. electronRx are keen to establish partnerships to co-develop this functionality further.
"We give patients a window into their cardiovascular health via the smartphone they already have in their pocket. FoneDx lowers barriers to care by removing the need for hardware devices or wearables."
"Patients are empowered with clinical-grade insights to share with physicians which helps to aid decision making, drug titrations and hybrid care management plans," explained Bipin.
By building FoneDx into hybrid care management plans for CVD patients, providers can reduce the overall cost of care by intervening early and serving patients in the home, support and educate patients in the home to reduce readmissions, increase access to care for remote, underserved populations, enable the provision of reimbursable services and improve patient experience and outcomes.
The startup also supports corporate wellness initiatives with its FoneDx platform. It empowers employees to take control over their wellbeing, reduce stress and improves their overall health by allowing them to track their stress levels just by using their smartphone.
eRxBiomarkers
electronRx aims to transform drug development as we know it. The startup recognises the need for pharmaceutical companies to differentiate their offerings as competition has never been higher.
The eRxBiomarkers system meets patients where they are, on their smartphones, to quickly and easily collect large amounts of physiological data, to inform all stages of the drug development process.
The product can be used as a companion diagnostic tool by improving patient outcomes to enable earlier therapeutic intervention. The machine learning powered system also enables a personalised plan for the patient.
It can also be used for clinical trials data collection. Users can maximise and maintain patient engagement by utilising easy to access patient smartphones as well as reaching larger, more diverse patient populations.
Eagle
Eagle is a portable hardware device that collects medical grade vital signs from a patient. In just 30 seconds, the device allows physicians to check a patient's SpO2, blood pressure, temperature, heart rate and respiration rate.
"In emergency departments it is critical for patients to be seen by the right person, at the right time; first time. Eagle presents a fast, intuitive solution for self-service patient triage by coupling vitals checking and patient history collection with seamless data transfer.
"Observations during ward rounds are frequent, cumbersome and time consuming. Eagle streamlines the observation process by condensing the equipment needed to collect patient vital signs down into one, easy-to-clean, portable device," explained Bipin.
ED3
ED3 utilises AI and machine learning to provide a convenient solution to emergency department crowding, which is an internationally recognised issue in healthcare. According to a published paper in The Journal of Emergency Medicine, 90% of emergency department directors report overcrowding to be a recurrent problem and studies have reported that ambulance diversion occurs in up to 50% of emergency departments.
"There is a wealth of value to be extracted from analysing patient flow. Patterns occur within the timing and volume of patient flow throughout the emergency department. Trends in resource consumption and crowding are visible on a monthly or even weekly level, and the data, including patient entry points, time of day/week and patient history, is readily available," added Bipin.
The company's technology facilitates holistic visualisations and predictions, enabling identification and mitigation of predictable bottlenecks in emergency department patient flow. ED3 has the capacity to ingest big data sets, extracting patterns to predict events continuously at scale.
The eRx ecosystem for epilepsy
Epilepsy is a common condition where sudden bursts of electrical activity in the brain cause seizures or fits. People living with the neurological disorder face daily challenges, the most difficult of which are a lack of effective treatments and not knowing when a seizure could happen.
The company are building a new therapeutic paradigm for epilepsy which will help to alleviate the suffering of these patients and bring them peace of mind.
Bipin explained: "Through the power of machine learning, the device senses different physiological parameters to learn and detect the changes that occur within the patient's body prior to them having a seizure. The detection of a seizure will then inform the administration of additional seizure control stimulation to the vagus nerve, thereby suppressing the seizure.
"This next-generation of therapeutics promises to transform the lives of those living with refractory epilepsy by enabling the prediction, shortening and, in time, prevention of their seizures."
Ohmm
Dysmenorrhea is the medical term for pain occurring with your period. There are two types of dysmenorrhea: primary and secondary.
According to John Hopkins Medicine, primary dysmenorrhea occurs when you first start your period and continues throughout your life. It is usually lifelong and can cause severe and frequent menstrual cramping from severe and abnormal uterine contractions.
Secondary dysmenorrhea is due to some physical cause. It usually starts later in life and it may be caused by an underlying medical condition, such as pelvic inflammatory disease, endometriosis, fibroids, adenomyosis, endometrial polyps, and ectopic pregnancy.
Too many women suffer severely enough from period pain that interferes with their normal day to day activities, causing them to take time off work or school. Many cases of dysmenorrhea remain undiagnosed, with some women simply choosing to suffer in silence and not seek medical treatment.
In a study, published by the University of Maryland, entitled: 'The Girl Who Cried Pain: A Bias Against Women in the Treatment of Chronic Pain' found that women are less likely than men to receive more advanced diagnostic and therapeutic interventions. It also found that the unbalanced representation of women in clinical trials has affected the production of medical and scientific knowledge against women.
It's hardly surprising then that for many women, treatment options for period pain simply does not exist. However, electronRx is offering hope to millions of women across the world who are currently suffering in silence.
Ohmm will improve upon current period pain treatments by providing non-invasive, drug-free and long-lasting pain relief. The device harnesses their proprietary form of neuromuscular electrical stimulation (NMES) to target the two main causes of dysmenorrhea: uterine cramps and inflammation. Pulses of their waveform stimulate at a muscular level, forcing tension to be released and alleviating pain without any of the associated side effects of current treatment options for dysmenorrhea.
Innovate UK has recently awarded a Smart Grant to support the development of Ohmm. This grant will allow the team to develop the current prototype and run the clinical studies to take the device through regulatory approval.
Competitors
The healthcare space has always been a highly competitive space, but perhaps even more so after the last 12 months where we've seen the huge need for healthcare and technology to join together even more.
As evidenced by the products in the pipeline, electronRx works across the entire continuum of care, from understanding patient insights, to diagnosing their condition through technology that senses the physiological environment. This is something that's quite a rarity compared to other startups, who usually tend to focus on one particular product. However, electronRx's aim is to build out the entire ecosystem of care to surround each individual patient.
The company also prides itself on its versatile team who all bring a range of skills to the table. Ellie Drave, Marketing Manager at electronRx said: "Because every single team member has their own unique perspective this means everyone has a mission critical seat at the table and everyone is excited to learn from the skills of their peers, because they have skills that I don't have and vice versa. I think it allows us to take a really creative approach to everything that we do.
"I believe we have a brilliant culture of respect and creativity at electronRx. We have an autonomous working culture which means that everyone who comes in is an expert in their space so they are free to be autonomous in how they contribute to our goal. We all just really care about improving people's lives."