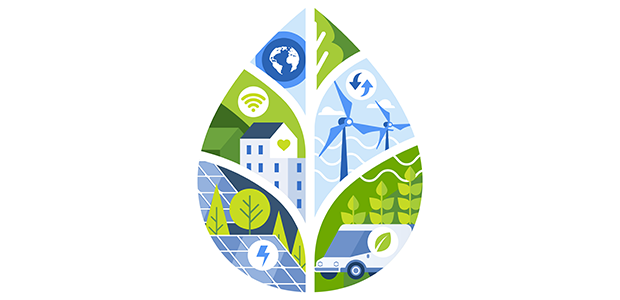 Electron raises £4m to unlock zero carbon energy grids
Electron, a provider of marketplace software for flexibility and distributed electricity, has raised £4 million to expand in the UK, Europe, and North America, and accelerate the world's transition to net zero.  
The investment round was led by East Innovate, the venture capital arm of quantitative commodity, technology and research company, East Alpha, with participation from Riverstone, Nesta, and One Planet Capital. The round was advised by Mountside Ventures. The funds will support Electron's rapidly growing team, invest in further product development, and expand its international presence.
Electron's configurable market platform – ElectronConnect – allows electricity system and network operators, renewable generators, and flexible energy consumers to optimise their use of both variable renewable power, and network capacity based on time and location. This time and location-based optimisation is essential to achieving net zero energy, while reducing network congestion, faster connecting, more clean technologies to the grid, and ultimately lowering bills for consumers. 
This investment in Electron comes at a time of accelerating adoption of battery storage systems, electric vehicles, and smart devices, alongside increasingly volatile power prices. Using flexibility is key to supporting this transition, but up until now, flexibility solutions have relied heavily on simple procurement processes, people-led service, and Excel spreadsheets – creating operational inefficiencies, and poor experiences for providers. Electron's second-generation, software-based tool enables more dynamic market pricing and deeper integration with network control systems, using a technology-first approach to unlock the scale needed, whilst delivering an improved experience for market operators, providers, and end consumers.
Electron's Chief Executive Officer, Jo-Jo Hubbard, commented: "We believe that time and location-based markets for energy and flexibility are foundational to the fastest, cleanest path to net zero energy. But, when Electron started developing these markets six years ago, the policies, business models and technologies required to support such markets were still unclear. 
"Fast forward to today, many of the world's major economies have already reached 50%+ variable renewable generation; storage technologies have reached inflection point; over 1 million electric vehicles are already on the road; and increasingly congested networks have risen to the top of political agendas. There has never been a clearer need or mandate to deploy flexibility markets at scale.  
"This is the inflection point for which we developed ElectronConnect: built with 25 utility partners across five countries to be the world's most dynamic and integrated market platform for distributed, low-carbon grids. This funding brings us the resources to scale, as well as the right partners, insight, and support on that journey. We are grateful for the backing of investors who share our vision and are excited to get going."  
East Innovate's Head of Venture Capital, Rory Scott Russell, commented: "We are delighted to back the Electron team in their mission to drive the adoption of flexibility markets at scale. We are deeply cognisant of the scale of the opportunity for global flexibility markets, especially in the context of an increasing variable supply of renewables; volatile energy prices; and ongoing cost of living crisis. Electron's superior trading technology and software-first solution has the potential to build and maintain the leading position in this rapidly growing market."
Nesta's Senior Investment Director, Alex Hook, commented: "Nesta has a long-term interest in supporting the decarbonisation of UK households, and a key part of this is ensuring that our electrical system contains as many renewable power sources as possible within the constraints of the network. We believe Electron has a great product to enable this, and so we are delighted to support Jo-Jo and her team as they start to scale-up their commercial activity and geographic reach."  
One Planet Capital's Co-founder and Investment Director, Anthony Chant, commented: "We are delighted to have invested in Electron. We see the biggest opportunity to get to net zero being via renewable-led energy markets coupled with a dynamic grid. We have spent two years looking for the right opportunity and Electron is just that. Flexibility markets are necessary to enable net-zero emissions. Electron's platform and team have the potential to scale flexibility markets across the world. We're excited to support them as they make this a reality."
Riverstone Ventures' Venture Investor, Gusty Clarke, commented: "Riverstone Ventures team is excited about the promise of localized physical trading markets to unlock the full potential of zero carbon energy and smart, flexible consumer technologies. Its UK market provenance has bought Electron unique insight into developing multi-party trading software for the physical grid edge. We see huge applicability for this platform in the North American markets and look forward to supporting the company as it expands outside the UK markets."