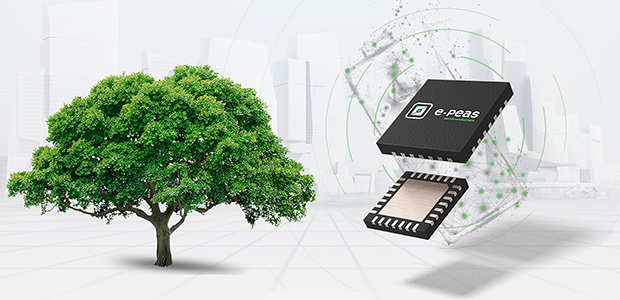 e-peas raises a further €8m in venture capital
Award-winning startup, e-peas, a supplier of advanced energy harvesting solutions, has just completed its latest funding round.
With ever increasing demand for its technology, a rapidly expanding sales pipeline, and exciting innovations under development, the company has raised an additional €8m worth of investment. This financial injection has been led by Partech and Airbus Ventures, with KBC Focus Fund, W.IN.G, Noshaq Ventures, LeanSquare, Nivelinvest and Vives also contributing.
By leveraging the raised funds, e-peas will be able to accelerate the introduction of new products and intensify the market penetration of its existing products, as well as strengthening its commercial presence worldwide by opening more offices.

In the future, society will need to shift towards energy sources that have less ecological impact. Tens of billions of connected IoT and edge computing devices are now starting to be deployed and activity will keep on ramping up in the decades ahead. Reliance on disposable batteries in this context is simply impractical - with heavy network maintenance costs being incurred (as depleted batteries will need replacing periodically), along with huge damage to the environment.

e-peas aims to offer a one stop shop for customers' energy harvesting requirements and enabling their hardware to be powered indefinitely. The company is successfully addressing opportunities in industrial, home/building automation, agriculture, health monitoring, smart metering and other sectors.
Over the last three years, it has been continually broadening the scope of its Ambient Energy Manager (AEM) product line. This now covers solar, thermal, vibration and RF methods for extracting energy from IoT devices' surroundings - thereby making them completely energy autonomous. The imminent introduction of ultra-low power processing and sensing solutions will bolster the e-peas portfolio still further.
Partech
Romain Lavault, General Partner at Partech commented: "Since our initial investment in 2017, we have been incredibly impressed by how Geoffroy and Julien have transformed a small R&D company into a recognised leader in low power IoT and edge computing with prestigious clients around the world.
Geoffroy and Julien have also put the company in scale-up mode with the arrival of very experienced talents like Jean-Paul Bardyn and Christian Ferrier, have quadrupled the size of the team, and have developed an active commercial pipeline worth $500m over three continents. We are proud to be supporting e-peas again on their journey to make the world run battery-free."
Airbus Ventures
Matthieu Repellin, Investment Manager at Airbus Ventures added: "With its exceptional low-power ICs, e-peas is a key attractive partner for all those considering the design and deployment of energy efficient autonomous devices at scale. e-peas has been a model in terms of execution and reliability. We are thrilled to continue supporting this outstanding European team through its fast-accelerating journey."
Quote KBC
Nuno Carvalho, Investment Director at KBC Focus Fund continued: "At KBC, we invest in companies in the DeepTech ecosystem of Belgium and its neighbouring countries that have the potential to become global players. e-peas is one such golden nugget.
e-peas makes edge device batteries live forever by solving the critical aspects of energy harvesting and energy efficiency. Their unique combination of state-of-the-art power management and ultra-low-power microcontroller chips will thus pave the road towards mass adoption of IoT edge devices. We are excited to support further market development of this transformational technology via the network and expertise of the KBC Group."
W.IN.G
Olivier Vanderijst, CEO at SRIW: "As early public investor in e-peas, W.IN.G is happy to support the growth of the company. This new financing will enable e-peas to leverage the R&D to scale high volume applications in the coming years. We are also pleased to welcome on board Noshaq and Nivelinvest as public investors. This investment is exactly in line with our common strategy to develop Deep Tech scale up in Wallonia."
LeanSquare
Laurent Burton, chairman of LeanSquare: "We are delighted, with this fund raising, to contribute to the growth of e-peas, a disruptive techno company that will allow the faster and deeper diffusion of energy autonomous microsystems in the daily equipment of all IoT users. The technologies implemented by e-peas are perfectly aligned with our strategy of developing an Industry 4.0 ecosystem that will accelerate the networking of advanced skills in this field."
Nivelinvest
Pierre Mottet, Director of Nivelinvest: "We are very excited with this new investment in e-peas which is in line with our strategy to play an active role to invest in the development of the digital and sustainable innovation ecosystem of the Brabant Walloon. We are also convinced that e-peas will play a major role in the development of industrial and IoT wireless products thanks to its disruptive technology and strong team."