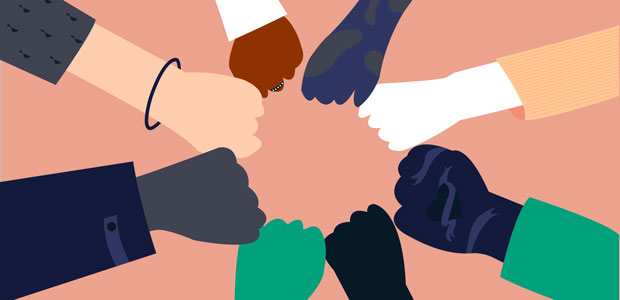 A Diversity and Inclusion guide for organisations in 2022
The COVID-19 pandemic has brought changing markets and different trends in how we work, and deliver goods and services to customers. Organisations have had to adapt quickly to survive, with hybrid and remote working becoming the new norm for many organisations.   
Businesses are recognising that to thrive in a post-pandemic world, diversity and inclusion should be at the heart of their business priorities in 2022. In fact, according to a report by Gartner in 2019, it was predicted that "through 2022, 75% of organisations with frontline decision-making teams reflecting a diverse and inclusive culture will exceed their financial targets."
Simply put, people are more engaged, collaborative and perform at their best when they feel included, valued, and respected for their unique differences. Increased performance and productivity lead to a more efficient and profitable business. Companies are finally starting to recognise the triple bottom line benefits that a diverse and inclusive culture has, not just when it comes to business innovation and profitability but also in team morale. When an inclusive approach is lacking however, it may signal deficiencies in respect of the underlying culture and leadership of the organisation. 
Here are four steps that all business leaders can implement this year to continue the momentum of fostering a culture of inclusivity.
Open dialogue
Create a culture where employees feel psychologically safe to speak up and raise issues.  Building an open dialogue environment where employees feel secure, supported, and accepted is fundamental when it comes to creating a culture of inclusion.   Leaders set the tone. They can ensure that there are multiple routes for employees to bring up issues that they are noticing in the company, its culture, or customer experiences that detract from their inclusion intentions.  This could be through anonymous feedback, employee forums, or by creating space in meetings. The key is for these channels to be continually open, for any issues to be addressed rather than brushed under the rug, and for any solutions to be co-created. 
Prioritise connection
Whilst  remote working has been welcomed by many, with benefits such as a reduction in the daily commute, as well as the potential to improve work/life balance, on the flip side, isolation has increased. Over the last two years, loss and loneliness has been experienced, so now more than ever, it's important that organisations really think about ways in which they can ensure their people feel connected, connected to each other, and to the organisation.  
One way for leaders to achieve this is to purposefully  make time to really get to know their team members and this includes making time to tune in with each team member regardless as to where they are performing their work. Employees who have strong, trusting relationships feel secure. 
Become a super observer 
It's really important not to assume that everyone feels equally included in the existing culture.  Whilst on the surface you may believe that you receive signals to suggest they are, it's important to move beyond superficial interactions and really tune into what is truly going on around us.  What do you notice in meetings for example?  Are there one or two individuals who dominate the discussions? Take a moment to consider who's voice and therefore diversity of thought are missing.  It is only by slowing down, pausing, and becoming a super observer that you can start to tune into whether somebody is excluded. Noticing however is not enough, it's about taking action and challenging those behaviours and practices that continually exclude others.
People, Purpose, and Planet 
Organisations are increasingly tuning into how fragile our planet is becoming, and environmental issues are now becoming top of the leadership agenda.   In many instances, employees want to be part of something that enables them to have a greater impact on wider society.  Therefore organisations should move beyond considering their inclusion efforts to be stand-alone, recognising the beneficial impact that can be achieved for their people, their customers, and wider society when Environment, Social, and Governance (ESG) in conjunction with their Diversity, Equity & Inclusion (DEI) are at the heart of an organisation. 
Businesses with weak ESG performance can be viewed as a red flag for customers, investors, and stakeholders as this often signals that the company's purpose is not well-aligned with the interests of the wider society. As a consequence, it can bring a business's long-term sustainability into question. Conversely, when an organisation has a strong ESG profile, combined with a culture of inclusion, its brand and reputation are enhanced. They become more attractive to potential investors, lenders, employees, and customers, and as such safeguard their long-term sustainability.
Conclusion
The barometer of effective business management has shifted significantly since the pandemic. People, Purpose, and Planet have risen sharply into focus, with Profit no longer being the single measurement of success. To thrive and be sustainable in uncertain times, businesses need to show they are making positive steps in the right direction towards diversity and inclusion in 2022.