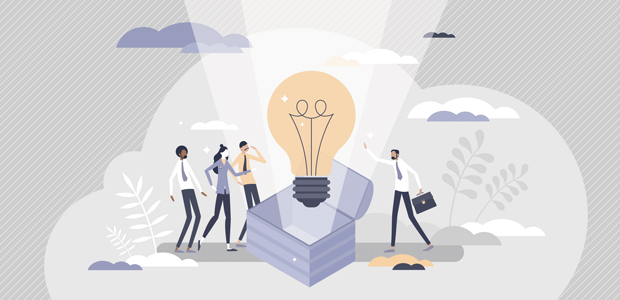 Digital transformation and why it's mind over matter
Businesses reeling from the effects of the pandemic feel like they have been given an ultimatum: transform or die. And while we have seen unfortunate consequences for the companies that were unable to adapt fast enough, it is important to remember that more often than not, digital innovation isn't all or nothing.
On the opposite end of the spectrum, over the years there have been numerous examples of businesses that have overcome challenging market conditions, without making significant changes to their products or practices. This is likely because innovation comes with an element of risk: this is unavoidable.
While many are keen to stick to familiar ways of working, the past twelve months have shown that innovation is essential to remaining competitive. To do so, businesses must overcome their reservations and embrace change. After all, mindset matters just as much as much as the tech itself when it comes to successfully implementing a new digital transformation programme. 
So, for the businesses that are keen to bring innovation to life this year, here are a few considerations to keep in mind.
Transform your thinking, not your business
In a survey commissioned by Studio Graphene in July 2020, almost half (45%) of UK businesses said that their business' risk-averse culture made it difficult to innovate and embrace new ideas. And while the pandemic has inspired a shift in attitude – with 64% admitting that COVID-19 had encouraged their business to explore and deploy new digital solutions much faster than they would have otherwise – there is clearly still work to be done.
To accelerate these efforts, business leaders should reflect on patterns of behaviour and thinking that are prevalent within their organisation. Excessive red tape often plays a huge role in hindering progress on the technological front. Indeed, if it's too difficult or complicated to push new ideas forward, employees and decision-makers will be reluctant to pursue change.
After all, innovation goes far beyond data and devices. A cultural aversion to experimentation, driven by needless bureaucracy and rigid management practices, is the greatest barrier to progress – ultimately fostering the illusion that employees are not permitted to be creative and inventive.
Don't concentrate on targets
Aversion to risk is natural: after all, who wants to disrupt the status quo when things are going well? Often, risk aversion manifests in the creation of rigid targets and copious milestones, with projects scrapped if they do not meet these goals within the expected timeframes.
Defining a clear list of goals and objectives is no doubt important to ensuring that initiatives stay on track and offer real value. However, it can also detract from the many benefits that a project delivers above and beyond just the tangible numbers.
In a more recent study, we found that the pandemic has encouraged businesses to move away from such thinking, and instead focus the bigger picture. Over half (51%) of UK businesses surveyed said that COVID-19 had encouraged them to measure the success of an IT project through its impact on the employee and customer experience, rather than through its return on investment. This is a positive change, which will no doubt highlight the wider benefits on offer from taking a plunge on new ideas and allow organisations to enjoy the fruits of its labour further down the line, too.
Align your team with your technology
Developing a culture of innovation rests on finding a strong alignment between your employees and their experience with technology. As such, everyone within your business should have the ability to influence your company's transformation, and help to deliver improved digital experiences.
People will ultimately drive the impact of new tech initiatives. Employees should be excited about the potential impact of utilising novel technologies, and good leaders will work to build a passion for digital innovation and a desire to disrupt. By tearing down legacy processes and ways of thinking, businesses can encourage employees take a full seat at the table where innovation is concerned – and ultimately deliver impactful transformation.