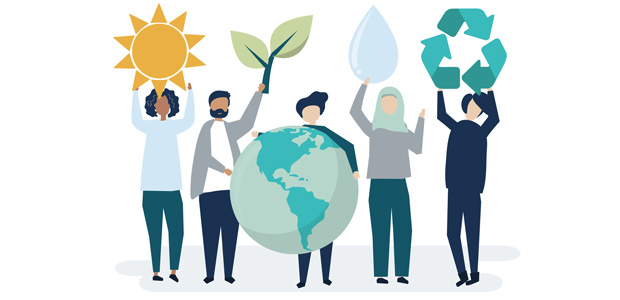 Developing future-oriented products: circular economy in the startup scene
New regulations for more sustainability in the European Union: on 10 February 2021, the EU adopted a tightened version of the Circular Economy Action Plan. Among other things, this plan deals particularly with the top of the sustainability chain, more specifically with specifications for a more sustainable product design. Bennet Barth, Program Director RESPOND at the BMW Foundation Herbert Quandt, explains what startup founders should look out for if they want to make their products more sustainable.
In general, the importance of sustainable products is growing and more companies are making efforts to make their products and services more sustainable - especially in the startup scene.
Thus, there are more impact-driven startups worldwide. But what about all those young, fast-growing companies for which sustainability may not be firmly embedded in the core of their business model, but which nevertheless want to minimise negative impacts on the environment through their products?
Product design lays the foundation for sustainable impact
Ultimately, it makes sense for any startup to question its environmental impact and minimise it where possible. Often, even small changes can make a big difference here, especially when companies are scaling quickly and rapidly increasing their sales figures.
An important aspect when it comes to making products more sustainable is product design. This is where the basis for the sustainability of a product is laid out and it plays a decisive role in determining how durable a product is, how easy or difficult it is to repair or whether it can be easily recycled. These are important aspects, especially for complex electronic devices, as rare precious metals or other particularly scarce raw materials are often used.
Important questions that founders should therefore answer together with the product designers are for example: what wear parts does my product have? Can these parts be easily replaced? Can the necessary repair services and spare parts be provided in the long term? How do I design my products so that they are as robust and durable as possible? Also particularly relevant are questions about disposal, such as: are there hazardous or toxic components in my product? If so, can they be avoided? Is the product easily recyclable? 
These questions show how much can be done through thoughtful product design alone to minimise environmental impacts. In addition to product design, there are numerous starting points for more sustainability, such as implementing concepts of the sharing economy, whereby startups can enable greater use of products through innovative business models.
One example: backpacks made from ocean plastic
These examples show that there are many starting points for more sustainability - but what best practices or role models are there currently in the startup scene from which other founders could draw inspiration? There are a number of startups that convince us with innovative and well- thought out concepts: for example, GOT BAG, a young company that was a participant in the RESPOND Accelerator in 2020.
This startup collects plastic from the oceans and uses the material - appropriately processed - to produce high-quality backpacks and bags. This is just one of many examples of how startups are managing to rethink sustainability through minimal use of raw materials, smart recycling, while maintaining high quality, comfort and contemporary design. Such products are increasingly in demand by consumers. 
The role of sustainability and the circular economy in the EU
It is difficult to make general statements about the implementation of sustainability in the European startup scene, as there are major differences. On the one hand, there is the internationally strongly growing number of sustainable startups; on the other hand, there are also numerous companies whose favoured goal is to achieve unicorn status as quickly as possible and who therefore seem to be primarily focused on growth and attracting investor funds.
But companies should also keep an eye on their potential target groups, for whom environment impact is an important concern, but also on society, play an increasing role. For example, the recent furore over the German startup Pinky Gloves offering a rubber glove that women can use to 'discreetly' dispose of tampons and other period products shows how a backward approach to social issues, such as the stigmatisation of menstruating women, is increasingly being directly punished - in this case through well-deserved and widespread criticism on social media!
That the product additionally produced unnecessary plastic waste is almost a sad side note. Additionally, the criticism had an effect, as the product was taken off the market even in the midst of the backlash. This once again shows the importance of founders reflecting on their own business model and products with regard to their impact on the environment and society.
Political framework conditions in the EU: the future is becoming more sustainable
Last but not least, more sustainable, more thoughtful products are also increasingly demanded by politicians. For years, there have been efforts at the European level to implement the Circular Economy and to require companies to act accordingly. 
In the new EU Circular Economy Plan, sustainable product design is one of the top priorities. But if startups want to secure their competitiveness, they should not wait until the last measure from the plan has been implemented in national law, but get involved today - and thus also secure a competitive advantage through sustainably designed products.
To this end, founders should advocate sustainability, check supplier relationships in this regard, sensitise employees and, if necessary, train them accordingly, as well as communicate the success of these efforts to the outside world and thus set a good example - not with initial, timid attempts, but with real successes. Only in this way can they inspire other companies to follow suit and thus contribute to a positive change in economic life.