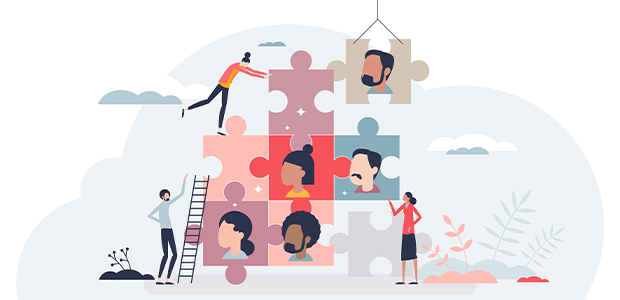 Developing an effective hiring strategy for your scaleup
As a scaleup, you've proven your business model. But now, as you shift your focus to expansion, your success depends on your ability to attract, retain, and develop a talented workforce. A poorly thought-out hiring strategy can lead to extra time pressures on the team, low morale, and reputational risk - factors that can easily be mitigated with the right plan in place.
In this article, Caroline Doherty, Managing Director of CJ. Talent (specialists in flexible and part-time recruitment), discusses the actionable steps to crafting an effective hiring strategy - the cornerstone of achieving long-term sustainable growth for a scaleup.
Understand your business goals
A hiring strategy should always hinge on your business goals. Whether you aim to increase revenue, expand your market presence, or diversify your product or service offerings, your hiring strategy should directly reflect these objectives. Clear alignment ensures that every new hire contributes meaningfully to your scaleup's success.
Evaluate your current workforce
To make informed hiring decisions, start by assessing your current team's strengths and weaknesses. Identify the skills, experiences, and talents they bring to the table, and understand where your team excels and falls short. By identifying gaps in your workforce, you can ensure that new hires complement your current team and fill any critical needs.
Develop a Talent Acquisition Plan
An essential part of a scaleup hiring strategy, a talent acquisition plan should outline your hiring needs for the next 6-12 months and beyond. Work with department heads to understand their resource requirements, where there are skill gaps and the need for succession planning requirements. Once you have a clear understanding of your talent needs, create a comprehensive talent acquisition plan that outlines recruitment channels, sourcing methods, and evaluation criteria. Establish a budget for the recruitment efforts and decide whether you'll handle the process internally or partner with an external recruitment agency.
Define job roles and responsibilities
For each job role you plan to hire, create a detailed job description outlining responsibilities and qualifications. The clearer you are about what you're looking for, the easier it will be to attract the right talent. Our guide to writing effective job descriptions lays out the key elements a good job description should include. These well-defined roles also set expectations for both new hires and your existing team.
Consider creating part-time roles to attract more senior talent within your budget. For example, hiring an experienced part-time HR Director for, say, three days a week instead of a full-time HR Manager, is a great way to get all the expertise and experience you need at a lower overall cost.
Establish a competitive compensation package
This step is essential for attracting top talent. While salary is important, benefits, such as health insurance, work-life balance initiatives, and maternity allowance, can also play a significant role in attracting and retaining quality employees.
Since budget may be an issue for many startups and scaleups, it may be necessary to get a little creative here, and look at low-cost alternatives to the standard benefits packages. For example providers like PerkBox can tailor benefits to different organisations at different stages and offer some great options.
Other creative options that can increase the attractiveness of your benefits package include offering sabbatical leave after a qualifying period, providing flexible working patterns that can be tailored to the individual, offering birthdays as an additional day of annual leave, and so on. A small benefits budget doesn't have to mean fewer benefits if you're prepared to be flexible and creative.
Work with a trusted partner
A recruitment agency partner can be a valuable asset for scaleups. A good agency will have a deep understanding of your industry and the talent pool and can help you to identify and attract the right people for your open positions, so that you hire the right people first time. They can also help you to streamline your hiring process and reduce the time it takes to fill open roles.
Implement a rigorous screening process
Develop a structured interview process that aligns with your culture. A well-designed interview process ensures that you thoroughly evaluate candidates and make informed hiring decisions. If your team doesn't have the experience to implement a robust and consistent hiring process, consider partnering with a recruitment specialist to handle this for you. CIPD states that the average cost of a hire in the UK sits at £3,000, and this figure doesn't include the potential cost to reputation, and staff morale, that a bad hire can result in. So a rigorous screening process can help prevent costly hiring mistakes.
Prioritise cultural fit
Cultural fit is essential for long-term employee retention and team cohesion. During the hiring process, spend some time assessing how well candidates align with your company's values and culture. Ask behavioural questions to gauge their fit and ensure they'll thrive in your specific work environment. Skills can be learned, but values are more 'in-built', so try to ensure the candidate's values align with those of the business.
Streamline the onboarding process
Set your new hires up for success from day one. Develop a comprehensive onboarding programme that includes introductions to key team members, training on company processes, and an overview of their roles and responsibilities. Onboarding starts from the moment your job offer is accepted, so ensure that you manage it efficiently. The CJ. Talent guide to onboarding provides a framework to help with this. Plan for ongoing training and development opportunities for your workforce. As your scaleup grows, you'll want to upskill your team to meet evolving challenges.
Monitoring and adapting
A successful hiring strategy is not static. Continuously assess its effectiveness by tracking key metrics such as time-to-fill, retention rates, and employee satisfaction. Use data analytics to make data-driven decisions and refine your approach. Flexibility and adaptability are key as your company scales.
The journey of scaling a business is an exciting one, but it's not without pitfalls. Time and effort spent in developing a recruitment strategy that supports your business objectives and helps you to identify and target the 'right' candidates will help ensure the future growth and success of your business.