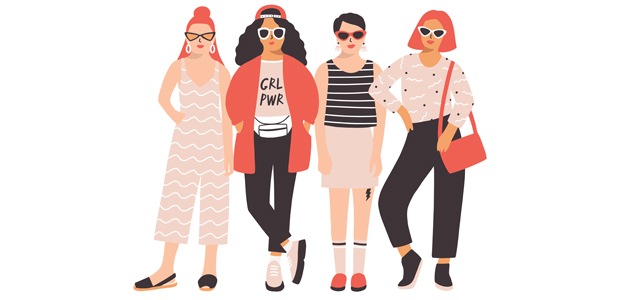 Demystifying female health
With an underestimated market potential, Femtech will become a $50bn industry by 2050 - and Femtech startup Pexxi is at the forefront of research-led innovation celebrating the uniqueness of female bodies.
Over the last few years, there have been some amazing accomplishments for womanhood around the world. Fuelled by movements like the #MeToo and #TimesUp campaigns, as well as the annual Women's March. In the tech industry, female technology products, otherwise known as Femtech, have been on the rise and haven't stopped thriving since Ida Tin, Founder of the women's menstruation-tracking app, Clue, created the term.
Research and consulting firm, Frost & Sullivan have predicted that Femtech will become a $50bn industry by 2050 despite the fact that the majority of male investors have been slow to understand the need for female healthcare products.
Although some people might think Femtech is a niche sector, it of course targets at least 50% of the population. From fertility tracking apps to wearable pelvic floor trainers and smart breast pumps, the Femtech industry caters to all women's needs whether you're a teenager, a mother in her 40s or post-menopausal.
One particular startup, Pexxi, is aiming to understand any underlying health conditions and predispositions that women might have, through an insightful and intelligent platform.
Foundation and growth
Shardi Nahavandi, Founder of Pexxi firstly studied Health Technology and management and then endocrinology in an attempt to find answers herself.
"I went through all the tests in the world and grew up not knowing what the hell was wrong with me - this could have been solved so much quicker. It turns out I suffer from a severe hormone imbalance which the doctors should have diagnosed me at the age of 15! As a result I decided to use my own studies and experiences to launch the company for other women with health problems." explained Nahavandi.
Since then, Nahavandi has focused on gathering a scientific team of medical professionals, biomedical engineers, and gynaecologists with a special interest in menstrual health and genomics to give something meaningful back to women.
Nahavandi has succeeded in forming quite the formidable gynaecological health power squad. There is a consultant gynaecologist who's also vice president of the European Society of Contraception and Reproductive Health, a clinical senior lecturer in psychiatry at Imperial College London currently studying the link between female hormones and mental health, a medical doctor and serial entrepreneur, a scientist with a PhD in biomedical engineering, and a women's health advocate who's raised millions for the UN. Beyond the inner circle, there are links with Genomics England, Harvard University and Oxford University… A power squad indeed!
The company is currently part of and is being supported by UCL Hatchery. Pexxi has also just been accepted to go through Cambridge University's accelerator programme and won Cambridge University's MedTech Innovation competition.
Why contraception?
At the moment, Pexxi is focussing on enabling precision contraception for women. But is there anything wrong with contraception today? Well it is often prescribed as a one-size-fits-all solution but this can have adverse effects. Millions of women are using a pill that's unsuitable for them, and a staggering 52% of women experience side effects on hormonal contraception.
From an early age, hormonal contraceptives are used to regulate, control and 'fix' women's menstrual cycle issues. And although this approach may work for some very few lucky individuals, it fails to account for the unique biological, hormonal and genetic factors that can impact a woman's cycle or certain health conditions.
"There are well over 100 different pills available, and yet every woman is different. At Pexxi, we think it's time to start celebrating your unique differences and understand what's best for your body! We build a personalised contraception plan for each user, based on their medical history, hormone levels, genetics and even their future fertility plans.
"We know that many women have tolerated a variety of side effects from their contraception for years including intermenstrual bleeding, weight gain, bloating, digestive issues, hair thinning, poor skin, mental and emotional health issues and low sex drive. But why do we accept the normalisation of side effects and this quality of care for our contraceptives when we spend a third of our lifetime using them in some form?" said Nahavandi.
How do you do it?
Pexxi looks at your female health holistically, driven by science, informed by medical professionals and designed with women's bodies at the core.
"We conduct a full diagnosis of your female health to understand any root causes of any issues you may have. This is done with our at home hormone and genetic testing kits. We also assess your physical and emotional health to understand your individual needs and preferences. This is done via our online health assessment.
"After collecting all these details, we predict which contraceptives may cause you side effects. With medical support we provide a personalised health plan to navigate to your local GP or get your chosen method delivered straight to your door by us." commented Nahavandi.
Challenges so far
"I would say it's definitely been a challenge to speak with male investors because you're pitching to men who can't relate to a product or find it uncomfortable to talk about. I had one investor ask me, 'Do they take these pills monthly? Why would this be subscription?' or they would say 'Let me just touch base with my wife on this'.
"We have worked really hard to explain how common menstrual disorders can be, women are suffering every day and this is something that needs to be taken a lot more seriously by investors but also doctors." stressed Nahavandi.
What is the next step?
Pexxi aims to give users the full picture of their body and potential recommendations. For some users, the pill might not be the best choice for them and despite there being a multitude of pills available, after doing the appropriate tests there still might not be anything on the market suitable for them at this particular time.
"The long term goal for Pexxi is to be able to say 'Look we have developed these drugs for women's health and for particular conditions – drugs that are currently not on the market.' We do a lot of research and development because essentially there are many menstrual conditions that currently do not have solutions. 
"In a few years, without having to do all the invasive surgeries to investigate a woman's health, and by using our kits, we will be able to identify a woman with certain patterns and symptoms and link them to menstrual disorders and be able to prescribe an appropriate and effective course of action." concluded Nahavandi.
Join the waitlist now at yourpexxi.com