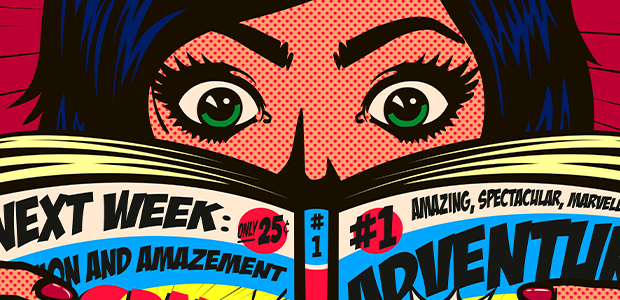 Dashtoon secures $5M to bring comic creation to the masses
The advent of text-to-image AI diffusion models uncovered a promising opportunity for the digital comics landscape, akin to the transformative impact of high-quality camera phones and the rise of platforms like Instagram and TikTok.
Now, Dashtoon is on a mission to make this cutting-edge technology accessible to storytellers worldwide, aiming to democratise the creation of digital comics and empower creators across the globe with its Dashtoon AI Studio and Dashtoon Comic Reader Apps.
Today, Dashtoon is announcing a $5 million seed funding led by Matrix Partners India and Stellaris Venture Partners with participation from prominent angel investors. San Francisco and London-based Dashtoon was founded in December 2022 by Sanidhya Narain, Lalith Gudipati, and Soumyadeep Mukherjee.  Lalith and Sanidhya were both part of the founding team of audio entertainment startup Pocket FM and were instrumental in building and growing the product in the US. Soumyadeep has built and scaled deep-tech teams at various startups including solving for cancer diagnosis at Morphle Labs.
A vibrant creator economy for the comics ecosystem exists in markets like Japan and Southeast Asia but not so much in the other parts of the world. Consequently, Japanese Manga and Korean Webtoons have now ascended to the forefront, asserting their dominance over the global comics market while nurturing billion-dollar IPs - replicated into multiple formats like games, movies, TV series, etc. Beyond storytelling, till now, comic creation required hard skills like sketching, coloring, lettering, etc., thus creating an entry barrier for this medium. The current creator ecosystems were built over decades, and it wasn't possible to replicate them in other parts of the world. But now, with Dashtoon, any storyteller, from published author to aspiring writer, in any part of the world, can effortlessly create, distribute, and monetize their comics and graphic novels - the age of democratization.
"Content businesses have largely capitalised on technology for distribution. We at Dashtoon believe it's time to bring that technological edge to content creation itself. Generative AI will not only level the playing field for storytellers worldwide but will also meet the diverse tastes of global consumers." says Sanidhya Narain, CEO and Co-founder of Dashtoon.
Dashtoon Studio, the first of its kind, guarantees unparalleled character consistency, fine control over image composition, and streamlined comic creation workflows. This state-of-the-art platform provides creators access to an extensive character library and the capability to train and monetize their unique characters, enabling the production of professional-quality, engaging content ready for global consumption.
"With Dashtoon Studio, any storyteller, regardless of their artistic skills or technical knowledge, can create digital comics, breaking traditional barriers in illustrated content creation. Our vision is to become a global IP powerhouse by marrying thousands of creators with millions of readers," says Soumyadeep Mukherjee, CTO and Co-founder.
For example, a creator can upload their storyboard on Dashtoon Studio, select characters for each panel, and generate images with deterministic and consistent output in a few minutes. The creator can use smart AI editing capabilities in the studio to edit the generated output. What used to take 40-50 hours to create an episode can currently be done in 5-6 hours, thus allowing creators to publish a new episode daily on Dashtoon Comic Reader apps.  With further advancement, Dashtoon will add multi-modal capabilities to generate storyboards and dialogues using AI, further reducing the creation time of an episode to less than an hour.
Dashtoon Studio is a valuable tool that complements the creative process, empowering creators to unleash their imagination and craft compelling narratives without being bogged down by repetitive, time-consuming tasks. A synergy between technology and creativity paves the way for innovative storytelling and content creation.
Dashtoon Comic Reader Apps are a cornerstone for writers desiring to broaden their horizons, offering an invaluable opportunity to penetrate the thriving comics market. For consumers - this means that they do not have to wait weeks for new episodes of their favorite comics - with the increase in content creation speed, they get new episodes daily on Dashtoon Comic Reader. Due to non-existent native creator ecosystems - consumers were mostly limited in choices to consume Japanese manga or Korean webtoons, but now they will get enough native content that is culturally contextual and curated to their choices.
"Dashtoon's mission is to create a world where the art of comic creation is as widespread and culturally ingrained as it is in places like Japan and Korea," says Lalith Gudipati, COO and Co-founder. "We are thrilled to pioneer a movement that integrates technology and creativity, bringing forth a global creative renaissance in digital comics."
The goal is to build an ecosystem that not only boosts the artistic capabilities and productivity of creators but enables them to monetise their content on Day One. The readers can access these titles with ease and a user-friendly interface on Dashtoon Comic Reader.
With GenAI, the comic book industry has become a greenfield market. Smartphones will become even smarter and more powerful, and the creation will come to mobile devices. This will lead to constant innovations and new formats with a bustling creator-consumer economy, and Dashtoon aims to be at the forefront of it.
This funding round will enable Dashtoon to deepen its AI research, progress product development, and content production in the coming months. Naman Lahoty, Principal at Stellaris Venture Partners added: "Content consumption on mobile phones has grown exponentially in the US, from an average of 45 minutes per day in 2011 to a staggering four hours per day in 2021. This surge has been fueled by the emergence of new and diverse content formats like short-form videos, audio OTT, podcasts, and casual games that have captivated consumers. Looking ahead, we anticipate that webcomics will emerge as the next wave of growth. As pioneers in this domain, Dashtoon is poised to lead the charge with the founders possesing a perfect mix of content, tech and global user acquisition experience and skills required to build this business."
Aakash Kumar, Managing Director at Matrix Partners India said: "Over several decades content distribution has gone through a phase shift driven by technology, yet we have seen little on the front of content creation being disrupted. In the coming years, the business of content will undergo many transformations and the most important of those is going to be creation getting democratized and boundaries between PGC and UGC getting blurred, and content choices for consumers growing multifold and becoming extensively personalized. We are excited to be partnering with Dashtoon team on their journey to shape this future vision of content."