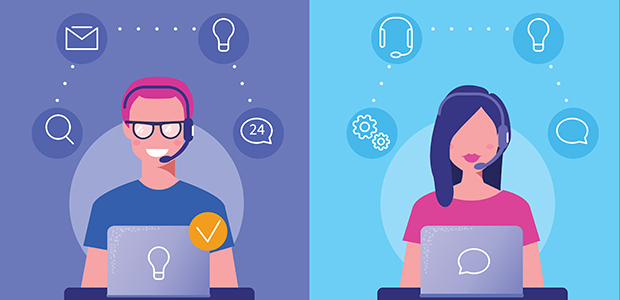 Customer service versus sales: How CRM creates balance and drives growth
According to statistics, the average business grows at an estimated 15% per annum, yet just four percent manage to reach that magic £1m turnover mark.
The main challenge for the majority is not necessarily getting off the starting blocks, but being able to grow the business at scale, where failing to strike the perfect balance between sales and customer service often prevents vital and consistent growth.
For example, reports show that after just one negative experience, 51% of customers will never do business with that company again. This, combined with the fact just 37% of businesses boast their own in-house sales team, means many rely on either the business owner or operational staff to upsell existing customers and source new ones, resulting in a downturn in service to retained business and resulting churn. The solution is an effective customer relationship management or CRM system.
Automated communication
One of the main reasons as to why sales staff struggle to convert new customers is because they fail to follow up with prospects. Conversely, one of the main reasons businesses lose existing customers is because they start to 'forget' their existence - failing to consistently communicate and deliver the efficient service which won them the business in the first place.
The majority of quality CRM solutions boast automated functionalities, such as email marketing and outreach. Aside from helping sales teams automate fundamental tasks, such as list management, follow-up emails and management of new email chains, automated email sends enable operational team members to engage with their customers on mass at the click of a button. Aside from significantly improving customer service and retention, automated processes increase staff productivity without a hike in cost, resource or overheads.
Team collaboration
Whether staff members have failed to deliver on promises of contact to potential customers, or existing customers receive duplicate emails with contrasting information, the perception of a disorganised and dysfunctional team quickly repels any new sales, whilst forcing existing clients to question their alliance with your business.
In order to really grow and scale a business, you need to get the simple things right and be consistent in delivering them. One key example is effective team collaboration, which, regardless of whether staff members are working from the office or home, is made possible with an effective CRM solution.
Many CRM solutions come hand in hand with a dedicated iOS app, which allows team members to keep track of sales prospects or the status of a client relationship at all times. Not only does this support seamless collaboration between team members, but also ensures staff members are tuned in and focused on engaging with existing and potential clients, increasing productivity and establishing strong client relationships as a result.
Real-time business intelligence
There is a tendency for business leaders to focus on the sales pipeline and forecast growth, as opposed to existing customer service processes, which means regardless of how many new customers are bought over the line in any given month, there is still the risk of churn.
From documenting core customer details, to keeping track of the latest communication from team members, a CRM offers real-time business intelligence that registers all touch or contact points with a customer, not only enabling team members to collaborate more effectively, but also showing the customers who are regularly interacted with versus those who appear 'forgotten'.
Aside from preventing a potential customer loss, real-time business intelligence delivered through CRM provides business leaders with a live and accurate picture of all existing and potential customer relationships, enabling them to quickly identify areas for improvement, whilst helping to strike that idealistic balance between service and sales.
Building and scaling a business is incredibly challenging and without the right tools to support both sales and service delivery, the potential for continued growth is compromised. The right CRM solution that can be tailored to individual business needs, whilst driving consistent communication and offering real-time business intelligence enables business leaders to overcome this challenge, by cementing sales and operational processes that ensure consistent communication with both existing and potential customers for both the short and long-term.