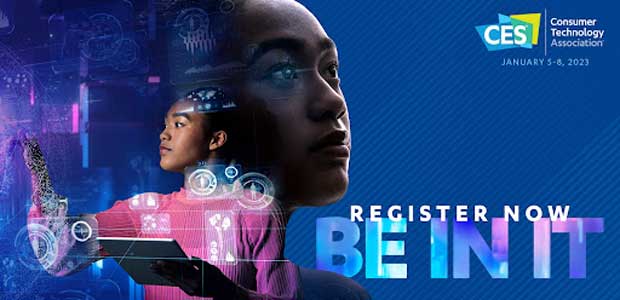 CTA Announces CES 2023 Innovation Awards Honorees
Today (16th November 2022) during CES Unveiled New York, the Consumer Technology Association (CTA) announced the CES 2023 Innovation Awards honorees, including those recognized as Best of Innovation honorees. The CES Innovation Awards is an annual competition honoring outstanding design and engineering in consumer technology products across 28 product categories. The CES 2023 Innovation Awards program received a record-high number of over 2100 submissions.
 
An independent panel of industry expert judges, including members of the media, designers, engineers, and more, reviewed submissions based on innovation and functionality, aesthetic, and design. Those rating the highest across each category receive the "Best of Innovation" designation.

The announcement was made ahead of CES 2023, the world's most influential technology event. Many honorees will showcase their product in the Innovation Awards Showcase at CES, located at the Venetian Expo. Last month, CTA announced Innovation Awards honorees during CES Unveiled events in Paris and Amsterdam, including 28 products from France and 12 from the Netherlands. Those designated as honorees, including product descriptions and photos, can be found at CES.tech/Innovation.

The full list of Best of Innovation and all honorees will be announced during CES 2023. Best of Innovation honorees announced today include:

Canon AMLOS
Company: Canon
Product Category: Software & Mobile Apps

Clean Water Pathfinder
Company: ACWA Robotics
Product Category: Smart Cities

Cray X
Company: German Bionic Systems GmbH
Product Category: Wearable Technologies

DFG-aided AI Surveillance Camera
Company: Microsystems, Inc.
Product Category: Smart Cities

Dot Pad
Company: Dot Incorporation
Product Category: Accessibility

Flexible Cover Window (FCW)
Company: SK
Product Category: Mobile Devices & Accessories

Graphene Radiator
Company: Graphene Square
Product Category: Home Appliances

John Deere Autonomous Tractor
Company: John Deere
Product Category: Robotics

LG OLED Flex (Model 42LX3)
Company: LG Electronics Inc.
Product Category: Gaming

LG UltraFine Display OLED Pro
Company: LG Electronics Inc.
Product Category: Computer Peripherals & Accessories

Meta Music System for Streaming
Company: Verses, Inc.
Product Category: Streaming

Samsung S3B512C Security Chip
Company: Samsung Electronics America
Product Category: Cybersecurity & Personal Privacy

SF (Super Fast) Battery
Company: SK
Product Category: Embedded Technologies

The AeviceMD
Company: Aevice Health
Product Category: Digital Health

xBloom - World's First Whole-Bean Capsule System
Company: TBDX INC
Product Category: Robotics

Xplora X6 Play
Company: Xplora
Product Category: Wearable Technologies

zkVoting
Company: Zkrypto Inc.
Product Category: Cybersecurity & Personal Privacy

CES has partnered with the World Academy of Art and Science (WAAS) to showcase the critical role of technology in support of the United Nations' efforts to advance human security around the world. For CES 2023, CTA introduced a new category of Innovation Awards showcasing technologies advancing human rights. The Human Security for All category includes eight new tech subcategories.

Owned and produced by CTA, CES 2023 will take place in Las Vegas on Jan. 5-8, 2023 with Media Days taking place Jan. 3-4, 2023. Attendees will experience new technologies from global brands, hear about the future of technology from thought leaders and collaborate face-to-face with other attendees. The show will highlight how innovations in sustainability, transportation and mobility, digital health, the metaverse and more are addressing the world's greatest challenges. Audiences will hear from industry experts during live keynotes, including leaders from John Deere, BMW and AMD. Visit CES.tech for all CES 2023 updates, registration details, and the media page for all press resources.