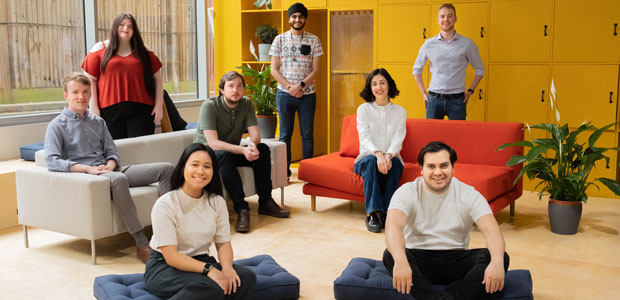 The CRL Pitch Day 2021
CRL have shortlisted 16 startups as potential participants for the CRL Accelerator programme. Over the past six weeks, the CRL team have been working with the group, supporting them to identify the biggest questions and assumptions that need to be understood before they could progress their business to the next stage.
The CRL team have worked hard to encourage the startups to seek those insights through many market tests and experiments. The Pitch Day took place on 8th June and was a great opportunity for the startups to share their progress, gain valuable connections and input from CRL's mentor community.
For the second year in a row, Mouser Electronics has joined CRL and sponsored this purpose-built accelerator programme - the first in the UK. With the focus on hardware development and innovation, the programme is the perfect fit for Mouser: a worldwide distributor of semiconductors and electronic components. Focussed on the rapid introduction of new technology from over 1,100 industry-leading manufacturers, Mouser leads the way in enabling the cohort to access the new technology essential for innovation.
The startups
Esmeralda Tuomi had been horse riding her entire life, when in 2008, at 17 years old, she suffered a major injury when a horse fell on top of her. Fortunately, she was wearing a body protector which saved her life. Not everyone wears these, as they are rigid, uncomfortable, and crucially, are not compulsory.
Esmeralda has created her company, Armaros, and a new body protector called the Guardian Angel, which is designed with complete movement, flexibility, and additional support for the spine - a product unlike anything else currently on the market.
Esmeralda has been in the industry for a long time, so she understood the wants and needs of her customers and knew that it would be a very valuable product. Even so she has been overwhelmed with the amount of traction it's had so far. With the help of the CRL team, Esmerelda has been able to run online surveys based on Facebook polls and focus group interviews she's conducted with the team. She explained: "The product has spread like wildfire through the community, so it's been great to have such a positive response. I was also glad to hear the market valued the product a lot higher than I initially thought so that was a positive surprise."
Over the past six weeks, Esmeralda has been testing various materials and working on her full-scale prototype. She said: "The past six weeks have been market research focused and this has been incredibly useful for me. I live and breathe the equestrian industry so getting the chance to talk to people outside of the industry has given me a fantastic structure going forward."
Wind turbines are working wonders for the environment, but the O Wind Turbine takes the concept one step further. Designed by Nicolas Orellana Olguin whilst at Lancaster University studying his Masters, the O Wind Turbine is a bladeless turbine that can harvest wind from any direction.
Co-founder Dominic Chippendale, and Matt Taylor who had been involved in the project since the start, explained that the concept uses a ball with shafts on every side of surface, so when the wind blows it creates movement. When asked what the startup has been focussing on over the past six weeks, Dominic explained: "The first phase of CRL's Accelerator programme has allowed us to start looking at our B2C B2B transition, we've been able to validate it and started some of our assumption validation interviews."
Elissa Brunato has created her design-led biomaterial company after working in the fashion and textiles industry for ten years, and she started to see what the wider supply chain was really like. Radiant Matter is on a mission to reduce microplastic pollution by replacing harmful petrochemicals used in textiles, fashion components and colourants with naturally degradable marine-safe materials.
Elissa explained what she's enjoyed most about the past six weeks: "I've been so used to working in the fashion industry where every environment is competitive, so this has been really refreshing. I've just been so amazed how everyone here has been so friendly and willing to share.
"I'd never pitched to anyone until the Pitch Day so I was feeling pretty nervous , but one of the other team members showed me his entire pitch deck and explained how to do it so that I didn't even need the slides in the end, so that willingness to share has been great."
It was during placement year at university that Paramveer Bhachu and Joanna Power realised how awful the system was for students doing their washing, and that is when they came up with the idea for The AquaX.
The AquaX is a portable washing machine for students, that takes reused shower water to wash clothes. It is designed with a shower-like mat which you place on the floor of your shower cubicle and collects the water and sends it into a tank to use in the portable machine.
During the first phase of the programme, Paramveer and Joanna have been working hard on their customer segments and testing the different assumptions they had formed. Paramveer explained: "Our original assumptions have actually been tipped on their head because during our research we found the parents of students might actually be more interested in the product than student's themselves, which was really interesting. This has potentially opened up a whole new field for us – we can now consider a different price range!"
Whilst studying at the University of Birmingham, Rob Wood met Marcel Fowler the founder of New Motion Labs, a company that has created the Enduo technology. With Enduo technology, everything changes – unmoving fundamentals collapse, enabling the manufacturing of new products with unparalleled efficiency.
With Enduo, New Motion Labs has the ability to transfer power on both sides of a tooth, also known as Dual Engagement. This is used a lot in track cycling and is being used by top athletes in Tokyo at this year's Olympics.
Talking to all the startups on the day, it was a common theme , how the first phase of the accelerator has helped them to challenge the assumptions they'd already made. Rob explained what he's found most helpful: "When I first heard about the hackathon, I assumed it was going to be quite engineering focused, so I was really pleased when it turned out to be more market focused as we had a lot of market assumptions we needed to test – but we didn't realise we even needed to test them so that's been really helpful.
"We did lots of ad campaigns to determine what features users would like to see incorporated into our products. It's been really interesting to have outside perspectives, I've loved that the other companies here have been challenging what you're doing, asking questions about this and that. Sometimes you can be quite defensive of your ideas, but it's refreshing, and it definitely helps to validate what you're trying to achieve."
Unfortunately, not every startup will make it through to the next phase, but we will keep you updated with who you can expect to see in the final cohort.