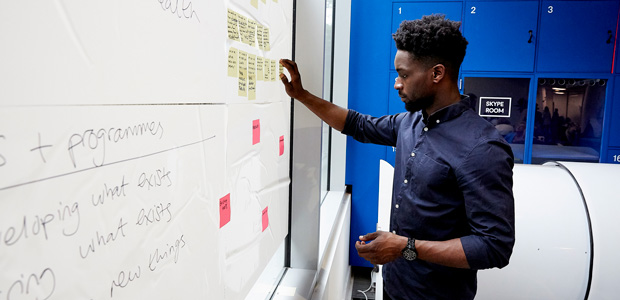 The CRL Hackathon 2021
This year CRL ran their first in-person Hackathon event where business and design students from Brunel University had the chance to join this year's startup cohort team for two weeks and collaborate closely with the founders to help them test and develop their customer and commercial opportunities.
For the second year in a row, Mouser Electronics has joined CRL and sponsored this purpose-built accelerator programme - the first in the UK. With the focus on hardware development and innovation, the programme is the perfect fit for Mouser: a worldwide distributor of semiconductors and electronic components. Focussed on the rapid introduction of new technology from over 1,100 industry-leading manufacturers, Mouser leads the way in enabling the cohort to access the new technology essential for innovation.
From 24th-25th May, students got to know the startup founders and the business challenges they wanted to tackle. They heard lessons learned, insights and advice from entrepreneurs who have been through the process before. And they also got to brainstorm and experiment with new ideas, explore options, and improve suggestions that tackle the challenge areas. The students worked with the founders to map out, evaluate and prioritise the best options to take forward.
"The Hackathon itself was an opportunity for our startups to start running rapid tests and experiments. We partnered with Brunel University and invited graduate students from their business and design school to become a key member of a startup's team," explained Anneza Pitsialis, Programme Manager at the Central Research Laboratory.
"It has been great to see the students making a real impact on early-stage startups by using their own technical skills, expertise and creativity. They've also boosted their own understanding of how early-stage businesses work and have continued to innovate by experiencing invaluable working principles. It was also great to see the founders, particularly the solo ones, having some additional support."
When asked about the most rewarding part of running these programmes, she explained: "Our programmes run for six months so you get to know the founders really well by working with them closely over this period, especially through all the ups and downs. Seeing the progress they've made over the six months, and knowing you've contributed to supporting their business, is always a great feeling.
"Another thing I find really rewarding is our community - both the cohort and how they develop and interact to support each other is amazing to watch, but also our wider community. We've recently had some startups from our previous cohorts visit us to tell their stories, share the lessons learnt, the mistakes they've made and what went well for them, and I think developing a supportive network of peers is something that is really enjoyable for me and valuable for startups that join the programme."
Kouo
With the ethos; 'if you can't measure it, you can't improve it' Shaan Bassi and Keidi Kapllani wanted to help improve the mental health space. They created headphones that help to measure mental health.
"Our headphones are like a Fitbit for mental health. The data and metrics help people with their fitness, so why not use it to help with your mental health?" Shaan explained.
The headphones include embedded sensors which can pick up electric signals and other elements that help measure your mental health. "They work like any other everyday pair of headphones in that you can listen to music through them," Keidi added.
Speaking on the day, Shaan explained what he hoped to get out of the hackathon: "We are looking to hone in on what the user experience will be and how we can make that as enjoyable as possible for our users. We're also focusing on running user trials but with specific angles to understand how we can present metrics better and what kind of content our users might find useful."
Shaan and the team regularly work with students, but they've not had the chance to work with business and design students before, so Kouo found this to be of real benefit during the hackathon.
The CRL community has also been helpful for the Kouo team as Shaan explained: "It can be hard to balance running a startup and my own mental health, that's why having a team of people I can rely on has been so important. Being part of the CRL community has been awesome - it's been great to be around other people who are also facing similar hardware problems and coming up with ideas together, as well as sharing that knowledge."
Armaros
Esmeralda Tuomi had been horse riding her entire life, when in 2008, at 17 years old, she suffered a major injury when a horse fell on top of her.
Fortunately, she was wearing a body protector which saved her life. Not everyone wears these, as they are so rigid, uncomfortable, and crucially, are not compulsory. Esmeralda has created Armaros, and a new body protector called the Guardian Angel, which is designed with complete movement, flexibility and additional support for the spine - a product unlike anything else currently on the market.
"I started developing it for my personal need, but also for everyone else in the industry as so many people don't want to wear what is currently available."
Speaking on the day, Esmeralda explained what she hoped to get out of the hackathon: "Even though it might seem like this is a very niche product, there's so many different types of equestrian enthusiasts with different motivations. The professionals and the people who see horse riding as a hobby, both have completely different motivations in terms of safety products, so the point of the hackathon is to scrap the assumptions I have.
"We want to confirm that we are targeting the right people with the design and the marketing of the product and really understand if the unique selling points of the product actually align with our customers. Finding all of this out at this stage is vital, because if we do end up changing things it'll be important to adjust our current prototype rather than make changes at the manufacturing stage."
Esmeralda said she really enjoyed working with the students, particularly one from a business background, specifically marketing. "We've been working on creating some questionnaires and being from a design background, I hadn't thought of how to structure a questionnaire in a way that makes it more user friendly, so having that marketing perspective from my student has been really valuable."
Esmeralda said she found the hackathon to be a fantastic opportunity to get a fresh set of eyes on Armaros and everything she's working towards. As her product is very niche, she tends to only talk about it to people in the equestrian industry, but she said it's been very refreshing to get a completely new mind working with her. She also found that having to explain it to people that don't ride horses has really helped her to validate her product.
Yawboard
Ever since studying Product Design at the University of Wales, Swansea, Ray Reynolds knew he wanted to create a revolutionary product, and 15 years later that is exactly what he did. It started off being a stunt scooter for kids, who could perform kick flips, Ray explained: "I had access to CAD and designed a few ideas. I then decided I wanted to take it electric and more mainstream, but with a twist. Over the past five years and seven prototypes later, we have created a hybrid of a scooter and skateboard."
Essentially you ride it side on, but it includes one handle. "It combines the practicality of a scooter and the fun of a skateboard," Ray explained.
Speaking on the day, he added how they wanted the hackathon to help the company find its customer assumptions. He said: "We want to find out what our customers will want on the next generation of our product, how customers will want to pay, how much they'll be willing to pay and how much it's going to cost the company to acquire new customers. We're going to try and answer all of these questions with a combination of surveys, social media advertising, landing pages and email surveys."
Speaking about the students, Ray said he felt very lucky to be working with his student, Liz. During the first phase, he said he had lots of people come around to help him out and Liz came over with lots of very forthcoming questions about Yawboard as she had a personal interest in the company.
Liz said: "Amongst all the other companies, Yawboard really stood out to me because sustainability is always on my mind, and I'm very interested in how we can reshape the future with mobility around London and large cities. I've recently worked on mobility projects so I knew my experience with that and what I've learnt during my degree could be really impactful for Yawboard."
Ray said it's been great to work with Liz and see their shared passion for sustainability shine through.
Muddy Machines
Florian Ritcher always knew he wanted to create a business that really meant something and could make a different. This is why he and his Co-founder, Christopher Chavasse, have created Muddy Machines. Florian explained: "Our family took over a farm a few years ago and I couldn't believe how simple and basic the technology was for agriculture. So, I had the idea to create robots that could help harvest certain vegetables - I met Chris who was able to build robots and the rest is history."
Every year there are fewer workers to pick the vegetables, to the point where soon there will be a massive shortage of vegetables in stores as they will all be rotting in the fields.
Speaking on the day, Florian explained how they wanted to challenge their assumptions during the hackathon. He said: "The hackathon has really forced us to explain our company in a completely different way. Everyone I work with is an engineer, so I'm not used to explaining things differently, but this hasn't been a bad thing at all. It's forced me to view scenarios in a similar way to how our investors might."
Lava
It was during placement year at university that Paramveer Bhachu and Joanna Power realised how awful the system was for students doing their washing, and that is when they came up with the idea for The AquaX.
The AquaX is a portable washing machine for students, that takes reused shower water to wash clothes. It is designed with a shower-like mat which you place on the floor of your shower cubicle, which collects the water and sends it into a tank to use in the portable machine.
Speaking on the day, Paramveer explained his thoughts on the hackathon: "We're still in the concept stage so CRL is helping us to figure out if this is going to be a viable product. We are hoping to find out if there's a customer base, what other things might appeal to our customers – so really focusing on our customer discovery and if we've pivoted correctly.
"We've gotten to know all the other startups over the past few weeks and although everyone's at different stages, the community has been amazing. We'd loved hearing all their stories, how they've got to where they are and the advice they've shared. CRL also has loads of great mentors who have helped us with grant and funding application advice. We know if we've got any questions, we can just ask!"
Radiant Matter
Elissa Brunato has created her design-led biomaterial company after working in the fashion and textiles industry for ten years and deciding to investigate the wider supply chain.
"It was damaging for the environment and people, and the materials were having massive implications on the health of workers. I want to make fashion and materials more sustainable. There are so many issues that need to be addressed, like the micro plastics from materials, glitters and sequins breaking down and ending up in our food chain," Elissa said.
Speaking on the day Elissa said she hoped to find out how aware the general public and people within fast fashion market were to sustainable materials. She explained: "We want to find out if they'd pay more, what they would pay for a biodegradable sequined dress, and if there is actually interest to buy that product. CRL is also helping me to understand the engineering side of manufacturing and producing my product at a larger scale.
"As I'm from a design background, it's been great to work with two students who have a marketing background. Just having different types of mindsets to work with has been great - we've been brain storming ideas together and having access to their different networks has also been fantastic."
As a startup, a lot of what you need to engage with is within CRL's community and Elissa felt that has been a great, open environment in terms of mindset, with lots of people coming from different backgrounds. She said: "A lot of the other founders come from either product design or engineering backgrounds from their studies, so being around that expertise has been great, everyone's so happy to bounce ideas off each other and share their knowledge.
"Some of the terms being used across the hackathon are completely new to me so it can feel a bit overwhelming at times - but having this community to lean on has been so important for me."
VRGo
It all started around eight years ago with a completely different product, but Founder, Joe Ryan has created the VRGO chair, a device created to navigate Virtual Reality (VR).
Fast forward to today and Joe has created an iteration on that product and produced a miniature version in the form of a very thin sensor to sit on an office chair. This will connect to Bluetooth and provide users a way of tracking and monitoring your posture and how you are sat.
Speaking on the day, Joe said: "The main problem CRL is helping me with is analysing the assumptions I've made around the product we're developing, specifically who our target audience will be. During the hackathon we're investigating if the product is going to be more suited to a business environment or to direct consumers."
Joe said he's found it really beneficial to be working with the students and talking through the problems VRGo are facing as well as hearing the students input on his assumptions. "I've really enjoyed how the students have been breaking down the barriers of entrepreneurship. Sometimes we think we know everything and that's not always the case, so having fresh minds looking at my work so far has been invaluable."