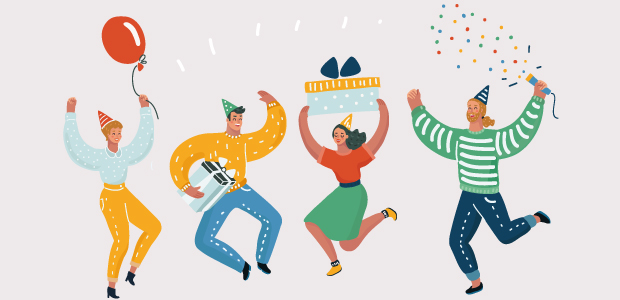 Creating the right company culture
Five years ago, I made the bold decision to leave the world of corporate business behind and launch my own startup. Make no mistake about it – this was not a decision taken lightly, as I was all too aware of the success rate – or, rather, the high failure rate – of startups during their formative years.
According to the Small Business Association, half of all businesses fail within the first five years of launching. But this statistic certainly doesn't seem to have dampened the UK's entrepreneurial spirit; the number of new companies registered in 2018 rose to a record high of 660,000.
Having launched Studio Graphene in 2014, I am pleased to say that we've been able to overcome many of the obstacles preventing startups from scaling-up, while at the same time laying down the foundations for long-term growth.
This August marks Studio Graphene's fifth birthday, and as such, it offers a timely opportunity to take a step back and review the journey of our startup. More importantly, I wish to offer some words of advice to assist those embarking on their own entrepreneurial journey.
Creating the right company culture
At the beginning of the startup journey, the first challenge facing a founder is assembling a team who share the same vision and drive for success. This is a vital step, yet something that is not normally given anywhere near the amount of attention it warrants. Some founders fall into the trap of thinking that the success of their startup ultimately boils down to their actions, when in reality, startup growth can only be achieved when there is a collaborative team of individuals who each bring a different set of skills to the table.
By hiring dedicated employees and sharing responsibilities, founders can help foster the right type of company culture that is supportive and driven. I consider my co-workers (Studio Graphene now boasts a dedicated team of almost 50 employees) to be my co-founders, working to help make Studio Graphene a leader in the development and creation of app and software solutions for businesses and organisations.  
The first few people you onboard will really set the scene for what your culture is going to be like. So how do you make the right choice? I would encourage founders to think carefully about the values they want to promote – for me, this was empathy and honesty. I wanted to build a transparent culture, headed by a tight-knit team that was open and supportive.
Beyond this, I learnt that CVs really don't matter that much; no more, at least, than people skills. After all, you can train someone up for a technical skill, but cultural attitude is much more important in the long-term.
Overcoming obstacles
The road to success is paved with obstacles, and it's important for founders to learn how to manage the ups with the downs while always keeping a level head.
Initially, I was confronted by a fear of failure – a feeling that will be familiar to many of those who have, or have considered, launching their own business. What if things don't go exactly according to plan? How will you be able to build your client base from virtually nothing? Will you be able to pay your bills? What will your friends and colleagues think if the startup is not a success?
These feelings are natural, and although challenging, I would encourage people to tackle these fears head on by acknowledging that there is no reward without risk. To offer a practical illustration, during my first few years I didn't draw a salary. I was forced to borrow and rely on loans, which was a huge learning curve. What kept me grounded, however, was the belief that through hard work and perseverance, taking the leap of faith would eventually pay off.
The next obstacle presented itself in the form of getting customers. Convincing prospective clients to give us a chance with little to no credentials to our name was no easy task. Therefore, we offered to take on projects at a heavily discounted rate, which allowed us to build up a portfolio of examples that showcased our expertise and quality of work.
Celebrate your milestones
On a similar note, it's important to celebrate your milestones and take pride in how far you have come. Since 2014, at Studio Graphene we achieved a collection of small but notable milestones, each of which have driven us to work harder and aim higher.
Moving into our own office in London Bridge a year after we launched was a pivotal milestone (as well as a big financial commitment!). At the same time, with an expanding client base, we also began investing back into the business, ensuring we were equipped with the right resources and skills to meet future demand for our services. This was an important moment, as we were now implementing a long-term growth strategy and no longer worried about the initial struggles of generating a revenue of some sorts.
Taking the time to reflect on such achievements not only boosts morale, it also allows you to plan for the future and set your next goals.
Launching a startup is an exciting, stressful, tiring but ultimately rewarding experience. There will be plenty of sleepless nights and unforeseen challenges which will really put your skills and determination to the test – but this ultimately goes hand in hand with success. Studio Graphene has successfully grown over the last five years, and I cannot wait to see what the next five years will bring!