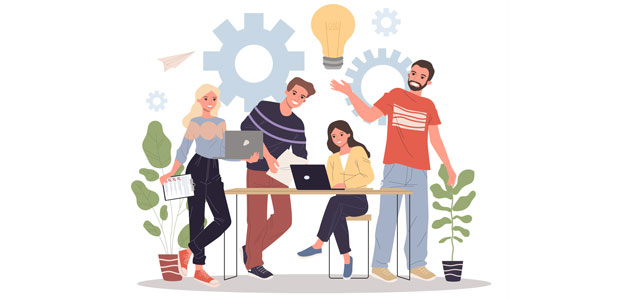 Covid-19 creates boom in 'early entrepreneurs' aged under 25
GoDaddy, the company that empowers everyday entrepreneurs, has released new research which finds that the COVID-19 pandemic has caused a surge in young people starting their own businesses in the UK.
The survey of 2,502 aged 16-24-year-olds in the UK carried out by Censuswide for GoDaddy, shows that one in ten [9%] have started their own business since February 2020. This suggests that, based on the latest Office for National Statistics (ONS) population estimates for this age group, over 630,000 ventures were launched by 'early entrepreneurs' in the UK since the start of the pandemic.
A further one in five [18%] young people surveyed say they have a concrete business idea and are in the process of setting up their own company, indicating that the number of youthful start-ups is expected to increase further this year. These research findings suggest that the average age of a UK entrepreneur, which was 40 years old in 2019 according to Companies House data, is likely to go down in the 2020s as a part of the legacy of the Covid-19 pandemic.
Creative industries and retail are the most popular sectors for 16-24-year-old entrepreneurs surveyed, despite the challenges faced by both industries in the last ten months. Nearly one fifth [17%] of the 'early entrepreneurs' launched a creative business (specialising in art, music or design), which based on the latest ONS population estimates, equates to around 108,000 new companies, closely followed by retail [15%] with an estimated 95,000 new businesses.
This surge of young startup entrepreneurs comes in response to the pandemic, which has disrupted the job market and forced many people to take professional opportunities into their own hands.
When asked what encouraged them to launch their own business, three quarters [75%] of 16-24-year-olds surveyed said there were not enough employment opportunities for them in the current economic climate. In fact, prior to pursing their own business ideas, almost one in five [19%] people in this age group had tried and failed to find work in their chosen field.
Ethan Maddison, 23, launched Branded Camera, a London-based content creation agency providing short videos for recruitment companies wanting to advertise online and on social. Having launched in November 2020 he comments on why he started his own business, and the important role his website is already playing in his success: "The last year has been pretty tough work-wise. I graduated University with the hopes of becoming a sports journalist but given how tough the job market is right now, I ended up taking a customer service role for a sportswear company. It wasn't my dream job but it paid the bills. Sadly, as a result of the pandemic I was made redundant in September 2020.
"I considered applying for similar roles again, but after my difficult experience applying for jobs earlier in the year I decided to take the plunge and start my own business. I've always been creative, and passionate about media, so that's where my idea came from.
"In all honestly, I hadn't really considered the importance of having an online presence when I first came up with the idea. Now I realise how important it really is! With everyone working from home and everyday life being so virtual, it's crucial that I have a website to act as an online shop-window for potential clients - like an online scrapbook of my work for people to peruse.
"Since launching two months ago, I already have four regular clients, and I'm confident my client base will grow with time. I'm planning to continue working on the website and my online visibility, and I'm looking forward to seeing what 2021 brings."
Nine in ten [92%] of 16-24-year-old entrepreneurs surveyed place great importance on having an online presence and consider having a website, social media channels or e-commerce capabilities to be important for their business. The average for UK business founders of all ages is 88% with 59% of entrepreneurs over the age of 55 agreeing an online presence is important.
The research also revealed that 16-24-year-old entrepreneurs overwhelmingly favour e-commerce and derive 12% more revenue from online sales than the average business owner [42% vs 30%]. Younger entrepreneurs were successful in seizing the opportunities of e-commerce and maximising their revenues through online sales during the pandemic. Their online sales were reported as having increased 10, from 32% before the pandemic, to 42% since February 2020.
The vast majority [91%] of entrepreneurs between the ages of 16 and 24 polled by GoDaddy either already sell, or plan to sell their products and services online, and over three quarters [76%] already sell, or plan to sell through their business' website. By comparison, 17% of entrepreneurs over the age of 55 do the same.
Sakshi Anand, Senior Director, GoDaddy UK and Ireland said: "Despite the challenges of 2020, our research shows that young entrepreneurs have managed to make the most out of a difficult situation and have demonstrated the ability to flourish in a challenging economic environment brought on by the global pandemic.
"In addition to those young entrepreneurs who have already started a business over the last year, and with 91% surveyed as already selling online or planning to sell online, we're excited to see what 2021 will bring for our new generation of UK's entrepreneurs."
GoDaddy's research also reveals that older entrepreneurs tend to favour more traditional industry sectors. Among 750 business founders of all ages in the UK, the most popular sector is professional services [14], followed by retail [13%], construction and real estate [11%], manufacturing [10%] and technology [9%].
GoDaddy is committed to helping the nation's entrepreneurs name, create and grow their ventures, by supporting them to be found online, sell their products online, and engage with their customers in a variety of ways. Over the course of 2021, GoDaddy will be running initiatives designed to help 16-24-year olds start and grow their ideas online.