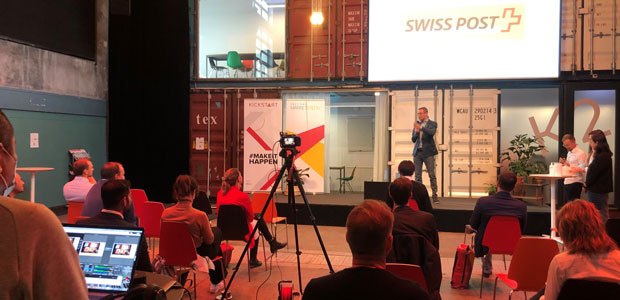 COVID-19 boosts innovation for startups worldwide
Despite COVID-19, the Swiss Market Entry Bootcamp happened yesterday in Zurich. Representatives of 40 startup companies from 20 countries worldwide, including the US, Canada, Brazil, Turkey, and numerous European countries, attended the kick-off event online and physically at the Kraftwerk Zurich.
The largest number of startups are from Germany (eight companies) and France (seven). Eight startups presented digital health solutions, seven founders provided digital support for education, ten innovators focused on mobility and Smart City, nine companies were from the FinTech and InsurTech sector and six from the Food and Retail sector.
They are all united by the idea of using digital ideas to support the structural change and transformation of the economy, which the COVID-19 has accelerated, if not triggered, in all sectors, and thus to shape the change process creatively. The startups had previously gone through an application phase to qualify for the event. The criteria included, for example, an already successfully completed external financing round and proof of a convincing business model.
The Swiss Market Entry Bootcamp is the third of its kind after the great success of the 2018 launch event. It is an initiative of digitalswitzerland powered by Kickstart Innovation and offers startups from around the world an insight into the ecosystem of Swiss entrepreneurship.
In addition, other ecosystem players are engaged as well, including Startup Invest, Day One, Climate-KIC, F10, Impact Hub Switzerland and others. The aim of the event is to network foreign tech pioneers with financing partners, accelerators and incubators as well as established Swiss companies, which in turn are looking for creative solutions to digitalise their business processes.
These partner companies include APG, Coop, Chain IQ, CSS, Migros, EY, IBM, PwC, PostFinance, Sanitas, Smile Insurance, Swisscom, Swiss Post, Swisslife, UBS, and others. Switzerland is a world leader in digital innovation and is striving to further expand this position through international networking. On the Global Innovation Index (GII), Switzerland recently took first place, ahead of the US, Sweden, UK and the Netherlands.
"COVID-19 has triggered a transformation process of great significance in almost all areas of work and life: travelling, working, learning, but also shopping, health counselling and leisure time: for all of these things, digital solutions were to be found that would prove their worth not only in the crisis but also in the long term. We invited successful startups from all over the world to present their ideas here in Zurich," explained Matthias Zwingli, Head Startup and International at digitalswitzerland.
"The Bootcamp is an excellent opportunity for Swiss organizations to connect to new startups with creative innovations from all over the world. At the same time, Switzerland is an attractive market and location for foreign startups to develop qualitatively and network with existing companies as well as important innovation ecosystem players," added Katka Letzing, Co-Founder & CEO of Kickstart Innovation.
Among the startups which presented their ideas in Zurich were:
Gini: Extracting documents in real time
The Munich-based FinTech and InsurTech company offers intelligent data extraction of documents and thus is aimed at insurance companies or law firms, for example. These have to be able to rely on the fact that these special data extracts are perfectly accurate and can thus save themselves the tedious process of manual checking. "Gini can read out documents in real time. Tedious paperwork is now a thing of the past," said Founder and Managing Director, Holger Teske.
HealthyHealth: Digital health profiles for diagnostics
The London-based HealthTech company uses digital data to calculate the diagnostic risk for more than 800 diseases, saving applicants hours of time filling in long questionnaires or visiting doctors. "With the rapid development and spread of smartphones and fitness trackers, HealthyHealth is leading the associated device-based revolution in health tracking. Once a user provides access to their personal data via their smartphone or wearables, we can calculate their unique health risk profile in minutes", said Co-founder and COO, Etienne Bourdon.
Processim Labs: Playful learning with the smartphone
The EdTech company from San José, Costa Rica, develops college-level educational games and enables students to learn, practice decision-making and critical thinking in a playful, entertaining and dynamic way with their smartphones. "COVID-19 has forced students worldwide to learn from home. Many lack the technical equipment for this. We enable interactive learning with the smartphone that is fun", explained Javier Chan, founder and CEO of Processim Labs.
To learn more about the Market Entry Bootcamp, please click here.