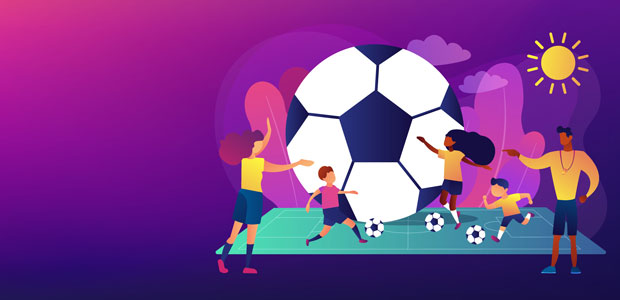 COVID-19 and the sports industry: how startups can help the sector's recovery
As with every sector, the sports industry has been greatly affected by the COVID-19 pandemic. The after effects will no doubt continue to reverberate for some time to come even once we emerge from this global health crisis. However, sport is unique in that it plays a different role to many other activities in life; it provides a space for people to come together for rituals and traditions, often harking back for generations.
Sport crosses borders and cultures better than any traditional ad campaign, and it unifies people like nothing else. So, what exactly has happened to sport in the COVID era and what role can startups play in the industry's recovery?
COVID-19 has allowed sports federations, leagues, teams and players to accelerate their thinking well beyond the score line. The Premier League can provide one example where teams traditionally receive revenue via three pillars: broadcast, matchday and commercial. 
One reason the league was desperate to play out its matches at the end of last season was to ensure it received its massive annual broadcast payments. Having that money in the bank bought the Premier League time to properly consider its future during the COVID era. While future broadcast fees are being debated and negotiated, this pillar will remain a massive revenue earner for the league and its teams in the near-term.
Meanwhile, the matchday revenue pillar has of course been devastated by COVID-19 as teams can no longer entertain tens of thousands of fans in their purpose-built stadiums.  However, even when or if easing does come into effect, the necessary fan safety issues will make every matchday very expensive to operate for clubs.
The only potential upside is that there is a possibility that fans may be more forgiving regarding price increases once the sport returns in earnest. This means many big clubs that have previously been lambasted across social media for minuscule year-on-year increases will likely be able to entertain increases as well as separate PPE charges if required. 
The importance of commercial revenue
For massive clubs like Manchester United, the commercial revenue pillar can typically represent 50% of their overall income despite the mega increases in broadcast revenue over the prior five years. It is therefore the commercial pillar where I believe teams will have opportunities to make or break their futures. Some clubs have indicated that as many as 70% of their previous season's partners have gone out of business - a strong indication that the commercial pool will be much smaller going forward.
Additionally, the commercial pillar witnessed most of its growth via a combination of the aforementioned broadcast exposure as well as local engagement activities with an expanding international audience. It is too early to predict if watching football in empty stadiums keeps global TV audiences engaged as much as a vibrant all-singing, all-cheering live audience did. 
Additionally, with so many variants of COVID-19 restrictions throughout the world there is no doubt live engagement with fans via legends or any other team representatives will be reduced significantly, if not eliminated altogether. 
The need for digital connectivity and the role of technology
The greatest engagement and revenue upside a Premier League team can have within the commercial pillar is via its digital connectivity. This must involve more than mere likes and shares on the latest and greatest social platforms, but authentic fan engagement instead. 
To achieve this new level of international fan engagement will require innovation. This is something most teams are not currently geared to do and probably cannot invest in this declining revenue market. This is why the technology-driven startup industry can play such a crucial role in bringing the sports industry back to the forefront. 
Recently, I presented via Microsoft TEAMS to over 100 Olympic federations. I encouraged all of them to think more like a startup. I implored them that now was the right time to take risks, and to support early concepts with new fan engagement tools. Many quickly understood they have desirable and often unused content, as well as an attractive but geographically dispersed fanbase. 
While no one truly knows what the next fan ecosystem will look like, it more than likely will not be the same fan engagement ecosystem we witnessed over the preceding ten years. 
I challenged each of these Olympic federations - and I would extend that to the Premier League teams and indeed all sports entities around the globe - to think like a startup. That doesn't mean they must invent the next great fan tool themselves; there are many pieces of the puzzle startups covet and often need to take their concept from an idea to a proof-of-concept. 
Consequently, any new relationship with a startup beginning today will mostly likely pay dividends for the new sports fan engagement ecosystem needed for the future. The time is now for the sports industry and startups to unite.