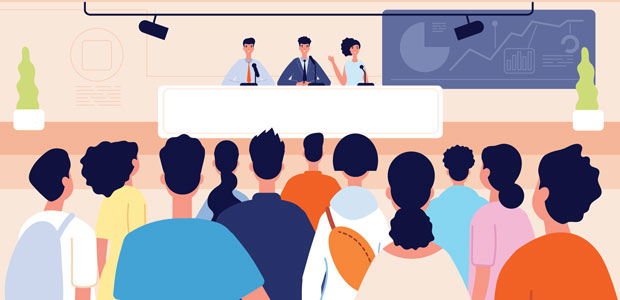 Could events be the cornerstone of your post-pandemic recovery?
As the economy springs back into action following two turbulent years, businesses are considering how to recover after the pandemic and maximise their commercial success. The role that events can play in this post-pandemic recovery should not be overlooked.
Events are a staple business marketing practice, giving firms a unique opportunity to connect with their audiences on a deeper, more personal level. However, many businesses fail to fully capitalise on the strength of events, limiting their impact on a firm's commercial success.
The events industry has undergone significant change, and for many businesses the unique strengths of in-person, virtual and hybrid events have untapped potential. This includes the implementation of effective monetisation and sponsorship strategies, powerful engagement, and the development of richer content.
The power of hybrid
In-person events are making a return. However, in research at the end of 2021, 30% of marketers said that 90% or more of their future events would have a virtual element.
By incorporating a virtual aspect to an event, attendance is no longer bound by geographical restrictions. Online attendance navigates challenges like logistical pressures, travel time and expense by bringing an engaging, content-rich experience right to the delegate's device, wherever they might be.
From a commercial perspective, this means events can be more inclusive and accessible – and therefore bigger and more useful – than ever before. But a word of caution from my experience: strive for parity of experience between the in-person audience and virtual attendees. In recent research, 67% of online event attendees agree that it is essential for presenters to be engaging and passionate about their subject.
It's crucial to utilise the technologies available to ensure that virtual event elements are exciting, engaging and provide a wealth of networking opportunities that expand much further than the event itself.
Refreshing the design and delivery of events
Capitalising on tech in the event space across all formats will be key to driving enhanced engagement.
Facial detection technology can measure audience sentiment in response to content whether delegates are interacting virtually or in-person. This data can inform changes to an event; for example, updating the theme of an upcoming Q&A to reflect audience interest. These adjustments can be made in real time.
Similarly, virtual platforms can provide a post-event data report which uncovers a detailed understanding of the success of any audience engagement. These insights can be integrated into planning to inform improvements at future events.
The aim with hybrid engagement isn't to replicate the opportunities a delegate might have when attending an in-person event. Instead, the objective is to create new methods of connection between brand and audience, and between delegates themselves. Each of these methods build on the strengths of the in-person, virtual and hybrid formats and their technology.
Effective monetisation and sponsorship management
Pre-Covid, it was hard to measure the ROI of event sponsorship. Attendee badges could be scanned at stands, but this gave only very basic data to sponsors meaning it was hard to say how many serious buyers were ever in the room.
It was possible to implement technology like Bluetooth beacons which could offer further insights into delegate behaviour – for example, they could show who circled or returned to a stand. However, we found there was a reluctance from event planners to implement this tech.
The shift to virtual events during Covid fuelled a change in attitude. Planners had immediate access to a wealth of data showing attendees behaviour, which also provided detailed insights into delegate behaviour, including points of engagement and preferences.
As we return to in-person events, it is important to find a way to maintain this stream of data.
These insights can help to map sales journeys and measure the effectiveness of sponsored content. There are many methods to do this that suit both in-person and virtual events, including facial recognition and mobile tracking.
The future of effective sponsorship is not just about having the best location in a venue; it's about leveraging tech to gather data whether you are present virtually or in-person. This data can be used to track leads through the sales funnel, providing a more accurate map of the buyer journey. This will be key to monitoring and reporting ROI for sponsors and can help to inform future sponsorship and engagement strategies.
On-demand content
One of the greatest benefits of virtual events is their ability to be captured in one system. This 'virtual library' of content can be strategically used to enhance results for a brand.
Once a virtual event is over, there is still a plethora of opportunities to make the most of. Research by Vimeo revealed that 68% of attendees have re-watched content from an online event they attended, and three quarters of people said that if they missed the live version, they would re-watch the event later.
Companies can offer discounted access for those who missed the event or would like to re-watch sessions. Similarly, businesses can sell their 'virtual library', perhaps even offering a form of subscription model to ensure attendees keep coming back.
With 85% of businesses agreeing that virtual events are here for the long-term, the potential they hold to drive commercial success, brand awareness and profit cannot be understated. Through using the right technology and adopting the right strategy for your event, 2022 could be the year that the power of events is realised.