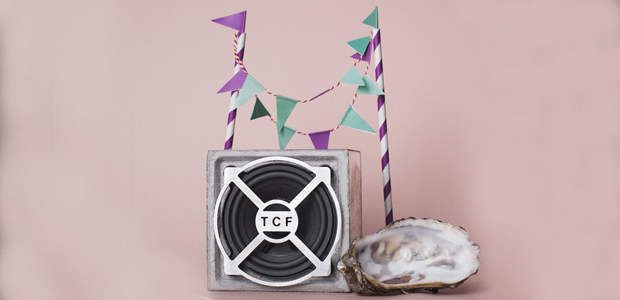 A concrete idea: a wireless speaker entirely cast in concrete
Startups Magazine first clapped eyes on Le Pavé Parisien at CES 2019 within the French Pavilion in the Eureka Park and was instantly intrigued to see the world's only high-end speaker cast entirely in concrete.
From the concrete the speaker is cast in, to the electronic board - every single part of Le Pavé Parisien (translation: the Parisian pavement) has been designed to be repairable and recyclable.
"Le Pavé Parisien is profoundly committed to the circular economy," said Pierre Axel Izerable, co-Founder and CEO. "We stand against planned obsolescence and we strive to work with people who share our values. Through its eco-conception, Le Pavé
Parisien tackles the environmental concern. Every day we aim to make sense of what we do to build a new future where innovation intertwines with creativity and local manufacturing." 
Before Le Pavé Parisien was founded in 2016 by sound engineer and music composer, Pierre-Axel Izerable, when he discovered the latest generation of concrete, ultra high-performance and fibre reinforced concrete. Along with his three brothers, Pierre-Axel Izerable started the company The Concrete Family, and along several other design iterations of concrete audio speakers, Le Pavé Parisien was created.
A successful crowdfunding campaign in May 2018 attracted 186 contributors and raised $47,745, smashing the team's target of €30,000 - enabling them to fulfil an initial round of production of 1,000 units.
Locally sourced
Sand and cement used for the concrete provided by Vicat, a French historical company that operates quarries in Grenoble (France)
Protective grilles handmade by John Steel Pro in Alsace (France)
Loudspeakers provided by Audax (Sarthe)
Electronic boards assembled in Dordogne (France)
Hand-assembled by Le Pavé Parisien in Paris (France)
A new type of 'musique concrète'
So it looks great - very industrial chic - and it a unique and eco-led design, but what does it sound like? Like other speakers you might be familiar with, it is connected to via a mobile phone through Bluetooth 4.2 or any audio source through a mini-jack input. It can also be paired with other speakers (Mono or Stereo) as well and offers an output power of 20W RMS by Class-D Amplifier.
The concrete has excellent sound properties, 'avoiding vibrations and sound distortions, Le Pavé Parisien is the first wireless speaker made out of ultra-high-performance fibre reinforced concrete', the startup explained, 'the thickness of the industrial material 'avoids distortions and facilitates the restitution of a very clear and precise sound'.