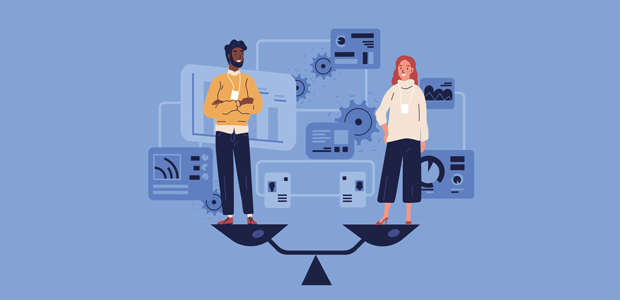 Closing the gender pay gap
Zara Nanu, CEO and Co-founder of Gapsquare, caught up with Startups Magazine to explain how she's closing the gender pay gap with her cloud-based software.
Gapsquare is a software that offers instant gender pay gap analysis and a fair pay function, as well as data-driven recommendations for a pioneering change. Gapsquare's ambition is to apply data science combined with insights from economics and psychology to improve decision making in HR.
Nanu was first inspired to make a change three years ago when new research from the Economic World Forum predicted that it would take 217 years to completely close the gender pay gap.
"We live in a time where technology and data is reshaping our lives. Technology has changed everything, from the way we travel to our healthcare. However, I noticed that we weren't using technology and data to look at how we could create more equality in work places. This gave me the idea to set up the company so that I could help other companies make more data driven decisions to narrow their gender pay gaps."
Nanu came into the tech industry from a completely different background, however, she has learnt to love and embrace it. She said: "Running the company over the past three years, I've realised how important data is in global decision making and how a lot of the time women aren't really involved in looking at data, analysing it and making decisions based on it so learning about it has been really interesting and empowering."
How the software works
Gapsquare is a secure, cloud-based software that uses HR and payroll data to provide detailed and visual insights into a company's gender pay gap.
The companies that licence the software upload their organisational data and within a few seconds, Gapsquare performs a detailed analysis of the data. The Gapsquare dashboard then gives the user a detailed, visual breakdown of their organisation's gender pay diversity by age, department, location, tenure, job level etc. If you want to explore pay gap trends, you can upload historical data too.
Nanu explained: "Then comes the legal bit. It is quick and easy to extract ONS-ready data reports that users can use to repurpose the data for their own organisational needs. And we don't limit how often you can extract reports either."
The funding route
"It's been really interesting over the past few months as I've seen a few different reports about how little funding actually goes to female founded companies. I believe it mentioned how every £1 invested, only 1p goes to female founded companies. So although I tried to raise funding several times it has been unsuccessful so we decided to grow based on sales.
 "Our lives probably would have been a lot easier if we had managed to raise the funds but we unfortunately ran into a lot of obstacles along the way. What would usually end up happening would be that I would go into a room full of middle class, middle aged men and it would always be a challenge for them to understand how Gapsquare could be a profitable entity.
"However, we still managed to launch a product on the market very quickly, worked hard on fine tuning it with our customers and expanded to now a team of eight, completely self-funded. Over this time we have worked with Vodafone, London Met Police, and the International Data Corporation."
Although Zanu was once mistaken for a waitress at a pitching event, it is inspiring to see how she has overcome many challenges during her startup journey. She told me: "I would still recommend startups going down the self-funding route because it strengthens your position, your product, and you know for sure what you can get out of this business. You are also more likely to continue to have freedom in terms of decisions and how you run the company."
Nanu believes that every single challenge she's faced along the way, has reinforced that she's doing the right thing. The challenges have actually propelled her even further to where she wants to be. She described it as both a blessing and a curse to encounter so many different obstacles, however, Nanu has managed to use them to her advantage and grown from them.
"At times we've been very fortunate on our growth journey, particularly when we were chosen as part of the Oracle Startup Cloud Accelerator, which gave us the tech foundations - in particular access to Oracle's Cloud - to help us grow to where we are today. It provided us not only with the tech we needed, but also the access to mentors and customers that startups so desperately need in their nascent stages."
Is there any competition?
"It's definitely an interesting one as we do have competitors in different spaces. I've noticed how millennials are really interested in fairness at work. If they find out that they are being paid differently to a colleague, they will walk out of a job. So we're seeing more startups like ourselves crop up. However, we bring academic expertise and data together. Our main focus is for our software to be used by anyone, and everyone. We want it to be so simple that anybody is able to jump in and use it, even if they don't really understand equality and diversity, or statistical regression modules." explained Nanu.
What's next for Gapsquare?
Gapsquare already has customers in New Zealand and Australia. However, Nanu wants to establish a physical presence in the United States. She will be making her first step towards that in April when she travels to New York for a female founder trade mission to meet with potential investors, partners and customers.