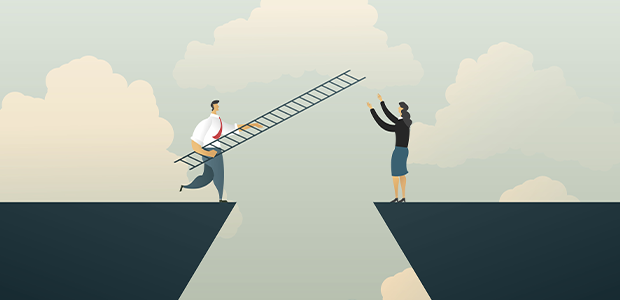 Closing the funding gap must be the next priority for UK enterprise
The visibility and number of successful female founders has come a long way over the past two decades, but the funding gap remains the biggest challenge for women in business and is key to unlocking the UK's economic potential.
The everywoman Entrepreneur Awards, the UK's longest-running recognition programme for women in business, began its journey in 2003 as a platform to uncover and amplify the diverse array of female-led businesses, by shining a spotlight on the resilience, innovation, and success of their founders. Until then, these role models were hidden from view and were missing from the story of the rise of entrepreneurship in the UK.
In the intervening years, everywoman has been at the forefront of the drive to increase the number of female entrepreneurs, working with government, industry bodies and the corporate sector to accelerate the rate of progress and dismantle barriers that remain for women, particularly when it comes to accessing funding, growing, and scaling their businesses.
Maxine Benson MBE, Co-Founder of everywoman says: "The everywoman Entrepreneur Awards have a central role to play in highlighting the disconnect between the growth ambitions of female founded businesses and their access to funding.  Of the larger fast-growth scaleup businesses that entered this year 76% stated they were definitely, or very likely, going to be seeking additional funding in the next 12 months, over 80% were planning to deploy more technology and 95% said they would be recruiting more employees. These women are wealth and job creators and the businesses we must be investing in for the growth of UK Plc."
The everywoman Entrepreneur Awards are a call to arms for the investment and finance communities to double down on their efforts to understand how they can better serve these ambitious, unstoppable female founders.
The 2023 everywoman Entrepreneur Awards are in association with BGF, one of the largest and most experienced investors in the UK and Ireland, and NatWest. Both partners continue to demonstrate their active role in addressing the funding gap for female entrepreneurs and they share the everywoman vision to see more female-founded businesses scale in line with their founders' ambitions.
BGF was set up in 2011 to address the longstanding shortage of funding available to Britain and Ireland's small and mid-sized firms. Since inception, BGF has invested £3.8 billion across a diverse range of sectors and across all regions. For four years running, BGF has been named the UK's most active institutional investor in female founded scale ups, with 57% of new investment hires at BGF being made up by women in 2022.
Daina Spedding, Investor at BGF, said: "Currently, the majority of business owners who seek investment are men. We are working hard to rebalance this by building a community of ambassadors across every aspect of the funding landscape from advisers to investors and the entrepreneurs themselves. It's our responsibility to ensure that female founders have the tools to believe in themselves, to access funding and ultimately to scale."
Katie Lopes is the co-founder of sustainable female underwear brand Stripe and Stare, which received a multi-million investment from BGF in 2021.
Speaking of her funding journey, Katie Lopes said: "After launching the business in 2017 we were able to scale organically, achieving 600% year-on-year growth in a relatively short space of time. However, it became clear that to reach the next level we would need to bring in an investment partner. Since securing funding from BGF, we have been able to invest in the systems, structures and talent needed to meet our global growth ambitions. I'd advise any female founder to have confidence in themselves and to think big. Women can be more risk averse, but we should never be afraid to ask questions and always surround yourselves with the right partners that share in the vision of your business."
Yvonne Greeves, Director Women in Business at NatWest added: "£250 billion could be added to the UK economy if women matched men in starting and scaling business. We've seen the numbers of female-founded businesses continue to rise, but not their access to funding, and it is potentially influenced by the historic difficulty women have had accessing funding, and the off-putting gap that remains.
Evidence shows that the average deal size of VC investment for female-founded scaleups is half that of their male counterparts and they consider themselves more likely to be turned down. And if they are applying for funding, women-led businesses continued to receive smaller amounts of loan finance. The gap widened in 2022, with 13% of female business applying for finance compared to 50% of male-led businesses, and the average (mean) amount approved in respect of women-led businesses stood at £174,000, which was 34% of the average of £507,000 approved for their male-led counterparts.
The hesitancy towards lending for women can even be impacted on a financial literacy level, for example, if you are a creative you may assume you don't know the numbers well enough and be put off. However, this is where banks and accountants are here to support. If any female founder is looking for funding, we urge them to get in touch with us, so that together, we can equip and empower them to accomplish their potential growth."
One of this year's judges, Yvonne Nagawa, Chief of Staff at Black Seed commented: "The funding gap amongst men and women is vast, but even more shocking is that 0.24% of VC funding is received by Black entrepreneurs, which is 38 businesses in total and of those only one Black female founder raised Series A.[1] At Black Seed we receive a lot more applications from men than women, and it's not due to a lack of drive, but an underlying belief from female founders that they need to be perfect before making a pitch for funding, which is even more compounded when you are a black female founder."
This year's judging panel comprises the UK's most successful women in business who have successfully scaled their businesses and VCS and investors who are at the forefront of closing the funding gap with their diverse portfolios. Judges include Chrissie Rucker (Founder of The White Company), Smruti Sriram (CEO of Supreme Creations/Bags of Ethics), Mandy Nyarko MBE (Angel Investor at Ada Ventures and Co-Founder of Discovery School), Connie Nam (Founder of Astrid and Miyu) and Libby Gibson (Partner at Piper PE LLP), amongst others.
If you would like to find out more about the 2023 everywoman Entrepreneur Awards or attend and meet these ambitious female founders, visit http://www.everywoman.com/entrepreneur-awards