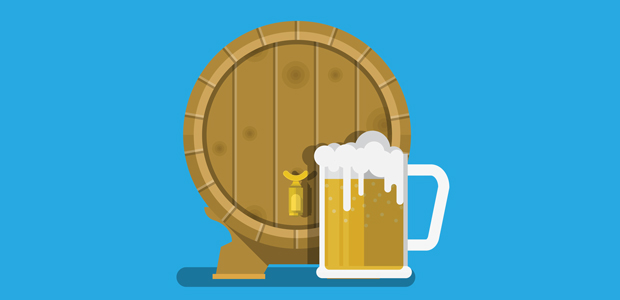 Cheers to turning beer kegs and casks into smart containers
As the pubs re-open today - hooray - outside only course, we thought we wold highlight some of our beer related startups to celebrate! Did you know, after water and tea, beer is the most consumed liquid by human? In the UK alone, there are more than 2,100 breweries and 120,000 alcohol-serving retail locations, which results in over nine million kegs in existence.
Kegs, therefore, represent a very important asset for a brewery since it allows them to transport their product into the hands of the consumer. Managing this key asset is challenging for a brewery, distributor and on-trade retailer given the lack of visibility into the properties of each container, and along the supply chain itself. Inability to know each keg's location, volume, and temperature creates significant bottlenecks which in turn creates waste (time, effort, money).
The solution?
KegTracker is an IoT first to market device, that turns beer kegs and casks into smart containers to create a more sustainable supply chain and circular economy where less waste (beer, water, gas, carbon footprint) is produced.
Co-founder Eduardo Garcia explained that to manage the current supply chain, the industry requires different technology solutions from multiple vendors, but the way the data is collected is inefficient and ineffective and leads to lack of transparency in product lifecycle.
How does it work?
KegTracker uses real-time data collected from all the containers, and uses a low-power wide area network (LPWAN) which sends the data to the cloud. Garcia explained: "Once the data is transmitted from the container, we slice and dice the data and to visualise it in an effective eye-pleasing aesthetic for our clients. For small breweries we develop data-driven insights and reports that help them be more efficient, and for larger enterprises that already have robust systems, we provide them with an API portal so they can easily and securely consume real-time data feeds from the supply chain."
No product in the market offers the functionality, simplicity, and accuracy of KegTracker. KegTracker is a one-size-fits all device that instantly makes these containers smart. There are four sensors that measure four key properties of the kegs:
Volume

Location

Temperature

Movement
Location
Current 'normal' kegs lack visibility when it comes to these properties which can cause breweries to have up to 70% in excess in containers since they either cannot find their kegs or get them fast back enough from retail outlets. It is estimated that over 10% of containers get lost every year and over 5% get damaged beyond repair. These inefficiencies can cost the industry over £90m each year.
Temperature
Not only that but each year there is also over £300m in losses due to spoilage as Garcia explained: "Temperature is important because up to five percent of the draught beer produced each year is wasted due to spoilage. This is a major problem that we are helping to solve, as for an industry that generates £10bn annually that is a lot of money lost in unrealised revenue."
Volume
Garcia said: "We also address the problem of wastage at the retail level, since we enable bar staff with a visualisation to indicate how much product there is in each keg and how many pints they're getting out of each container. Knowing when a keg is almost empty is also very important to inform a brewery how much product they have out in the field and do better production planning, reverse logistics, and auto replenishment."
The water problem
One big impact the beverage industry has on the environment that you may not necessarily realise, is the amount of water that is used and wasted. Garcia explained that according to Columbia University it takes 20-40 gallons of water to make one pint of beer. "A lot of that water is wasted in the agriculture of the ingredients that go into products like yeast and wheat etc. At the production level it is also bad, as it takes eight pints of water to make one pint of beer. We want to reduce this."
Improving the efficiency of breweries is helping address the problem the UK is facing with water. Garcia added: "Water isn't necessarily a problem craft breweries think about, but the big giants do. Just one small change in making the supply chain more efficient would make a big difference to the environment."
Having always been at the forefront of innovation and familiar with technologies that already exist, Garcia's initial idea was based around better customer service in hospitality, but after validating this idea with people in the industry Garcia learnt it was not meant to be. He explained: "I learnt more about all the inefficiencies that exist within the beverage industry, which led us to our first inventory, and as I kept looking further at the problem it kept taking us back, where we kept ending up at the source – the supply chain."
Founded in New York City in 2017, KegTracker has just finished its research and development, completed a working prototype and have recently filed a patent. Garcia added: "We are now looking to industrialise the product and test it with a couple of breweries in the UK. We're excited to have a product ready to sell and make our contribution towards a more efficient and sustainable industry."
He added: "In the future waste will not exist, and everything that goes into the supply chain will stay there, and we believe KegTracker is an enabler in making this possible."