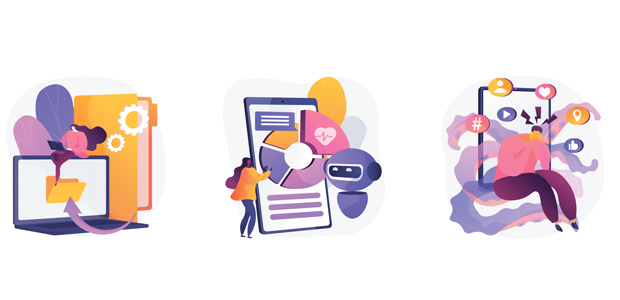 Changing the way businesses drive digital transformations
Digitopia is the global leader in Digital Maturity assessment and benchmarking studies, it takes an independent and industry-agnostic approach. The Digital Maturity Index (DMI) methodology is underpinned by the Digital Maturity Platform (DMP), which is the leading maturity assessment and benchmarking solution for business. It supports hundreds of organisations with an essential set of Executive KPIs that help to measure digital transformation progress and success. We spoke to Halil Aksu, CEO of Digitopia to find out more.
Tell me about Digitopia and what you guys do?
At Digitopia, we utilise two key solutions to assess the progress of digital transformation for businesses. The first is our Digital Maturity Index (DMI), a comprehensive and accessible digital maturity model and methodology that analyses digital maturity levels across six core dimensions, before providing an organisation's personalised score.
Our Digital Maturity Platform (DMP) is a maturity platform that supports a number of leading digital maturity models. It provides real-time reporting and dashboards for organisational maturity and industry benchmarking.
What was your history and background in before this?
I was born and raised in Germany, but have spent a significant amount of my time travelling the world - so, I would consider myself a global citizen.
My background is in engineering, which means I have always worked closely with technology, innovation and digital. Throughout my career, I have picked up a lot of experience, working for some huge organisations such as SAP and Gartner, but I've spent the best part of the last decade following more entrepreneurial avenues.
Digitopia is actually my third startup. My previous two were very successful, but this time I'm excited to make our Digital Maturity Index the global standard as a digital maturity measurement tool.
Where did the idea come from, and how has it developed?
We've worked with some fantastic companies across the globe and in business you manage what you measure. What we found was that there was no good measurement for digital transformation.
With digital transformation becoming so high on a number of organisations' agendas, we identified a big gap in the market for a tool to measure this. Therefore we decided that this would become our niche and since then we have focused solely on the measurement of digital maturity. As you can imagine, it didn't just happen overnight. Over the past two years we've gone through at least ten iterations of the index but each time has allowed us to refine it even further. We're very happy with the product that we have now, but we will always be looking at how we can continue to evolve the index and improve it.
How have you gained the success – double revenue two years in a row?
As a company we have had a great couple of years. This year we surpassed 2020's revenues by June and we forecast to triple our digital growth by 2022. Since the beginning of the year, we have also expanded into 12 new markets, introducing our services to geographies such as Indonesia, Thailand and Brazil, as well as Europe and the Middle East. The digital revolution is truly global. We aim to continue this expansion into new markets, and we're on track to at least double year-on-year revenues for the next 3 years.
In some countries, we have already become the gold standard for digital maturity measurement for a number of industries, having only been operational for two years.
How have we achieved this? We are simply changing the way that consulting is delivered. If we are talking about and working on digital transformation, then we should be applying those concepts and technologies upon ourselves as well - so we do. Because of that continual drive for perfection, we have now developed cloud-based and AI-driven software for our digital maturity assessment service. It augments, streamlines and enables our service delivery and it's something that we are really proud of.
How many are on your team and how has that grown?
Before the pandemic, Digitopia was made up of roughly 10 people. Now we have doubled our headcount and continue to hire in various parts of the world. We have a dedicated consulting team, a dedicated product team, a very strong marketing team, sales and business development staff, and of course, a few people looking after administrative tasks.
We truly live our culture. We enjoy what we do. We have fun developing great products and serving our customers. We are very passionate about digital transformation. By measuring and benchmarking our clients we truly help them get things done and succeed with their digital journeys. Seeing them thrive makes us very happy and satisfied. After all, that's why we are here.
How did the pandemic affect you?
Following the events of the past 18 months, businesses across the world have come to realise the need for digital transformation. Not only does it help organisations remain agile, but it also offers long term sustainability and business success. As recovery from the pandemic continues, more companies are aiming to become more digitally mature in order to remain competitive.
We saw this sudden acceleration of the digital revolution impact almost all industries including retail, manufacturing, financial services and automotive. For this reason, the pandemic had a positive impact on our business.
What makes Digitopia different from other businesses?
We are the first company to develop a solution that measures and benchmarks a company's digital maturity. We help our clients on their digital transformation journeys by consulting and supporting them to assess, define and benchmark their digital capabilities. This helps to ensure world-class customer experience and operational efficiency.
We take a highly in-depth approach that enables customers to see the bigger picture and take a holistic view of digital transformation for genuine business success. We sit down with individual stakeholders, conduct detailed interviews and analyse the organisation's digital capabilities from top to bottom. Digital transformation isn't only about technology, it is made up of 6 different dimensions: technology, governance, innovation, people, operations and customers. We help our clients to understand this. We help them to assess their digital maturity, understand where they are excelling, and where there is room for improvement.
What has your funding journey been like so far?
In the early days, we had revenues right from the beginning and didn't need a long lead time to develop our product offerings. We also invested our careers and put up our own capital to get the business off the ground.
Earlier this year, we recognised that external resources would help us to accelerate our global expansion and further growth, and we received our first seed funding from Cypriot entrepreneur, Ahmet Bilgen.
This external funding has proven hugely successful for us, and we hope to source further opprtunities in the near future.
What have some of the biggest challenges been for you on your entrepreneurial journey?
Over the last few years, many organisations have embarked on a digital transformation journey - particularly since the pandemic began. It's one thing to be on the journey, but few actually measure their progress. The challenge for us is around educating the market, and showing these businesses why it is so important to measure their digital maturity. Our value proposition is quite unique. Therefore, as part of this education process, we run a lot of events and webinars, we write about the subject a lot, and we are continuously and persistently talking to the market about it.
As a startup, we must juggle all activities at the same time. Hiring, growing, selling, marketing, product development and much more. This in itself is a challenge, but our decades-long experience helps a lot. I think being a seasoned entrepreneur makes a difference to our younger staff members, who sometimes lack corporate experience.
What is next?
As a highly ambitious company, our plan is simple: to grow as fast as possible. So far, we are certainly heading in the right direction. We want to become the global gold standard for digital maturity measurement and benchmarking, and change the way that consulting is delivered - fully automating our service delivery with high-tech.