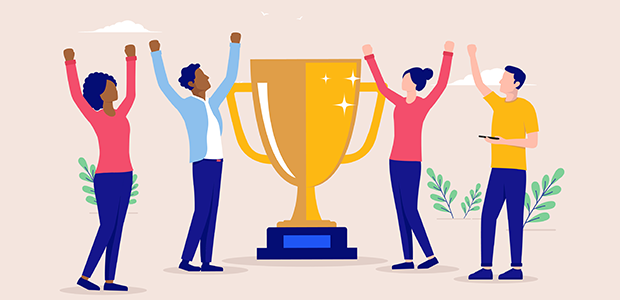 Championing minorities in business
It is vital to champion founders from underrepresented groups, especially in the tech startup ecosystem, as traditionally the tech space is majority made up of white males. According to "The Business of Tech Q4 2022 Diversity Report", created by Dave Sobel, which examined diversity development in tech leadership, found that 88.92% of the tech industry's leaders were white men.
Future Worlds, the University of Southampton's equity-free early-stage accelerator, recently hosted a panel discussion about breaking down barriers for startup founders from underrepresented groups. The panellists explored the barriers that they have found themselves needing to overcome, how to approach unconscious bias when undertaking investment decisions, ways to support the growth of underrepresented founders, and more.
The panel hosted a variety of speakers discussing their experiences and views on the topic:
Pascal Matthias, Associate Vice President EDI and Social Justice, University of Southampton

Jade Cohen, Co-Founder and CPO, Qualis Flow

Seemin Suleri, VP of Engineering, Prima

Ade Ahmadu, Senior Legal & Compliance Project Manager, Meta

Liana Fricker, Director, Inspiration Space

Ana Avaliani, Director of Enterprise, Royal Academy of Engineering
Significant barriers
Cohen stated that funding in the early stages was a particular significant barrier: "As first time, and double female, founders, you've got a lot of assumptions and other barriers to overcome compared to more seasoned founders for very obvious reasons. So for us, it [funding] ended up taking a lot longer."
Fricker commented: "I'm representing myself as a founder within the founders that I work with, and my instinct is there haven't been any barriers, because I'm at that stage now where your problem is about to become my problem." Although, Fricker continued: "When I talk about taking people from negative one to one, we really underestimate negative one to zero. Because when you're going from negative one to zero, you don't even see the fact that even though you aren't technical, you could create a construction app in AI to solve a waste management issue, all you can see is that you were in HR, or you were made redundant on maternity leave. When you ask these women, what was your greatest challenge, they'll be like nothing. Because they don't realise their greatest challenge is a lack of opportunity that they don't see."
Matthias pointed out: "The biggest barriers if you're marginalised or minoritized in this world, let alone in whatever sector you work in, from birth to death, you're going to find it difficult. And you're not always going to know why you find it difficult, but you're going to find it difficult." He makes a good point that startups should be considering: "It's strange that we're still not at the point to say 'if I'm going to start a company, I want it to be the most equitable in terms of gender, race, ethnicity, class, environmental, everything.'"
Expanding on Matthias's thought, Suleri made an insightful point: "Wouldn't it be more profitable if you had a more diverse group thinking about ideas you haven't thought of before?" A fantastic piece of advice for founders and companies from Suleri: "if you're starting something up, make sure that you're not leaving those guys behind that are not willing to show up and fight every single day for normal things that are actually accepted for everyone else at the table. But for the person who looks or thinks or seems different." It is of utmost importance that founders foster an inclusive environment that champions and ensures those who are marginalised are heard and don't have to fight for the same opportunities that are provided to their non-marginalised counterparts.
Ahmadu commented on the biggest barrier he has faced in his career: "I think one of the most challenging things that I've had to overcome is, so I was born in the UK, born in Britain but not having the same opportunities or privileges as people that I grew up with, or not even be treated anywhere near to them. Which can be a little bit mind boggling because I speak the same language that you speak, we speak the same way, but there's an automatic bias that I'm faced with, one which I didn't choose. I didn't choose to look like how I am. This is who I am."
An important point made by Avaliani is that: "in terms of, role models and having that support structure, you can't really be what you cannot see." She continued "I see that a lot in the startups that we're supporting, particularly women and people from BME backgrounds, it's we don't hold them up and go right, it is possible, these guys and girls are the trailblazers, they are phenomenal."
What can be done to create opportunities?
"Visibility is a huge thing that is in the way, right? When you don't see enough examples, you don't even know something is possible. Once you walk through the door, then you can go and talk to an accelerator and get the guidance and the network. But what is telling you that you should even walk through the door and that's the path you can even go through? Any success or failure will depend on the journey," Suleri suggested. "So, I would say that amplifying the voice of the people who are in that space is just so important. That's also a thing that makes it more successful, because we want to hear about what is the path that you took in order to be successful, and that the path is even possible."
Fricker expanded on the previous point: "In the innovation space, and when you're working with accelerators, it'd be really cool to start asking kind of who's not in the room. Because there are probably people that are working in history majors, or doing English or textile design, that are the technologists of the future."
Matthias explained that to make opportunities more accessible, and the entire business journey easier for those who are marginalised, is to reshape and rebuild the entire system. "So we restructure, and what you need in the different voices in the room. You need to bring them in, you can't keep having the same conversations, you just need new people. There needs to be a black, disabled, trans woman that you're listening to. And that's where you start from, not where you end up. They shouldn't be cheering, they should be contributing."
Ahmadu explained that a change that can be made is at funding level. "What happens is you have this cycle where VCs invest in who looks like them, who will also eventually invest in them. So even if startups want to have a diverse organisation, it's all about the bottom line. So, what we need is VCs who are willing to stick their neck out, to actually make that change, and actually stand up for that change, and actually take the stick that comes with trying to make that change."
The one main take away from the roundtable is that the change that needs to be made is systemic, and there isn't only one element that needs to be changed. The entire system has to be adapted and improved to encourage a more diverse range of people to start businesses, as well as enable them to thrive once the business has been started.