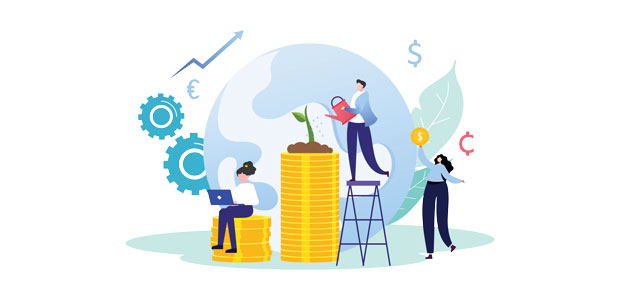 The case for sustainable finance
Sustainable finance is not just a box-ticking exercise - it must be a marriage of environmental and social impact. It has become a popular buzzphrase for investors as they seek to put their funding into companies that aim to solve the world's biggest problems, most notably climate change.
But what does it mean to invest sustainably? Is a low carbon footprint enough to make a company sustainable? Does a business really have to set out to change the world? It's a concept that has grown quickly, so it's no surprise that there's still no clear definition. 
I believe sustainable finance should be a marriage of environmental and social impact, it must integrate planet and people. And not only does a company need to do good, but it also needs to be good. How can we separate true sustainable initiatives from those merely paying lip service and greenwashing? 
At Unreasonable Collective, we're not only on a mission to invest in companies that positively impact the end-user and their communities, but we are also looking at what's happening inside the business. Pledging to change the world is all very well, but companies need clear ESG frameworks internally to allow for longer employee retention and authentic culture of engagement.
Moving beyond the balance sheet
The shift from investments made purely for profit to more conscious choices is happening – that's what underpins our work at the Collective. Looking back, you can trace the shift from Generation X to Z regarding how they think and what their priorities are. Gen X were happy to do their jobs, and they viewed time outside work as the space to show their social or charity-driven values, whereas Gen Z wants to incorporate meaning in every decision they make, from purchasing to professional choices. They're asking for change, diversity, and inclusion, so they need their investments to drive that.
Twenty years ago, 'stale, male and pale' investors had the upper hand, but now the priority should be to give a diverse group a seat at the table. And that's so important. Unreasonable Collective is proud to be a diverse gathering of investors, and we've identified funding gaps that we're driving to plug. It's no secret that Black-owned businesses and female founders find it harder to get funding. Of the $69.1 trillion global financial assets under management across mutual funds, hedge funds, real estate and private equity, fewer than 1.3% are managed by women and people of color.
But if we don't invest in them, we're missing out on some tremendous sustainable finance opportunities. One of Unreasonable Collective's early investments was in Air Protein, the pioneering company that turns air into "meat" founded by Dr. Lisa Dyson. Dr. Dyson is a Ph.D. from MIT and has years of knowledge and experience gained in this space, and what's more sustainable than producing a product that aims to feed the world's growing population? For others, this diversity might signal a move away from traditional investment patterns, but for Unreasonable Collective, it's always been at the heart of what we do.
Better intentions, better returns
The bottom line is, sustainable investments should make the world a better place now and for future generations. Right now, the hot topic is climate tech, but oil and gas can be sustainable investments if the company is looking at greening technologies and using R&D to make sure they're transitioning to net zero. We need to make sure we're identifying pain points and putting our funding into initiatives that remove them.
But the inevitable question that comes from investors is: Am I sacrificing profit at the cost of doing good? The answer is a hard and fast No. Unreasonable's founder Daniel Epstein uses the term "conscious capitalism" to define how we can solve the world's biggest problems while making profit.
Sustainable investing can be even more amplified if you have community at its core – and that's the whole purpose of Unreasonable Collective. We know some investors' entrenched habits won't change overnight, but with a fresh approach, we're hoping to make a shift – and make the world a better place.