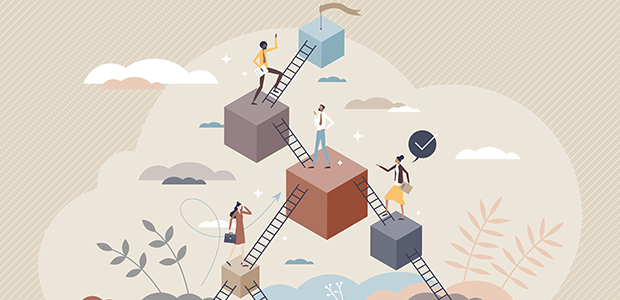 Career development key to talent retention for tech startups
Nearly eight in 10 employees in tech startups attributed a lack of career development opportunities as the key reason for leaving their job, according to a new report by tech startup recruiters, ISL Talent.
The Retention Report – Tech Scaleups 2022 from ISL Talent surveyed 200 people who left their role in the previous four months. In the report, 79% of respondents stated that a lack of career development opportunities was a key reason for leaving their tech role, closely followed by a poor company culture (77%) and dissatisfaction with their salary and rewards package (72%).
The report also found that flexible and hybrid working remains critical to an organisation's ability to retain tech startup talent. 83% of respondents stated that regular flexible working was their highest priority – an increase of 13% on 2020 findings. Nearly eight in 10 (77%) said flexitime (core hours with flexible start/finish times) was their preferred flexible working option. In comparison – and indicative of a growing trend for fully autonomous working – 72% stated their preference for no set working hours in a result-focused environment.
Tech startup and scaleup founders should note a shift in respondent attitudes to salary and benefits. With flexible working now considered a mandatory perk, respondents are expressing a preference for increased salaries over other benefits – with 76% of respondents stating that pay is the important factor when looking for a new role, up five percent from the previous year.
Furthermore, 91% agree that salary and bonus are the most important elements within a rewards package.
Alan Furley, ISL Talent's Co-founder and CEO, said: "For some time, candidates have been drawn to tech startups by the culture and values. However, COVID has been the catalyst for a shift in employee attitudes and, with just eight per cent of respondents now working in the office, startup and scaleup founders need to ensure that they allocate time and resources to career progression in order to attract and retain the top talent in the market."
Liz Scott, Client Engagement Director, Tech Nation, added: "It's interesting to understand more about what is driving the decisions people are making about moving on from jobs.
"With new post-pandemic ways of working, we know that there are limited playbooks that address how to scale culture and teams in 2022. This is why this data – as well as support from experts like ISL Talent – is so important in equipping startup and scaleup founders with the information they need to focus their resources on the most important issues."
Furley continues: "Our data shows that financial reward is being prioritised by tech candidates – although whether this is a kneejerk reaction to the current squeeze on real wages remains to be seen. In my experience, startup and scaleup founders should work towards establishing a creative and cohesive culture whilst offering a competitive benefits package that includes a market-level salary and flexible working as standard."