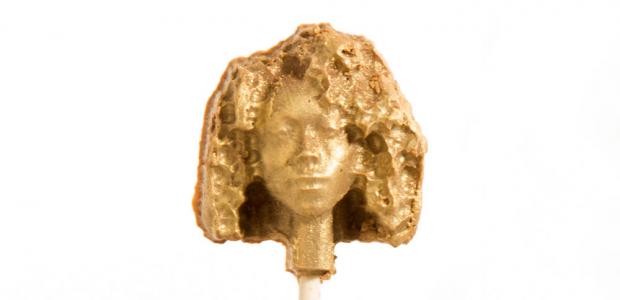 Candy Mechanics
He told the world he was a 'lickable' guy by accident, but it was a typo that spelled out his future confectionery enterprise.
Candy Mechanics' origin is as amusing at its products. Sam Part CEO and founder, was given a brief in his final graduation project at Kingston University where he had to tell the world who he is. So he described himself in a presentation slide as a 'likeable' guy, but being dyslexic, he instead told the world that he was a 'lickable' guy.
This was the inspiration for the hard candy lollipop heads Part went on to create to truly make himself lickable. The product won the D&AD New Bloods award in 2015 and the small amount of funding from this award enabled him to explore the product development at Makerversity where he met co-founder Ben Redford, and together they founded Candy Mechanics. Together with design engineer Chris Tait, CTO, they developed the technology required to make this product scalable.
In the first instance they looked at 3D printing the candy heads, but ended up decided on using CNC machines (computer numerical drills) to 3D carve them out of chocolate instead, as 3D printing technology is unreliable and takes two hours to print just one head. Candy Mechanics designed and created a 3D carving solution they could use to create the products at speed and at scale.
Candy Mechanics' in-house team created this unique process using CNC machines with different types of off-the-shelf technology, sensors, scanners and software tied together with bespoke automation. The team is also working with ABB Robotics to introduce a faster and more efficient manufacturing process-to-product at high volume with each individual product customised.
CNC machines can be used to carve into many materials and are used in woodwork and engineering. Candy Mechanics did a lot of R&D in the beginning to test how fast the drills could carve without the chocolate melting everywhere They managed to find an optimum speed which carved the chocolate heads in five minutes, enabling them to produce and retail at popups and events in real-time.
"It works at all temperatures, and we use air conditioning when it's really hot - we learned that from our first popup in May 2017 in Covent Garden - it was 31 degrees," said Part.
The Candy Mechanics team has grown from two founders, to five directors, and now has a team of ten - it has scaled quickly over three years, Part commented: "Having a team of ten is ridiculously tough."
The first year was spent investing in the technology and R&D, since then the website launched in November 2016 and the team has been working on brand relationships for its two products: Lolpops and Candy Cards. The Lolpops are 'a perfect chocolate replica of your head' created online from a 30 second video recording of your head, which Candy Mechanics then turn into a 3D model and carve into the chocolate lollipops using their 'Candy Carve' - the CNC drills. The Candy Cards are 'completely customisable Belgian chocolate cards' where personalised messages are directly engraved into the chocolate.
Getting personal
The chocolate market is currently worth $6bn but is stagnating, Candy Mechanics told us, but the personalised gifting market is worth $1.5bn and growing: "I truly believe we could grow a hundred million pound business. The scale is massive," said Part.
Candy Mechanics' mission is to become the leading suppliers of personalisation technology with confectionary, to that end it is looking to expand through partnerships, rather than solely growing its own customer base. It is partnering with larger brands to introduce its technology and personalised products to other larger audiences. With this venture, Candy Mechanics has received serious interest from larger brands that don't have the ability within their own corporation teams to devise ideas and products quickly and are experiencing the 'death of the high street'. Brands are looking to create 'retail theatre', and Candy Mechanics offers a memorable, tangible and edible experience.
Success never tasted so sweet
Chocolate replicas of your own head is certainly a novel idea, but how does it actually taste when you bite off your own head? Well with William Leigh, previously Head Taster at Green & Black's on the team, the answer is sweet. Candy Mechanics currently use Belgium chocolate, from the same source used by M&S, and with this quality ingredient, Leigh developed the flavour palette in Candy Mechanics' chocolate: smooth milk chocolate, salted dark chocolate, salted milk chocolate, gin and tonic dark chocolate, indulgent white chocolate and rich dark chocolate.
But like chocolate, the success of Candy Mechanics is something to be shared. "We have an amazing mentor in our first investor, Matthew Bowcock, who wanted to put the time in, he even brought a friend along to the board later on as well," said Part. "They taught me everything I know and guided us through all the ups and downs of building a business."
Part met Bowcock whilst tending the bar at a party, when Bowcock approached him about investment after overhearing Part's enthusiasm for Candy Mechanics as he shared his startup story with everyone, "I'm a people person," Part laughed.
Candy Mechanics has just finalised a successful raise of over £400,000 on equity crowdfunding platform, Seedrs.